The Moab 240 is an endurance run held by Destination Trail Races and is part of the Triple Crown Series, which also includes the Tahoe 200 and Bigfoot 200. This company has a proven track record of organizing the toughest 200+ mile races on the most epic courses since 2013. The Moab 240 is the longest and last of the three races with the start date of October 7th at 6am. What makes this course so special is 240 miles through desert, canyons, slick rock and two mountain ranges surrounded by both Canyonlands and Arches National Park. This year we will have three Team Injinji Athletes pinning on a bib — Jeff Browning, Amy Costa and Injinji's Team Manager Isabella Janovick.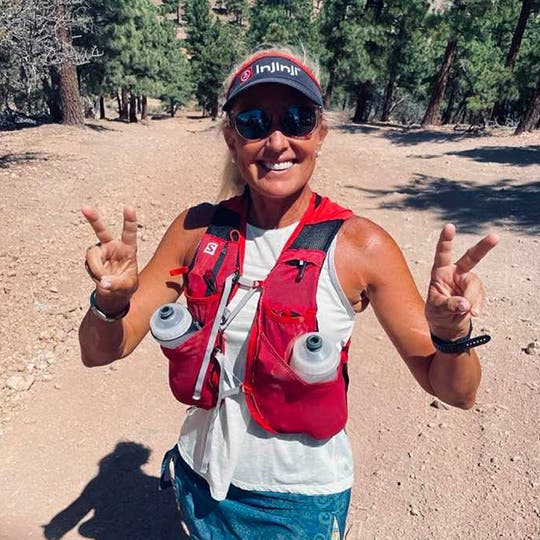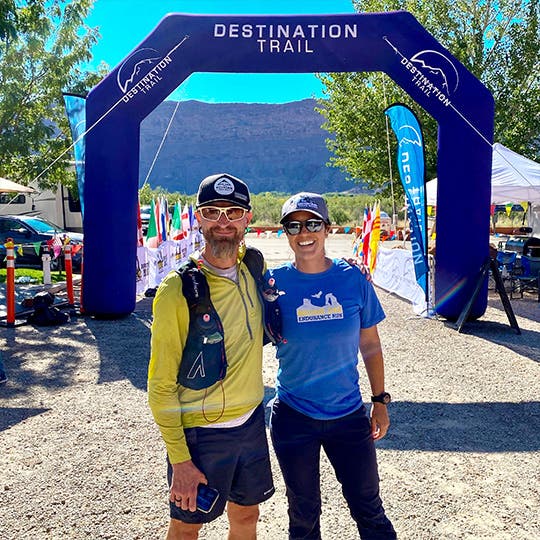 This non-stop event with a 113 hour cutoff is not for the beginner ultra runner. It consists of 28,893 feet of elevation ascent, extreme weather changes, rugged and remote terrain, dangerous cliffs, wildlife and is described as "inherently dangerous." With some trails having very little traffic, it is mandatory for all participants to be able to self-navigate with resources such as the Gaia App and having the course downloaded to their watches.
This race will be Jeff Browning's first attempt at the 200 mile distance. He has finished over 150 ultras, including some of the hardest 100 milers such as the Western States 100, UTMB in Europe, and is a 5-time finisher and 2018 champion of the Hardrock 100. Jeff is having a solid year with placing 2nd at the Sean O'Brien 100k, 1st at Three Days of Syllamo, 1st at Scout Mountain 100 and the new course record, along with setting the new FKT (Fastest Known Time) for a 2x Rim to Rim to Rim Grand Canyon run. In 2021 he paced fellow Injinji athlete Mike McKnight for the last 70 miles to his course record win at Moab, and has coached multiple athletes with their 200 + mile finishes. "I've coached it for years, know and understand it in concept and on paper. I want to experience it." Jeff's goal for this race is not only to win it, but to set a new course record time, which is currently 55:49:58.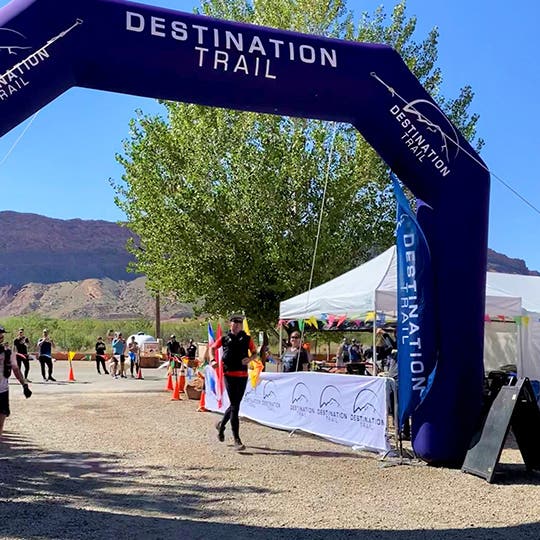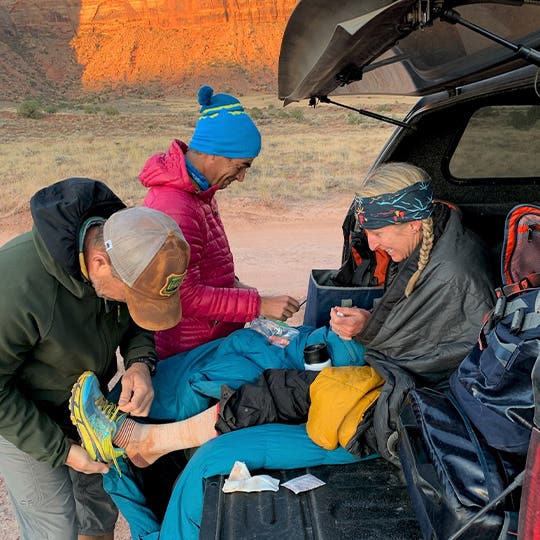 Team Injinji's Amy Costa is no stranger to the 200 mile distance and has already finished the Moab 240 in 2020 and 2021. Last year she also completed the Triple Crown, which consisted of all three Destination Trail Races. Amy keeps coming back to this race for her love of the desert topography, hills, mountains and rocks. Since she has already raced the Badwater 135 in July this year and will be ending a 500 mile run in Spain just 10 days prior to race day, her goal this year is just to finish Moab and enjoy the course. "Last year we had a snow detour and were not able to go up to the La Sal Mountains. I really hope this year we can, as it is a beautiful section!"
Isabella Janovick will be toeing the line for her first 200 mile race at Moab. She is coached by Jeff Browning, and after spending a week last year volunteering at the race headquarters, she decided to challenge herself with this endeavor. Isabella has been working hard all year by running a 100 miler in January, a few 50k shorter ultras, pacing at the Tahoe 200, multi-days spent in the Utah and Idaho mountains, setting her first FKT on the Boise Greenbelt, and strength training consistently in the gym. Her objectives going into this race are to see what she is capable of and to cross that finish line in sub-100 hours.
The course for this event is one 238.2 mile loop starting in the Moab desert and going up and over the La Sal Mountains with the highest elevation of 10,476 feet. Due to the extreme weather swings and difficulty of the course, a mandatory gear list including hot weather and cold weather gear must be carried by all runners. This includes extra water and calories, a waterproof jacket with a hood and pants, emergency bivy, two headlamps and a SPOT tracker. Additionally, each runner likes to bring their own special gear that they have been training with or to have between the long 20 mile sections between aid stations. Jeff will be carrying with him a mini-blister kit, his Coros watch with the course downloaded to it, and his phone with the Gaia app. He will be utilizing his crew and pacers throughout the whole race to support his estimated faster pace and finish time. Amy will be running this race self-supported and will be using the drop bag system, including moving drop bags. There are pros and cons to this option, one pro being a lot less logistics and organization of crew duties, pacer sections, and additional costs. Isabella will be using both options, the drop bags plus a crew and pacers. Her must have items in her pack will contain wet wipes, ginger tabs and additional water, as she tends to drink more compared to others.
Jeff jokingly states that "200's are like 100's on steroids. The sleep deprivation, foot care, pacing, gear, route finding, heavier pack — all create a more complicated event with more room to have something go wrong. It's a complex puzzle." Sleep strategy is another factor to tackle. The race has four sleep stations setup for runners. Alternatively, participants can choose to sleep in their crew vehicles or take "dirt naps" along the trail. Jeff's sleep strategy for this race is simple — to sleep once on night two and finish. Amy will only sleep when she can't stay awake, whereas Isabella is planning to get one hour of sleep at every sleep station combined with dirt naps when needed along the course.
Similar to other ultras and endurance events, hydration, fuel and electrolytes will always impact one's performance. Each aid station will supply the basic munchies for ultras along with made-to-order food such as breakfast burritos, grilled cheese sandwiches, soups, bacon, burgers and pastas. The race is well-known for its many vegan, vegetarian and gluten free options, benefiting all types of runners on their race fuel needs.
These three athletes are super excited to run 240 miles in beautiful Moab and we are just as pumped to follow each of their unique journeys. There will be multiple ups and downs, challenges, problem solving, and digging deep to see what's left in the tank. We've seen them put in the work, and now it is almost go-time to put it all out there on the course. Visit the Moab 240 race website for tracking info to follow the course live. Good luck Team Injinji!