Just when you thought 100 milers were the craziest ultra-distance, we now have a handful of 200-mile races for runners to test their limits. Destination Trail Races hosts the Bigfoot 200, Tahoe 200, and Moab 240. Do all three of these in one consecutive year, and you receive the Triple Crown. The Cocodona 250 is another 200 miler that had its debut this year with a 250 (ish) mile footrace in some iconic trails in the Arizona area.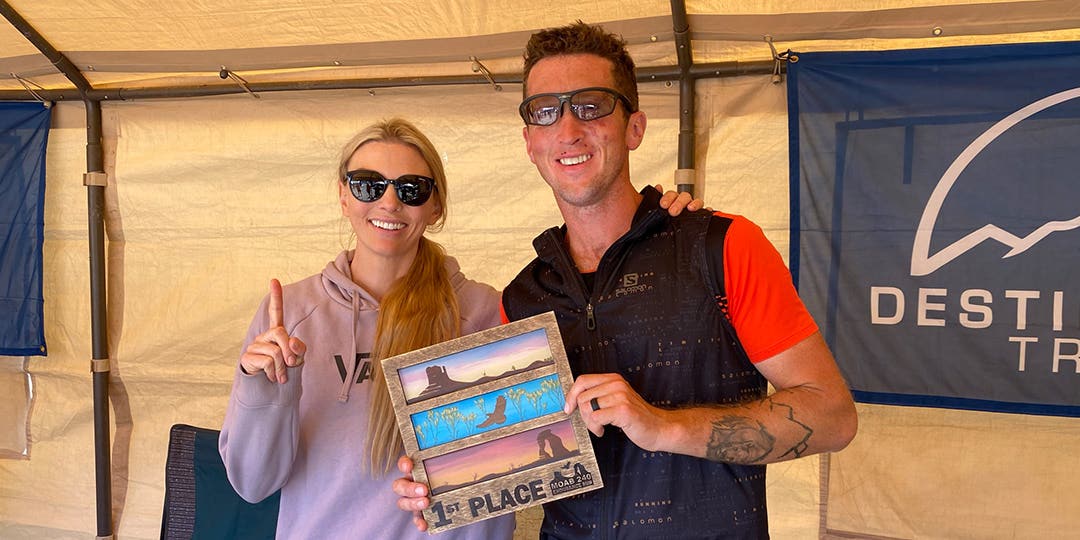 Mike McKnight is no rookie to this distance and began training for his first 200 miler in 2016 and raced the Bigfoot 200 in 2017. He fell in love with the distance and has completed the Triple Crown twice. This year was his third time participating in the Moab 240, getting 3rd place his first time and 1st place his second time. His goal this year was to finish in sub-50 hours and set the new course record, which was set by Courtney Dauwalter in 2017 with a time of 57:55:13.
Training for a race with this distance is no walk in the park, but Mike explains that "physically if you can do a 100, you can do a 200 based on the same weekly mileage during training, which can have peak weeks of 80 miles with 20k feet of elevation". Mike includes 3 days/week of strength training and daily mobility which includes stretching, mobility exercises, a blaster gun and compression boots. He focuses on sleep deprivation training, for example, having a Friday night run followed by a very early Saturday morning run, both usually in the dark. His runs mimic the racecourse, so in the case for Moab, which is a more runnable course, there are vert weeks followed by flatter weeks, where more running is key.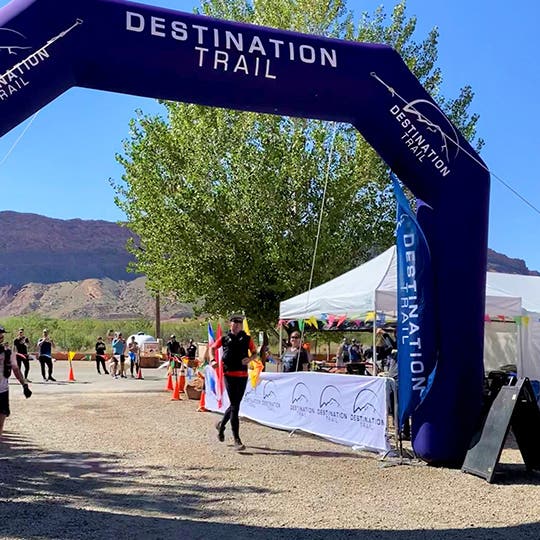 Not only does one have to prepare physically and mentally for this race, but logistically as well. There are several important items that a runner must figure out prior to the race:
Travel and accommodations
Crew and pacers (when does each pacer run with you and for how long)
What supplies and gear will you put in each drop bag. For this race, runners were allowed to have 6 drop bags and 6 different aid stations.
Mandatory hot weather gear, cold weather gear, and survival kit
Sleep strategy
Race day nutrition
The Moab 240 began on Friday, October 8th and runners had a cutoff time of 112 hours or 11pm on Tuesday, October 11th. Due to poor weather on the horizon, the Race Directors made the decision to create the alternative "Snow Course", which would keep the runners at a lower elevation in the La Sal mountains. Although this altered the course on elevation, the distance and cutoff times stayed the same.
Although the course had been altered, Mike still decided to run the race with a sub-50-hour goal. The first day didn't go as smoothly as anticipated, with Mike experiencing intense back pain "which caused me to spend 30-40 minutes getting worked on at a few aid stations. I almost quit a few times, but the volunteers and my wife kept me going." Day two went better, but Mike's goal shifted to a top 3 finish, preferably to be the first runner to cross the finish line.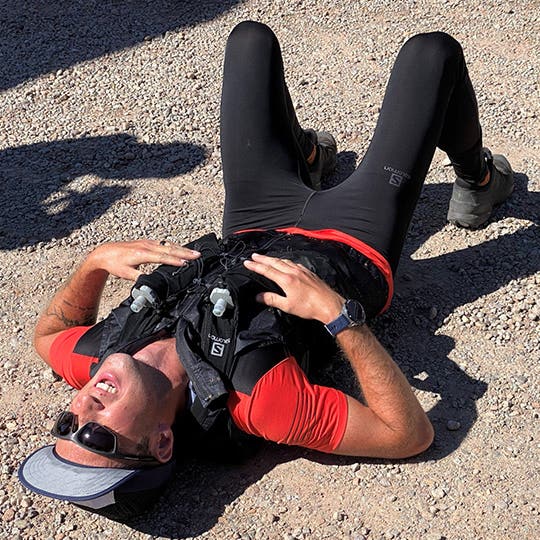 For the majority of the race, Mike was tied for the lead and shared several miles with Jovica Spajic. They ran through slick rock, rain, hail, (were able to avoid the snow when it dumped), sand, and very technical terrain. At mile 170, Mike's Coach, and Injinji Athlete, Jeff Browning, joined for pacing duties and would finish the last 70 miles with him. Late in the second night, Jeff told Mike that he still had a chance for the course record and to pick up the pace. The last 50k was extremely difficult with Mike pushing hard, but he crossed that finish line in a time of 55:49:58, making this his 5th 200 miler win and 8th finish. "I'm so thankful for my wife and the aid station volunteers who kept me going. I had the opportunity of running with Jovac Spajic for 210 miles of the 240-mile race." Congrats Mike on all your hard work, strength, grit and fighting to the very end.
Interested in working your way up to the big leagues? Be like Mike and get yourself a pair of Injinji's.