Why Wear Toesocks?
Injinji toesocks are anatomically designed to fit and move with your foot from heel to toe, for running, hiking, and walking. Traditional socks compress toes tightly together, causing them to fight for space in the sock. Traditional socks also soak up sweat, keeping your feet constantly wet. The lack of space and the excess moisture are the main culprits of skin-on-skin friction, which creates blisters and hotspots. Injinji toesocks offer a better way—by providing individual toe compartments, your entire foot and toes can flex and move naturally. Injinji toesocks primarily uses polyester and Merino wool, which help wick away sweat instead of absorbing it, helping to keep your feet cool, dry and protected with every stride.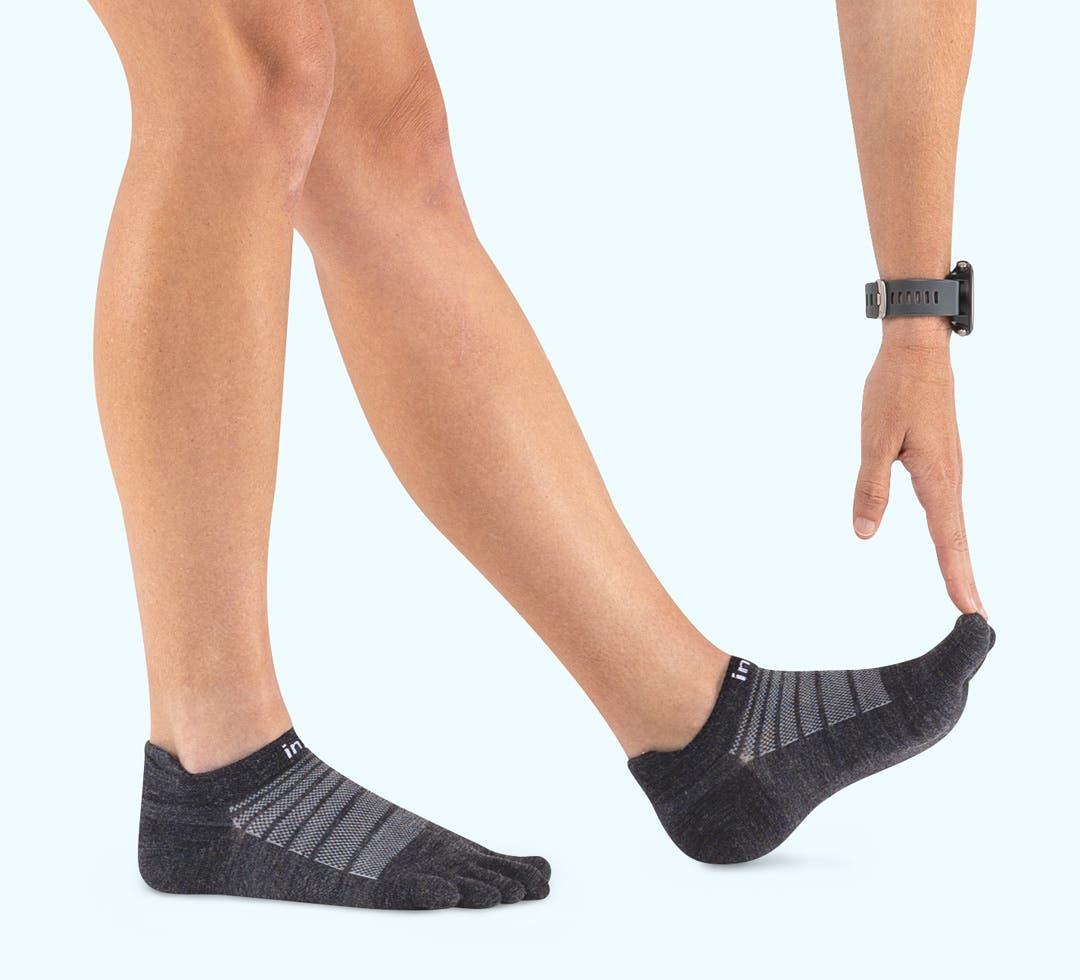 What Are The Benefits of Toesocks?
Toesocks have many advantages that can contribute to the overall health of your feet. These are the top three benefits of Injinji toesocks.
The Best Socks For
Blister Prevention

Injinji toesocks prevent blisters by wrapping each toe in moisture-wicking fabric. This barrier between the toes eliminates skin-on-skin friction, which when combined with heat and sweat causes blisters and hotspots. Blister protection is essential during 5ks and marathons, and Injinji toesocks are the best running socks for races.
The Best Socks For
Total Foot Utilization

By properly aligning and naturally splaying your toes, Injinji toesocks allow you to engage your entire foot and toes while running and exercising. Your feet will enjoy moving as they were meant to, from road running to trail running.
The Best Socks For
Moisture Management

To create a cool and dry environment for your feet, Injinji toesocks integrate moisture-wicking materials into each design. By efficiently absorbing and vaporizing sweat, these materials make our toesocks more comfortable for running and hiking than traditional socks.
Made From The Best Materials For Running Socks
At Injinji, we are dedicated to the health and performance of feet—that's why we use quality fibers to create the best sweat wicking running socks. Our high-performance fibers are intentionally selected for their moisture wicking abilities, superior construction and versatile functionality. By wrapping each toe in these fibers, unwanted friction is eliminated, preventing blisters and hotspots, and allowing runners to focus on the path ahead.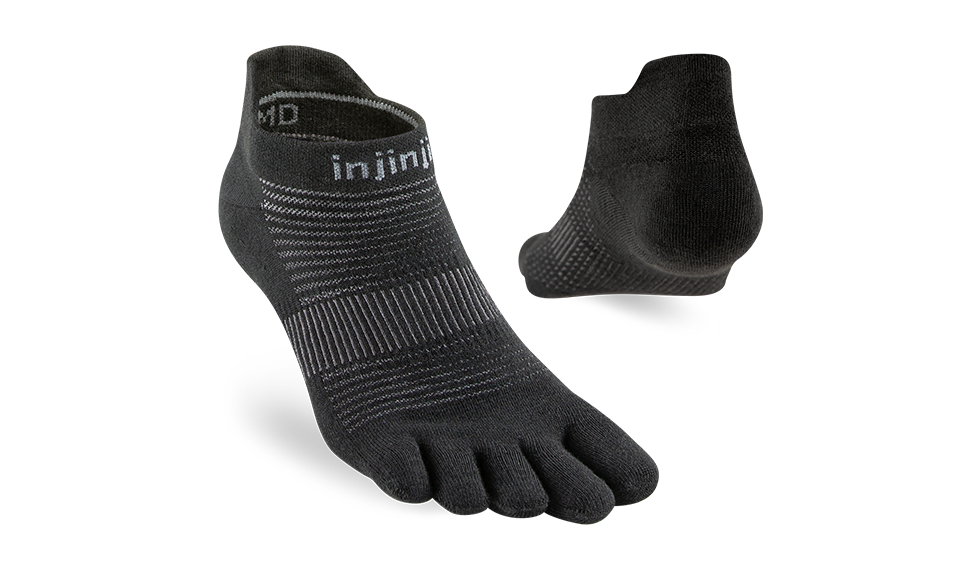 COOLMAX® EcoMade Socks
Made from 100% recycled resources, COOLMAX® EcoMade is an enhanced polyester fiber that provides our socks with superior moisture management, aka sweat control. The COOLMAX® technology in the socks wicks sweat away from skin to the surface of the fabric, where it evaporates quickly to keep wearers cool, dry and comfortable—even in the most extreme athletic conditions.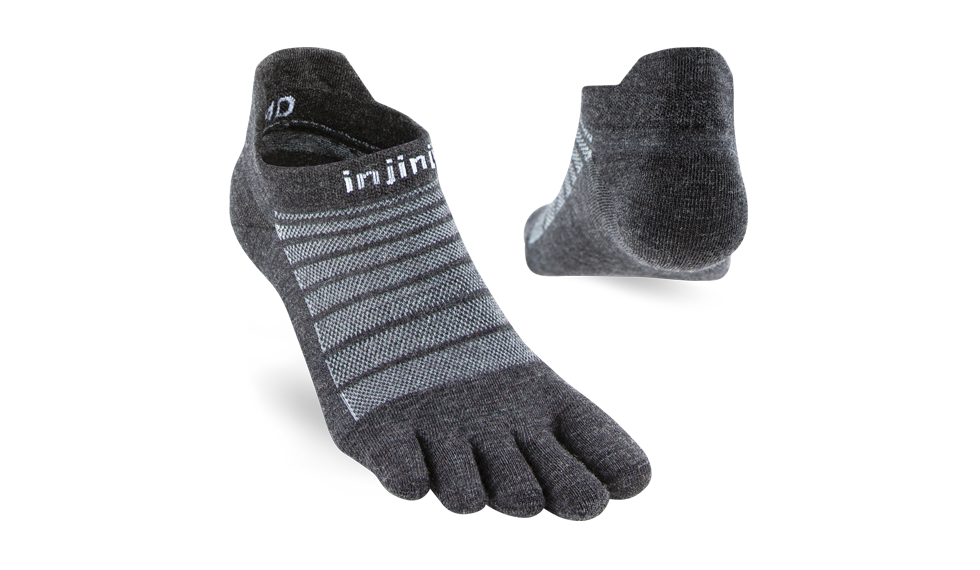 Merino Wool Socks
Naturally grown by Merino sheep, Merino wool is a benefit-rich fiber known for its superior comfort and adaptability. Injinji's Merino wool toesocks are certified mulesing-free, packing in enhanced wool benefits including moisture wicking, odor resistance, breathability, a soft feel, and temperature regulation. This fiber is ideal for unpredictable weather and terrain.
Common Toesock Questions
Are toesocks good for running?
Toesocks are an ideal choice for running, as they prevent blisters between your toes, keep your feet cool and dry, and allow you to utilize your entire foot and toes on pavement and trails. Injinji toesocks are designed for a variety of running scenarios, from everyday training sessions, 5ks to ultra marathons.
Are toesocks comfortable?
Reviewers rave about the comfort of our toesocks, which come in a variety of weights (thicknesses) and heights (lengths) to fit your personal preferences. Choose ultra-thin socks, noted as Lightweight, for a thinner feel, or socks with added cushion for targeted protection where you need it. The thickest socks are noted as Midweight. If you prefer a more low-profile sock length, the Hidden socks are fully concealed in your shoes, and No-Show socks are slightly visible in some shoes, with a protective heel tab in the back to reduce chafing. If you prefer socks with more ankle coverage and debris protection, check out the Mini-Crew, Crew, and Over The Calf socks, which land on your ankle, mid-calf and below the knee respectively.
Do toesocks feel weird?
While it may take a little a couple of wears to get used to the feeling of something between your toes, many wearers find that the sensation goes away once you get moving. They will soon be a top favorite in your sock drawer!
Are these like the toesocks I wore in middle school?
Nope! Injinji toesocks are much more intentionally designed than the classic cotton toesocks that many people associate with the name. Unlike those one-size-fits-most designs, the anatomical fit of Injinji toesocks contours to the shape of your foot and the length of each toe, allowing your feet to feet free and comfortable. Browse our size charts to find your perfect fit, there are a variety of sizes for each sock based on the overall size of your foot.
Are toesocks hard to put on?
Toesocks only take a few extra seconds to put on at first, but the process is simple and easy. We suggest putting toesocks on while seated, with the sock rolled up to the toe section. Slip the end of the sock over your toes and align the individual toe sleeves over each toe. Then, pull the rest of the sock over your foot, heel and ankle.
Treat Your Feet
Now that you've explored the fantastic ways Injinji toesocks can enhance your running and hiking experiences, browse our broad variety of styles and colorways to Find Your Injinji. If it's your first time shopping our toesocks, we recommend starting with the Run Lightweight No-Show sock, a minimalist option that is perfect for everyday running and training.
Why toesocks?

The answer is surprisingly simple

We created a sock anatomically designed to your foot, and the five-toe sleeve design allows your toes to splay naturally and align properly, enabling greater stability and more comfort.
The benefits of toesocks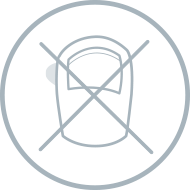 Blister Prevention
With each toe protected, skin-on-skin friction is completely eliminated protecting your foot from blisters and hot spots.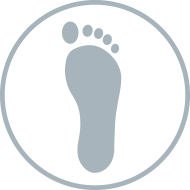 Total Foot Utilization
When your toes are separated, properly aligned and splayed, your weight is distributed evenly which allows your entire foot to be engaged in any athletic activity.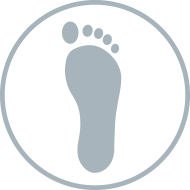 Total Foot Utilization
When your toes are separated, properly aligned and splayed, your weight is distributed evenly which allows your entire foot to be engaged in any athletic activity.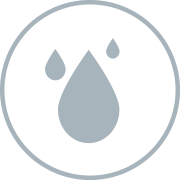 Moisture Management
Each toe is wrapped in sweat-wicking material so your foot will be drier and therefore more comfortable than in traditional socks. Made from only the

best fibers on earth
COOLMAX® Fiber

COOLMAX® Fiber is an enhanced polyester fiber that provides superior moisture management and comfort. The wicking capabilities of COOLMAX® fibers are ideal even in the most extreme conditions caused by any sport or activity.

Merino Wool

Merino wool is a natural, premium fiber that is renewable, biodegradable, and provides natural thermoregulation helping to keep feet cool in the heat and warm in the cold. Injinji's premium Merino wool is certified mulesing free.

LYCRA®

LYCRA® is a premium fiber blend that enables flexibility and movement with its bi-directional stretch. The use of LYCRA® helps all socks retain their shape. Socks with compression have a higher LYCRA® content to aid in the recovery process.