Long time supporter and athlete, Joe Dean, has taken a new direction in fitness this past year, and our new Trainer Mini-Crew socks came out at the perfect time for the switch. Although his main passion is trail running, due to new demands in his lifestyle, he's spent more time cross-training and building strength than running. Joe finds that these workouts have helped not only his running performance, but his overall health and wellness.
After Joe's first child was born, he slowly got back into fitness with P90X and running after having played competitive baseball in his younger days. Shortly after he signed up for his first half marathon, he progressed to ultras, starting with the Speedgoat 50k. This ultra is considered to be one of the hardest 50ks west of the Mississippi, which motivated him to see what his body could do. Similar to most ultra runners, he was hooked, and continued to race the ultra distance.
Now that Joe is older, he understands the importance of strength training to maintain his muscles and prevent injuries. After dealing with minor nagging injuries the past few years, coupled with his full-time desk job, Joe decided amplify strength work during offseason.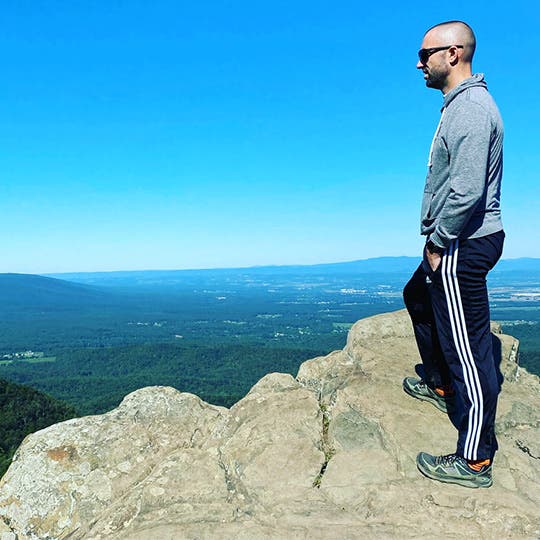 Despite gyms being open again post-Covid, Joe prefers home workout programs that are flexible with his schedule and structured to provide balance in all parts of his body. His online subscriptions allow him to focus on HIIT workouts with and without weights, which increase his strength, balance, and power. "From my personal experience, keeping up on my functional strength exercises, like squats and lunges, have helped me stay healthy while running. Keeping up with my upper body and core strength prevents me from slouching while running or sitting at my desk, which has minimized things like back pain."
With every workout and every sport a durable sock is needed. After testing out the Trainer Mini-Crew, which is designed for cross-training, strength, circuit and HIIT workouts, Joe agrees that this new product is a great addition to the Injinji lineup. Here are a few of his observations.
1. The Trainer is breathable. When doing HIIT workouts, the heart rate goes up and you sweat. With a lot of the explosive movements common to these workouts, it is important that the feet don't sweat, otherwise they can slip in your shoe, possibly causing injury.
2. They are the perfect thickness and weight. My cross training shoes are snug, mostly to prevent slipping. Thicker socks can take up too much room in the shoe and make the foot feel cramped. That is not the case with the Trainer.
3. I have high arches and the elasticity around the arch of the Trainer sock provides light support to protect my foot and make it feel more secure.
New to strength training or don't know where to start? Joe's top recommendation is to start slow! Regardless of what you see on social media, remember that everyone has their own goals and unique journey to reaching those goals. Joe points out that "it's easy to look at others and get wrapped up in wherever they are, without realizing that it probably took them a while to get there." He encourages others to find an activity that you enjoy, that's appropriate for your level, and makes you feel good about yourself. "Do what is best for YOU, otherwise, you may actually end up worse off."
Joe plans on continuing his strength work throughout the summer as he ramps up his miles to compete in half marathon races later this fall.