As ultra running gains in popularity, Team Injinji is growing with it. We are excited to welcome ultra-runner Peter Mortimer to our incredible lineup of athletes.
Peter has been at it since 2010, having steadily moved from running half-marathons to 200-mile races, taking podium finishes at more than twenty ultra races around the world. In 2022, Peter ranked 1st at the HURT 100 and previous to that scored six podium finishes in 2021, including 2nd place the Cocodona 250 and 1st place at Flagstaff Sky Peaks 50k.
Growing up playing soccer and tennis, Peter had always felt that running was the worst part of his favorite sports. But as he neared 30, he was looking for a lifestyle change and began running to improve his physical and mental health. From there, he joined the Hash House Harriers "a drinking club, with a running problem" and hit the pavement with a new perspective on running.
After getting his fill of road racing, Peter naturally transitioned to trails and found his home running rowdy mountain races. In 2014, he began ultra running, and it was at the starting line of Ultra-Trail du Mont-Blanc (UTMB) that he experienced the surreal and invigorating moment where he realized he was about to run across three countries, something he would have considered impossible four years prior. "I'm not a collegiate athlete," he confesses, "I just train hard and I've worked hard over the years."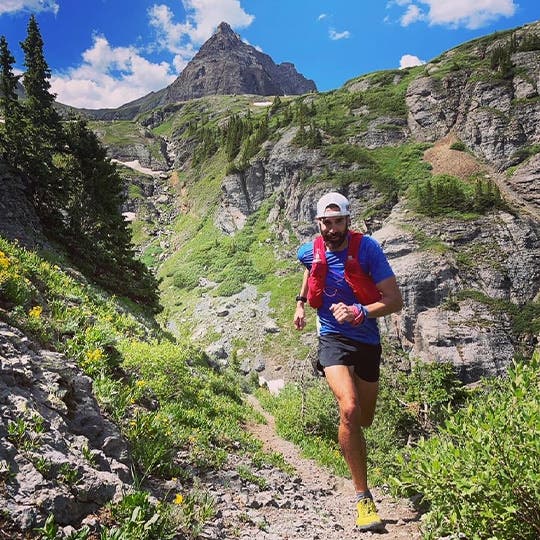 When Peter endeavored to run across Wales at the Dragon's Back Ultra in 2019, he recalls running 200 miles with 60,000 feet of elevation gain. "There's no track, you just run across open face mountains, bogs. It was one of the hardest things I've ever done. It hurts and it's hard." But that's what Peter is all about. Challenging his abilities and keeping it all in perspective. True to style, his ideal running conditions are mercurial days at elevation during monsoon season wherein one moment it's sunny and the next, it's relentlessly hailing. This makes Peter perfectly suited for these types of hardcore ultras.
While sometimes during a race he'll comically remind himself "I paid to be here!", his daily mindset remains steadily confident and determined, "I will continue to do harder and harder stuff. There have been a few races that have broken me over the years and I go back. I'm going to finish this."
Music is a huge part of Peter's running routine. On race days he can be found bounding up a trail listening to tunes ranging from hip hop DJ Girl Talk and Heavy Metal, to scores from epic superhero movies.
His pacers will often stay connected to him by sharing Bluetooth earbuds and jamming to a curated playlist that can both lighten the mood and bring energy when needed. "It's a way of keeping my pacer and myself together and we can kind've be on the same page... It's two in the morning and you're on the same path and you're bouncing to the same music."
When Peter swaps competitor for pacer, he arrives ready to rock, sometimes sporting wigs, jorts, and blasting hair bands. Laughter ensues from the other participants, and he brings entertainment to those who are looking for joy and a bit of distraction on the trail.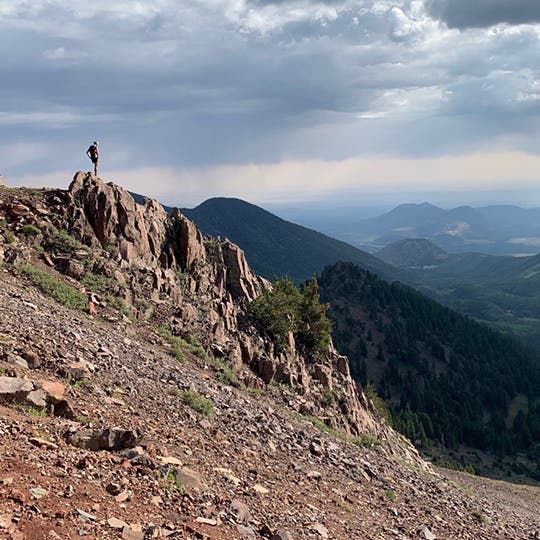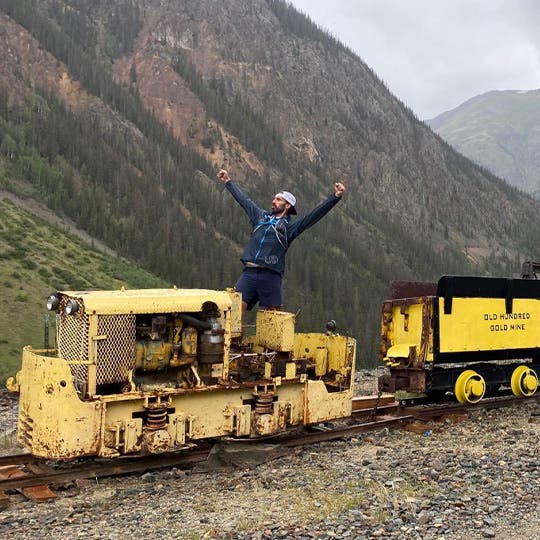 As a running coach, he has the unique perspective of going from inexperienced to dedicated in a relatively short period of time in adulthood. He can speak to the growing pains and the resulting benefits. "I was very stubborn in my early years and I didn't have a coach but some people need a little guidance. I really believe anyone can do this stuff. It's just hard work. You just gotta put in the time." Peter's recommendation for new runners is to go slow so you can go far. Once you can go far, then you can pick up your pace and repeat the process incrementally.
Having spent the last twelve years developing his craft, Peter has learned the hard way that proper nutrition is a huge part of success. Peter recalls, during early races , "my crew used to pull up in the van next to me and take pictures of me while I was puking my guts out…laughing at me." After that, he decided to focus on changing his diet and tailoring his nutrition to help meet his running goals rather than treating training and nutrition as two separate parts of life.
Living in Flagstaff, Arizona, Peter has access to some of the best trail running out there, including the Grand Canyon. He is grateful to have the opportunity to run with Team Injinji's other Flagstaff resident, Jeff Browning, who he says always inspires him with a positive attitude. Other runners who inspire Pete include Avery Collins, Sabrina Stanley, and his canyoneering partner Nickeadamus De La Rosa, spouse of Team Injinji's Jade Belzberg.
Next up for Peter is a warm up at the Broken Arrow Sky Race 26k in Lake Tahoe just before he heads to the iconic Western States 100. Known as the world's oldest 100 mile race, starting in Olympic Valley and ending in Auburn, California, he will race alongside the best of the best.
You can follow his journey on Instagram and keep up with the blog for more from Peter. To find his coaching services, head to 8 More Miles where you can learn more about his offerings and how he can help you achieve your running dreams.