For over fifteen years, Injinji has proudly sponsored athletes who have a unique passion for their sport, communities and our toesocks. We're proud to showcase the stories of this diverse group of individuals while supporting them in reaching their athletic goals and impacting their local communities. Check in with this blog post monthly to read about Team Injinji's recent successes and upcoming challenges.
Looking Back at August, Planning For September
Leadville 100 2023
Mike McKnight scored 16th place overall with a time of 21:28.
Phil Shin was faced with medical concerns and made the difficult decision to drop out of the race.
UTMB (September 1, 2023)
Courtney Dauwalter scored an incredible first female finish at UTMB with a time of 23:29:14, just on the heels of scoring first at Western States and the Hardrock 100.
Anthony Lee completed his 20th 100-miler at UTMB with a time of 28:17 at 112th place overall.
Zachary Bates unfortunately had to make the difficult decision to pull out of the race around mile 50.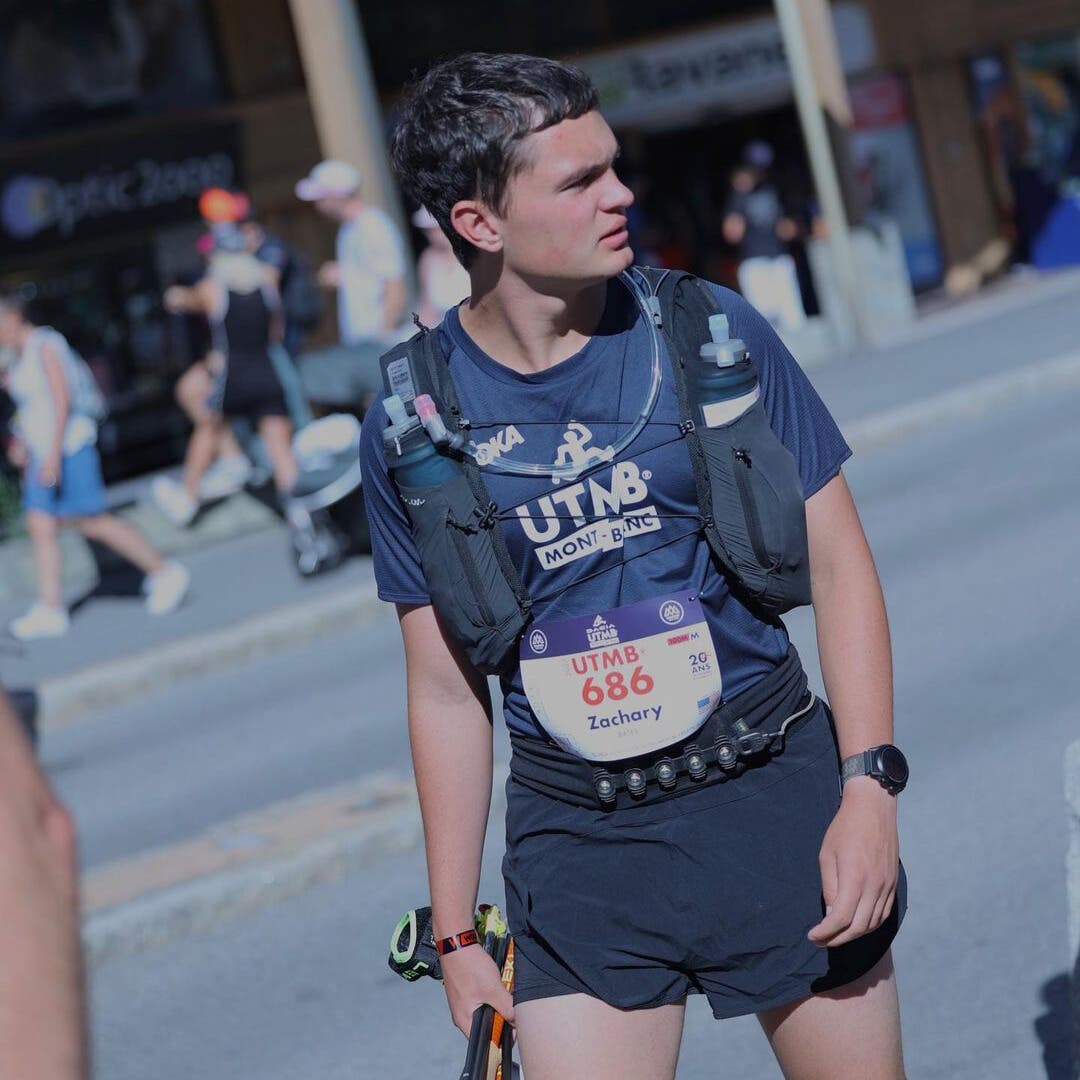 Zachary Bates and Anthony Lee at Ultra Trail du Mont Blanc 2023.
August
I competed in two CrossFit competitions in August: Bridgetown Throwdown and PAINKLLR. Both are known to be very challenging in their own ways. Since this was out of my element and my first time at both events, I aimed to have fun and make it through.
Bridgetown Throwdown is a 2-day CrossFit event featuring six workouts spread out over the weekend. There is a strategic aspect to the competition, involving knowing which events play to my strengths and which might put me at a disadvantage. I performed well in the conditioning and endurance workouts, which included a 400m hill sprint and a 1,000m row followed by a 400m trail run. I even took first place in my heat and posted the fastest time of the day in one of these events.
However, I struggled in the strength workouts where athletes were lifting significantly heavier weights than I did. After the first day, I held first place in my division. Day 2 proved more challenging due to soreness and fatigue from the previous day, but I managed to get third place overall in my division. Looking back, I realize I could have given my all in every workout, as I held back a bit in one or two of them.
With that in mind, I might have achieved a higher placement. Nevertheless, I'm immensely proud of my performance and ranking. A special bonus was having my mom spectate on day one, making it even more meaningful since it was the first time she had watched me compete in many years. I wore the Ultra Run Midweight Mini-Crew socks on both days.
PAINKLLR was a partner competition in Venice Beach. Two of the workouts took place on the sandy terrain, adding to the difficulty, while the other two were on the blacktop of the basketball courts. This competition lived up to its challenging reputation. My partner and I ended up in fifth place overall. We weren't entirely sure what to expect going into the event, but we knew the workouts would be tough due to their short time limits, requiring us to push ourselves to the limit. I'm proud of both my partner and myself for the effort we put into preparing for the event. During the workouts on the blacktop, I wore the Ultra Run Midweight Crew socks.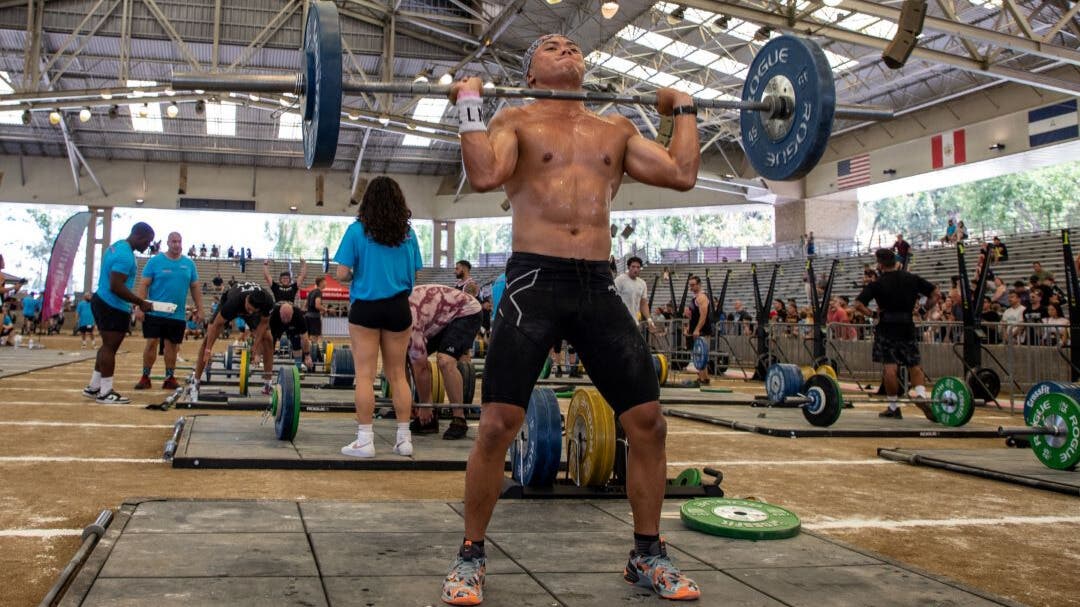 September
In September, I will be pacing one of my athletes in Arizona for a 100-miler. This will be my second time pacing for a 100-miler, and I am always honored to be a part of it. I am training for numerous trail running races and events in the latter part of the year. There will be some Crossfit and Spartan Races sprinkled in, but my focus will primarily be on trail races. My main goal for this month is to increase my mileage. Last month, I was highly focused on Crossfit and didn't get to run as much. I'm hoping to double the mileage I covered then.
August
What was your goal and how did you choose it?
My goal was to climb one or two 14ers (Colorado peaks over 14,000 ft) each weekend, focusing on improving my speed and strength. I aimed to maintain my fitness level for the North Pole expedition in the spring and for any other opportunities that might come up. Currently, I am working on logistics for a potential climb in Alaska this fall and another in Ecuador over the holidays.
What worked well? Did any unexpected challenges come up?
The only challenge, the usual challenge, was finding the right boot system for my left leg with the new orthotics I had made earlier this year. This has always been a significant challenge, but fortunately, I have socks that prevent blistering. With some adjustments here and there, climbs have been amazing, and I feel ready for the North Pole expedition or any other adventures that come my way!
Anything you would have done differently? Anything you're proud of doing?
Ha, I sometimes wish my day job didn't interfere during the week, allowing me to live at 14,000 feet like a mountain goat.
What socks did you wear?
I wore the Women's Liner + Hiker Crew and the Women's Liner + Runner Mini-Crew.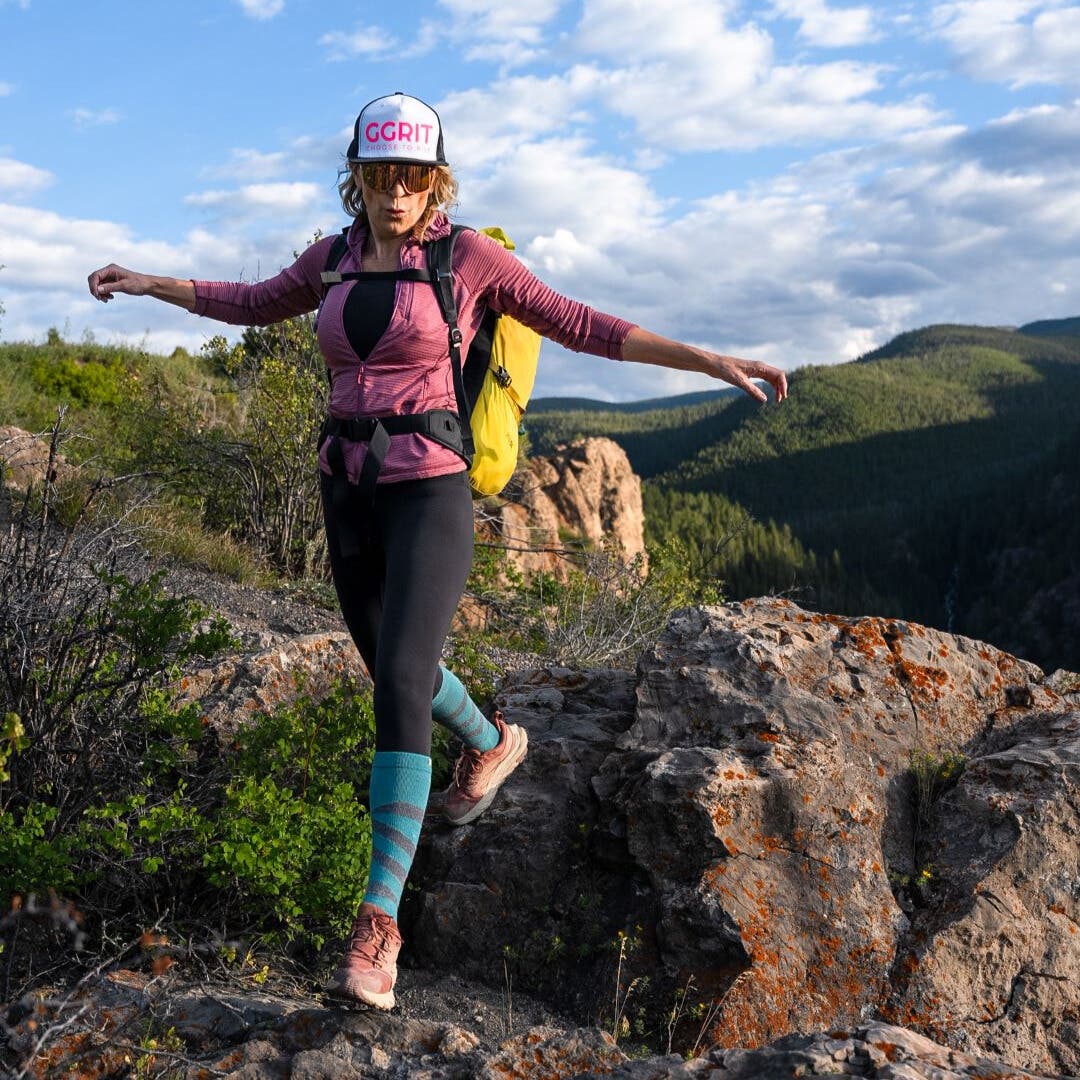 September
Got any trips planned?
I'm currently working on trips to Alaska and Ecuador, all leading up to completing the Explorers Grand Slam with the Last Degree Ski to the North Pole in 2024. Logistics are still a challenge, as the only current departure point is Russia, which is not an option for anyone from a NATO nation. So we are exploring a never-done-before approach that will combine canoeing and skiing to reach the North Pole! Fingers crossed.
What have you been training for or prioritizing?
NORTH POLE (waving my arms around like Animal from the Muppets.)
What is your main goal or objective for this month? What are you stoked for?
My main goal is to maintain a top level of fitness and plan for the Alaska Expedition. I'm also working on booking Keynote speaker jobs to cover the costs, ha.
August
Race: Tracksmith Twilight 5K - Ann Arbor
What was your goal and how did you choose it?
I had two goals for the Tracksmith Twilight 5k in Ann Arbor. The first goal was to win and, hopefully, set a personal best of 14:37. I had a string of a couple of great workouts that I knew set me up to at least come close to hitting that mark. I was one of the higher seeds for the event, so I wanted to position myself well and see if I could break the tape.
What worked well? Did any unexpected challenges come up?
I stayed pretty engaged through the first 3K. We had a fantastic pacer, and I did a great job of not getting carried away and settled into a nice groove. What I didn't expect was the weather to be warm at 9 PM. I started to fall asleep after the pacer dropped, resulting in some slower splits. Thankfully, I managed to rally for a strong final 400m, coming within milliseconds of my personal best, running 14:37 and winning by a 10-second margin.
Anything you would have done differently? Anything you're proud of doing?
I definitely would have put a more aggressive move down around the 1200m mark and focused on the upcoming lap instead of losing focus and looking at the crowd. I'm really proud of not falling apart over the second half and staying tough despite the warm conditions. Running so close to a personal best in less-than-ideal conditions was great.
What socks did you wear?
I wore the Men's Liner + Runner Mini-Crew socks.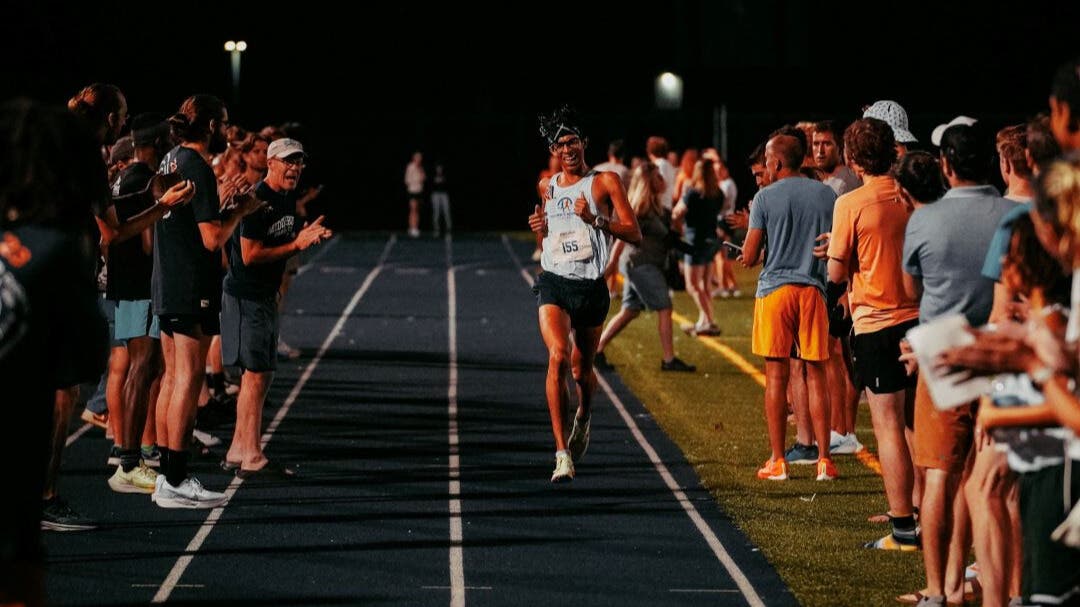 September
What have you been training for or prioritizing?
My training block for CIM started this week. I am prioritizing sleep, recovery, and strengthening my foot ahead of a very challenging block. The ultimate goal at the end of this block is to qualify for the Olympic Trials Marathon, so every week counts now.
What is your main goal or objective for this month? What are you stoked for?
My main goal is to strengthen my foot, which I injured in early January. It's been a persistent issue all year, so I've started a weekly PT regimen and rehabilitation stretches. I'm really excited to jump into this training block and see what's possible.
Jessica Storrison-Carmean
August
What was your goal and how did you choose it?
My A Race was this month! The Marquette Trail 50 miler is a very technical rocky and rooty race that highlights awesome trails and our local Four Peaks loop. I actually missed my time cut off at mile forty in 2019, so it was a bit of a revenge race for me.
What worked well? Did any unexpected challenges come up?
Overall, things went great! The weather was sunny and a bit hot for the Upper Peninsula, but I was able to stay well-hydrated. The biggest challenge? Wasps! I got stung five times between miles 8.5 to 11.5. The stings on my calves swelled up significantly!
Anything you would have done differently? Anything you're proud of doing?
I'm not sure what could've been done differently, but I'm really proud of the pace I kept and running 45 minutes to an hour ahead of cutoff times considering I had been pulled for time in the past.
What socks did you wear?
I wore the Women's Spectrum Midweight Trail socks in Beam.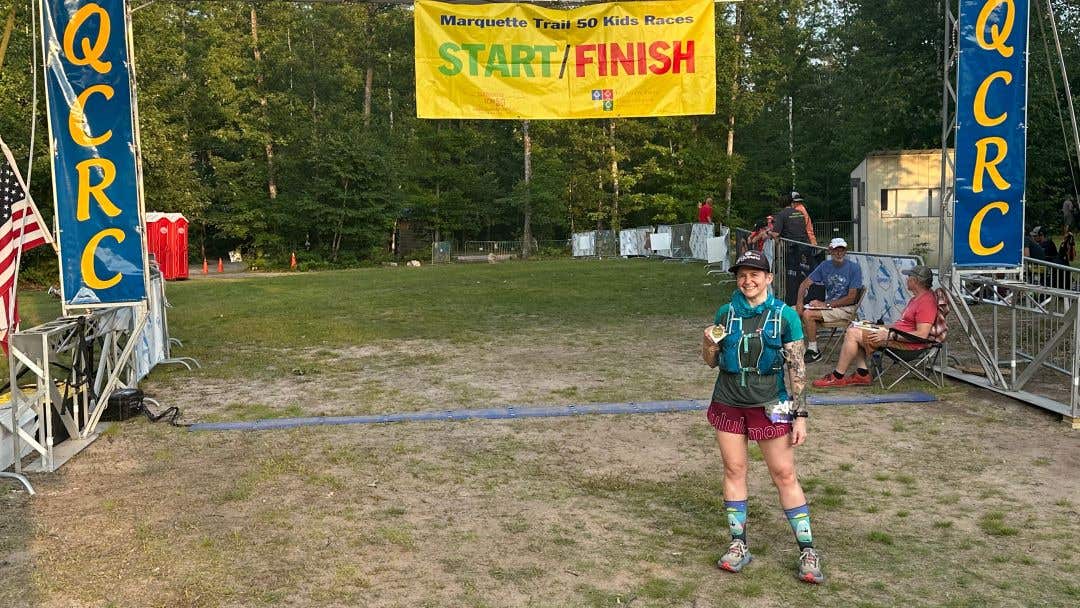 September
What have you been training for or prioritizing?
With my running goal for the year accomplished, I'm shifting gears and increasing my weightlifting as I build towards competitions in November and March. I'm also enjoying myself on the mountain bike!
What is your main goal or objective for this month? What are you stoked for?
I'm excited to get back to being more serious with weightlifting and enjoy the great fall weather. I'm stoked for cyclocross season too! I'm on the board for our cyclocross race organization and our season is just starting.
Looking Back at July, Planning For August
Races and Events
Tara Warren - High Lonesome 100
Skye Stoury - Elk Valley 15k - Her First Trail Race!
Viktoria Brown - Badwater 135
Jessica Storrison - Carmean - Grand Island 50k
Justin Nucuum - The Mount Baldy 5000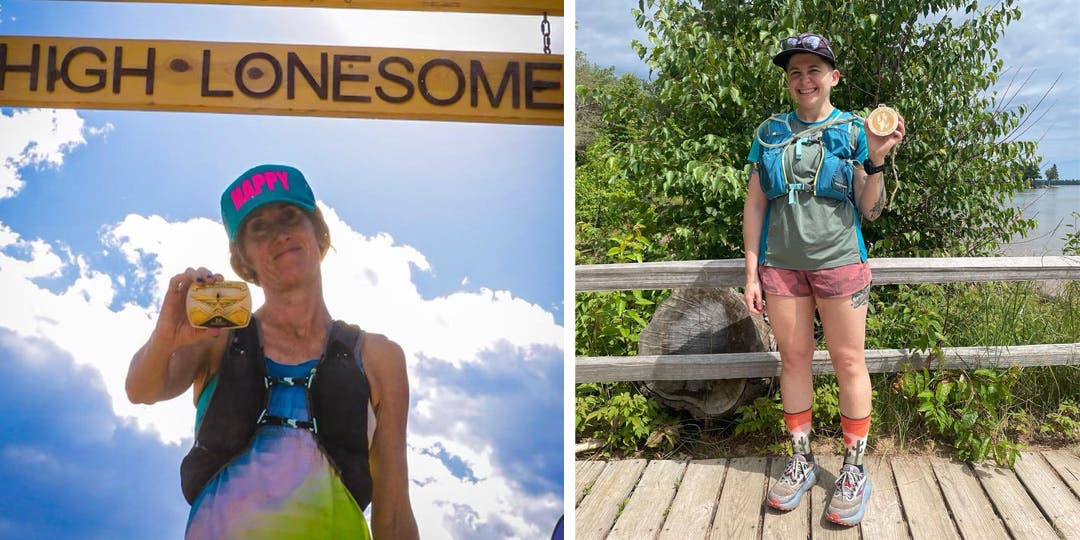 Tara Warren at the High Lonesome 100 and Jessica Storrison-Carmean at the Grand Island 50k.
Cali Schweikhart
I had a few big goals for July, namely the Ned Gravel 116 mile bike race and an 8 hour Tough Mudder event where you try to run as many laps as possible. I really wanted to focus on fueling and hydrating well and managing my effort throughout both races. I was able to take 3rd in the bike race and win the Tough Mudder, feeling really strong for both, so I am stoked on that! I of course wore Injinji for both - some higher Crew socks for the bike race and Mini-Crews for the Tough Mudder!
I have the goal of competing in the Spartan Killington 50K in mid-September, so for August, I really want to up my time on feet and get some solid vert as I prep for that!
Viktoria Brown
In July I ran the Badwater 135 in Death Valley, which is labeled as the "World's Toughest Footrace". I came 4th female in 30h 11 mins and while I was not perfectly happy with the way it went, I feel it was a good effort for a first shot at this grueling race. I wore the Injinji Sport Midweight Crews and my feet were very happy for the whole race!
In August I will compete in the 48h World Championship for ultrarunning in the UK and I'm lining up as the defending champion so there is some expectation to do well. I can potentially aim for a number of records that I have been very close to in my recent races, I can break my own Canadian 48h record, the Hungarian 48h record that a legendary ultrarunner holds who had a number of world records to her name back in the day (I was within 4km last time at 365km), the Canadian men's 48h record (I was within 3 km), then there is the age group world record which also doable as long as everything goes to plan. Fingers crossed!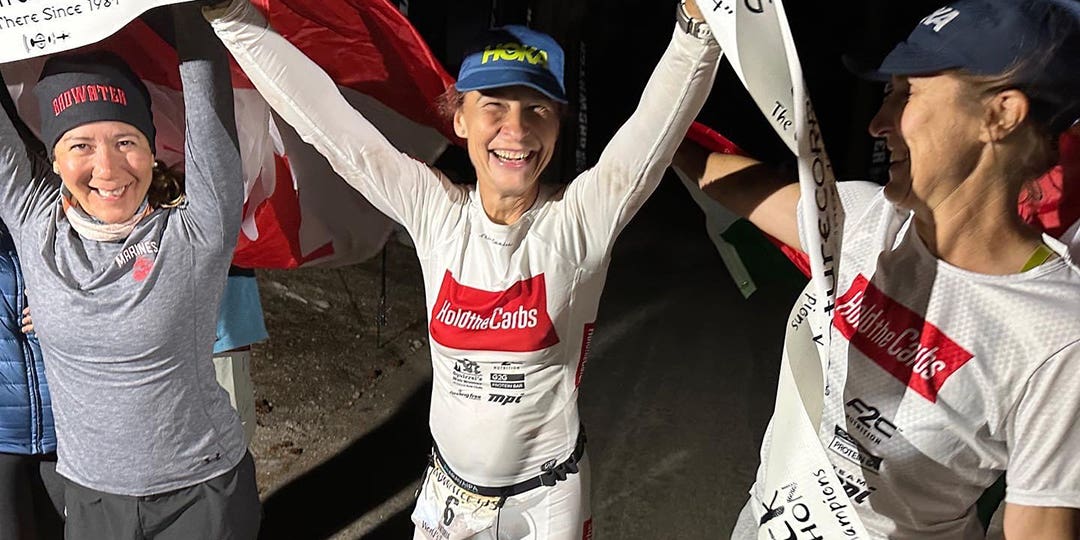 Viktoria Brown celebrating at the finish line of the Badwater 135 ultra.
Bobby Le
After a tumultuous few weeks of work, travel, and life, I am finally getting back into a regular routine and hope it carries forward. My only goal in August is to stick to my training plan to get ready for a November race.
Donovan Stewart
In July, I actually stopped almost all activities because I was traveling abroad. No regrets! I only brought my injinji socks on the trip and it's safe to say, I was beyond comfortable for all the walking I did across Asia and the middle east!
In August, I'll be restarting my training and hopefully will be in shape for my first ultramarathon in September. My main goal for the month is to have fun with my running and cycling. Not forcing any activities, but simply enjoy the fact that I am putting my feet down on the ground and moving forward.
Alyssa Amos
July was a funky month with two races canceled because of extreme weather situations, but luckily no injuries or issues!
On the plus side, August is looking great with a fun trail running camp in Washington State, and then I will be headed to Wales for the Dragon's Back Race which is a 6-day stage race across the length of Wales. Will definitely need lots of socks for that!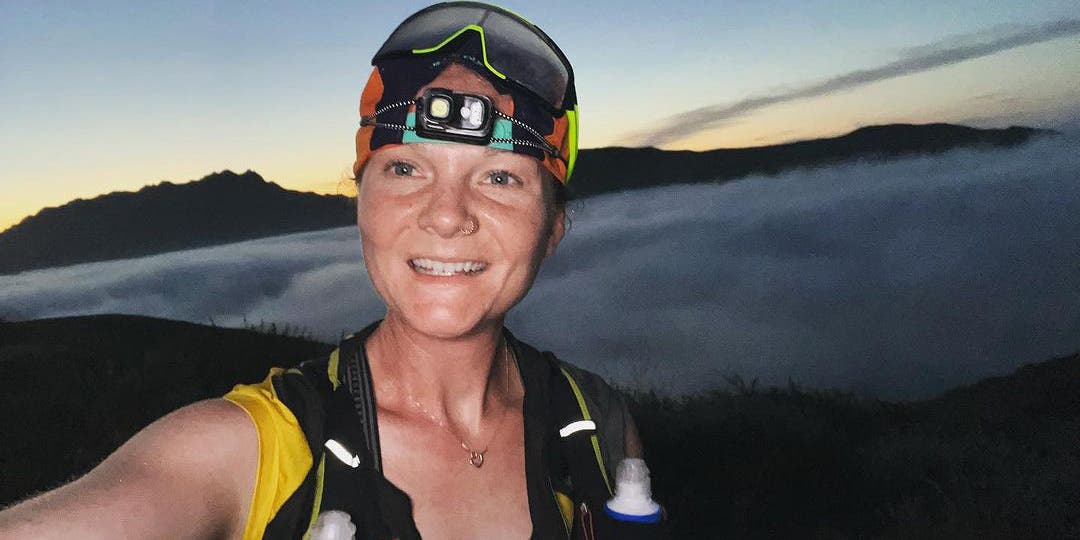 Alyssa Amos out on a training run above the clouds.
---
We can't wait to hear about Alyssa Amos' race across Wales and we'd love to know what helps Bobby Le stick his training plan. Check in next month to find out and see what Team Injinji is up to next!