This year will be the 19th edition of the Ultra-Trail du Mont-Blanc, known to host over 10,000 runners and 100,000 spectators over seven events in one week. We will once again have two Team Injinji Athletes competing, Denise Bourassa and Tara Warren, with Denise racing the UTMB, consisting of 171 km of mountain trails, 10,000 meters of elevation gain and approximately 2,300 participants, and Tara racing the TDS, which is 145 km, 9,100 meters of elevation gain and 1,600 participants. The positive atmosphere, quantity of cheering spectators and locals at every small village, makes UTMB very popular with runners.
The TDS, which stands for "Sur les Traces des Ducs de Savoie", always begins in Courmayer, Italy and is the third of the seven events to start. Each runner is exposed to difficult weather conditions and must carry the mandatory hot weather and cold weather kits, along with other gear such as an emergency blanket, passport, and a minimum of 2 liters of water at all times. This course is unique, challenging runners with a variety of technical trails and relentless ascents and descents. There are no pacers, very limited crew access and no drop bags. Runners must pack all of their gear, nutrition and hydration, carrying it with them as they race.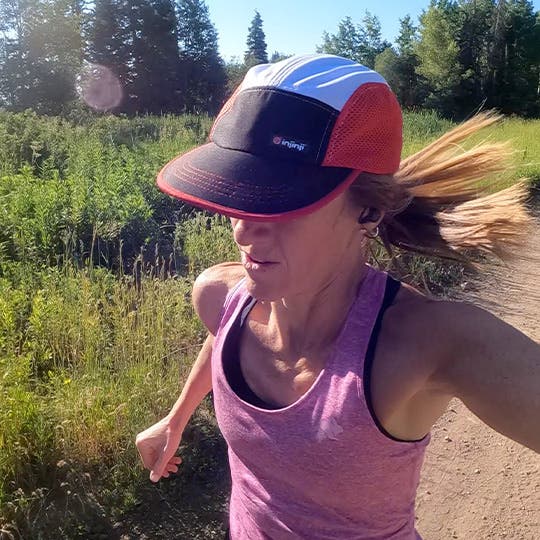 Tara Warren has been running ultras for about nine years and has been with Injinji for almost six of those. She ran UTMB in 2018, which had numerous DNFs, but she pushed through, achieving 3rd US female. Tara chose this course out of the seven events for her love of climbing, endurance and the fast downhills. Unfortunately, during her 2021 attempt, the race was canceled midway due to a tragic accident involving the death of a fellow competitor. Trail Runner Magazine noted that this was the first death in the history of the UTMB races in and around Chamonix.
The training period for this race requires immense logistical planning. Translating the information from French to English, converting distance from metric to imperial, finding a crew willing to travel to Europe for an extended period of time, and hauling the gear necessary for safety and success, are only a portion of the planning challenges. This year, Tara's goal is to enjoy the race, have fun and finish strong. She may not be the fastest on the course, but she's confident in her ability to strategize, problem-solve and has experience running distance from completing fifteen other 100-mile races. In addition to her typical training, Tara has also raced some major ultras this year, including the HURT 100, Bighorn 100, and the High Lonesome 100. Tara's main focus between these races and leading up to TDS is recovery and confirming that all systems are "go" for her run around the Alps.
Despite the many risks of this race, from drastic weather changes, steep cliff edges, and many miles of solo running, Tara loves the magic of the Chamonix valley. "The town is just right out of a fairy tale with majestic mountains, glaciers, old world chalets, flowers everywhere, and the cool blue Arve River running through town." The area is known to be full of celebrations for runners who have traveled to this race from all over the world to chase their dreams in the enchanting Alps. Each participant who toes the line has put in months of training to get to this point, and each of them carries their own story.
Tara adds, "To be given this opportunity to go back and put the puzzle back together and run through that finishing arch in town will be a highlight. Here's hoping for a good journey!"
We wish Tara a fantastic race! Follow her ultra running journey on Instagram @runwithtara.