Team Injinji Athlete Courtney Dauwalter has been running long-distance races since 2011 and has since been recognized as UltraRunner of Year by UltraRunning Magazine for five consecutive years. Beloved by the ultrarunning community for her lightheartedness and long inseams, she has earned first place at races such as the Javelina Jundred, Moab 240, Tahoe 200, and UTMB, among others.
Most recently, Courtney crushed the previous course record at the 2023 Western States 100, finishing in 15 hours and 29 minutes. Coming off her legendary performance, she is headed back to the Hardrock 100, where she won first place in 2022.
Known as one of the most challenging ultramarathons in the world, the Hardrock course snakes through the San Juan Mountain Range in Southwestern Colorado, demanding that runners face 66,000 ft. in elevation change. Courtney currently holds the Hardrock 100 female course record and we can't wait to see what she will accomplish this time around.
Read on to find out how she gets amped up and what Injinji socks she'll wear along the way.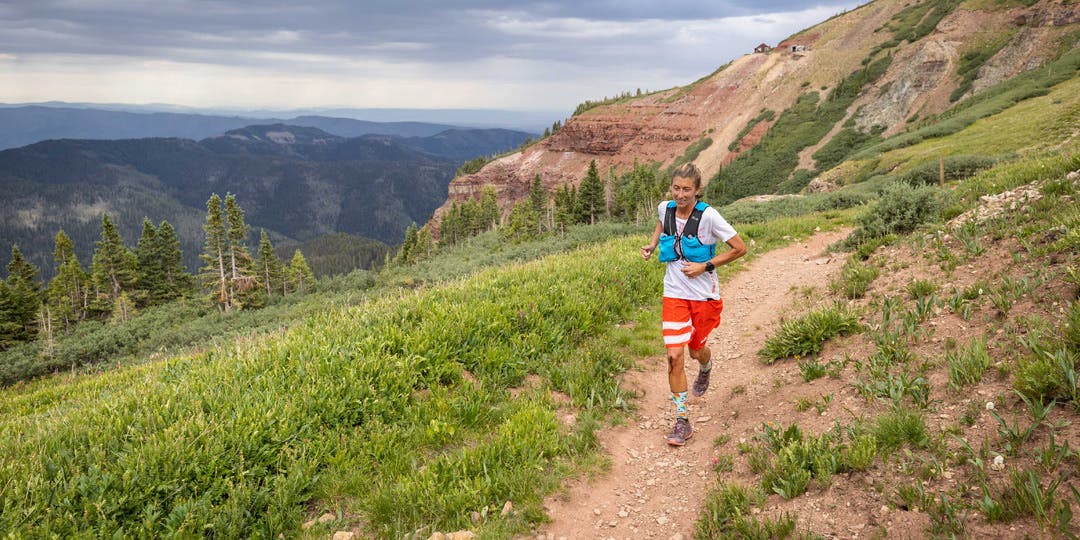 Q: What keeps drawing you back to the Hardrock 100 race? Is there something about the course or community that you especially enjoy?
Courtney Dauwalter: Hardrock is special for so many reasons. My top reasons are the way the community comes together to create a really cool atmosphere of support & adventure, the toughness of the course, and how beautiful the San Juan mountains are.
Q: What socks, sunnies and hydration vest will you be wearing for the Hardrock 100?
Courtney Dauwalter: I haven't picked my race socks for Hardrock yet but I know I will be choosing one of the Ultra Run Crew or Trail Midweight Crew pairs that have a fun, colorful design. It's all about the cool designs! For sunnies and hydration, I'll be wearing my SunGod Classic frames and my Salomon Ultra vest.
Q: This race has over 66k in elevation change (!!), how have you prepped your body for this much ascent and descent? Will you be using trekking poles?
Courtney Dauwalter: That's a lot! I will definitely be using poles for Hardrock. They are super helpful for a race with this kind of terrain and this amount of climbing. To prepare for it, I have been trying to get out in the mountains whenever I can to build that climbing strength and prepare my legs for all the descending.
Q: What do you enjoy about training and racing in Colorado?
Courtney Dauwalter: The mountains are stunning and the sun is usually shining – it's paradise! It feels special to be adventuring amongst these giant peaks using just our feet.
Q: Is there a go-to song on your race playlist that is a surefire way to get you amped up when you're on a downswing? Same question for snacks?
Courtney Dauwalter: I have an old school iPod shuffle so I can't pick specific songs but usually just putting in the music can give a little energy boost. For snacks? All of them! I love pancakes, french fries, or pizza during really long races – those will get me amped up for sure!
Q: What is one word to describe how you felt kissing the Hardrock and setting a new course record last year?
Courtney Dauwalter: Thankful.