The sport of ultra running is just as much, if not more, mental as it is physical. Most even say that you are not a true ultra runner until you have a DNF (did not finish) on your resume. Those three words sting, whether said out loud or viewed on a computer screen. There are many reasons that one might decide to drop from a race, or be told they must drop, such as missing a cutoff, an injury, fatigue, gastrointestinal issues, getting off course, or mentally shutting down. However, a DNF is not a failure. It is an experience to grow and learn from what went right and what can be improved upon for the next race.
"Don't define yourself by a DNF. It is just a stepping stone along the way." - Courtney Dauwalter (@courtneydauwalter) Elite runner and Team Injinji Athlete Courtney Dauwalter has definitely had her share of races not going as planned. Her first attempt at a 100 miler was the Run Rabbit Run in 2012. She was new to the ultra world, had only raced a 50k and 50 miler prior, but was intrigued with the challenge of running the distance in beautiful Steamboat Springs, Colorado. At mile 40 her legs began to throb and negative thoughts filled her head that she couldn't finish the race. These unfavorable beliefs increased over the next 20 miles and by mile 60 she was in such a dark place mentally that she threw in the towel. Since the aid station that Courtney decided to drop at was very remote, she was forced to wait there for hours until she was able to get a ride back to the start line. During this time is when she learned her most valuable lessons. Courtney watched runners come and go through the aid station. These runners were hurting, tired, in pain, but pushing through to make it to the finish line. She witnessed perseverance and grit firsthand and later asked herself, why did she give up so easily? The next day she started looking for her next 100 miler.
One of the many challenges that even elite runners experience during ultras, are GI issues during a race. This problem can get so severe that runners are no longer able to continue racing. Courtney's key advice in this situation is to know that "when your stomach turns it's ok. It is not a reason to stop a race, but you do need to adjust. Slow down your pace. Go through all the options to see what food can stay in your body. You need fuel." In 2018 during the Tahoe 200 Endurance Run, Courtney spent the whole first day throwing up and not able to keep anything down. Her crew had her try different options at each aid station to see what her stomach would accept. Problem solving for this issue is something that takes time and lots of patience from the runner. Courtney backed off her pace, forced her body to settle down, exercised patience, and the problem was finally resolved with pancakes.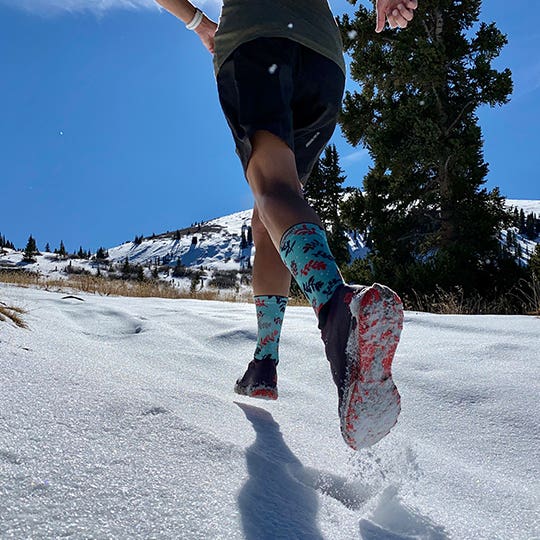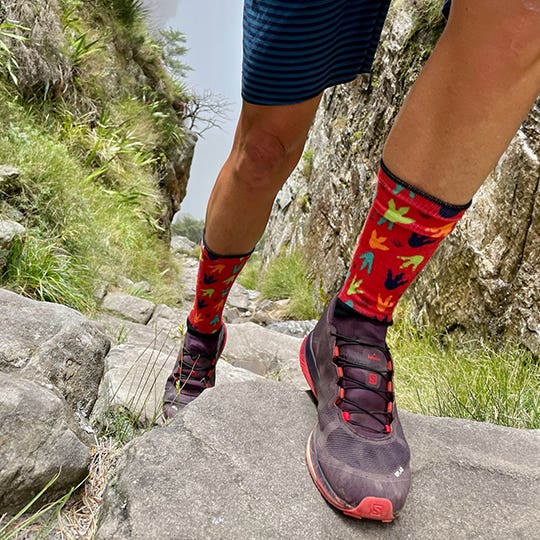 Having a strong crew is another resource to overcoming challenges during a race. Husband Kevin, Crew Chief from Courtney's first 100 miler attempt and has been ever since, knows when to give his wife a kick in the pants or tell a joke to get things going again during a hard time. A crew is huge for navigating tough moments and solving issues, but they do need honesty and time to figure out solutions from their runner.
"When it gets hard, you need to stay positive and know that it is going to get better."
When Courtney goes into a race, she already knows that the experience is going to be an emotional roller coaster. Low points, or going into the Pain Cave, are going to happen. Courtney doesn't set ranking or time goals for her races, but just has the one main goal of giving it everything she has and leaving it all out there on the course. She strives to be the best in each moment, trusts her training, and leaves any doubts behind.
In the end, if a race doesn't go as planned, Courtney gives herself two days, and only two days to have the feeling of being bummed. After those two days are up, she puts her eyes forward and moves on to the next thing. She takes a DNF as a valuable lesson on how to change a routine, different strategies moving forward, and problem solving. During the Hardrock 100 in 2021, Courtney battled severe stomach issues all day, didn't take the time to problem-solve, and ended up dropping at mile 62. Just like any other ultra runner, she was disappointed, yet followed her 2-day rule, put her eyes forward and won the UTMB (Ultra-Trail du Mont-Blanc) just one month later.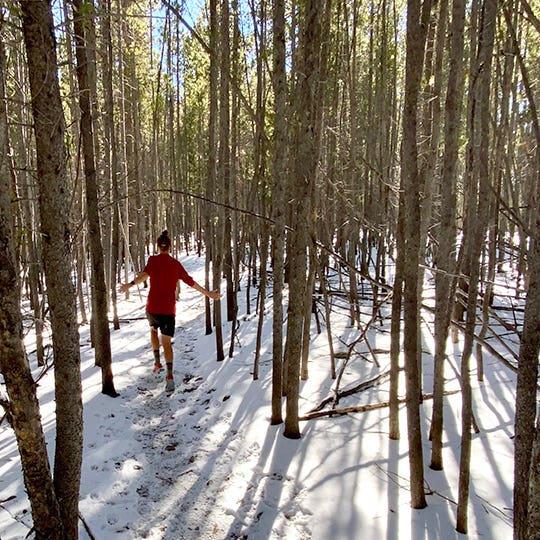 Most recently Courtney participated in the Barkley Marathons, one of the hardest ultras due to its terrain, altitude, weather, navigation, and unique obstacles such as finding books along the course, and tearing out the pages to match her bib number. This was not Courtney's first Barkley, which allowed her to visualize the course for her mental training prior to the start. After the famous conch was blown and cigarette was lit by Race Director Laz Lake, her first loop went smoothly with clear skies and good visibility. Although it was a hot day, there were no navigation errors, and Courtney returned with all the necessary pages of the books. During the night, on loop 2, the temperature dropped dramatically with rain and thick fog, causing low visibility. Courtney's body took a beating in the cold and rain, and navigation got tricky in the poor conditions. After wandering on a muddy hill side for hours, getting very turned around in the freezing rain, and not locating the next book, Courtney returned to camp and was out of the race due to not having all her pages.
Courtney has already moved forward from this experience and knows that more navigation experience in poor conditions is needed for this long-term project. Her energy is now mostly focused on another shot at the Hardrock 100 which will take place this July along with other Team Injinji Athletes Jeff Browning (@gobroncobilly) and Angela Shartel (@angelashartel). See you in Silverton!