Despite growing up in northern Minnesota, snowshoe running and racing wasn't on my radar until I moved to Colorado. I had gone snowshoeing, but running on snowshoes, what the heck?
In 2008, I had a breakout year in mountain running; specifically, running up mountains. Previously, I had been a marathoner and chased times on the road. This "new" world of mountain running introduced me to people, places, and events I could not have imagined existed before--including snowshoe running and racing!
I learned the World Mountain Running Championships happen every year but in alternate formats. I had qualified for even years which were only uphill while odd years were uphill and down. I was terrible at running downhill but wanted to be a more versatile athlete and give myself a chance to represent the US on more occasions. Somewhere around this time, I believe I crossed paths with Adam Chase (@adamwchase) who told me I should give snowshoe running a chance, as he was a well-known legend in the sport at the time. If snowshoe running could help me become a better downhill racer, I thought, let's go for it.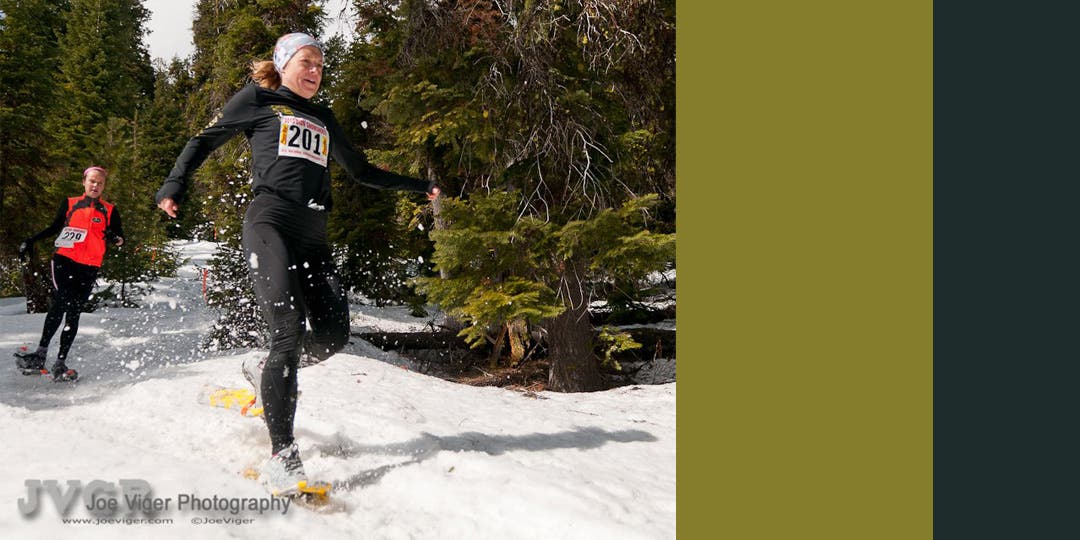 I learned a few things that first year. Make sure and study the course maps. I think I got lost in 90% of the first races I did. Get a pair of running snowshoes. ATLAS, DION, Northern Lites, among other companies, all have great choices. You'll want a lightweight pair with an easy, yet secure "mounting" system. You can even consider getting a pair of running shoes permanently mounted into your snowshoes.
Don't worry about time/distance or you will be extremely frustrated and disappointed. Use your perceived effort and heart rate to be your guide. Trust me, your heart rate will be high! Although groomed trails are a bit easier and often go to the fastest racer, fresh powder and breaking trail make the sport more fun and authentic—in my humble opinion. Dress in layers including a wind and water resistant outer layer. Make sure you have dry clothes to change into immediately afterward and indulge in your favorite warm beverage as you'll be chilled to the bone otherwise.
Why give snowshoe running a chance? It's a great way to get on your favorite trails in the snow, a fabulous workout, it improves your running strength, and provides an opportunity to practice downhill running without getting hurt. If you fall, it's snow; you'll just get wet! Bonus, you'll meet a great community of people, and you can travel and explore new places. Did you know there are yearly national and world championships, a United States Snowshoe Federation, and a famous snowshoeing race on my bucket list in Italy?!
What are you waiting for? Get out there and give snowshoe running a try this winter. It will feel awkward at first but just strap on your shoes and give it a go!
Here is a calendar of events and another great resource for beginners at Runner's World.