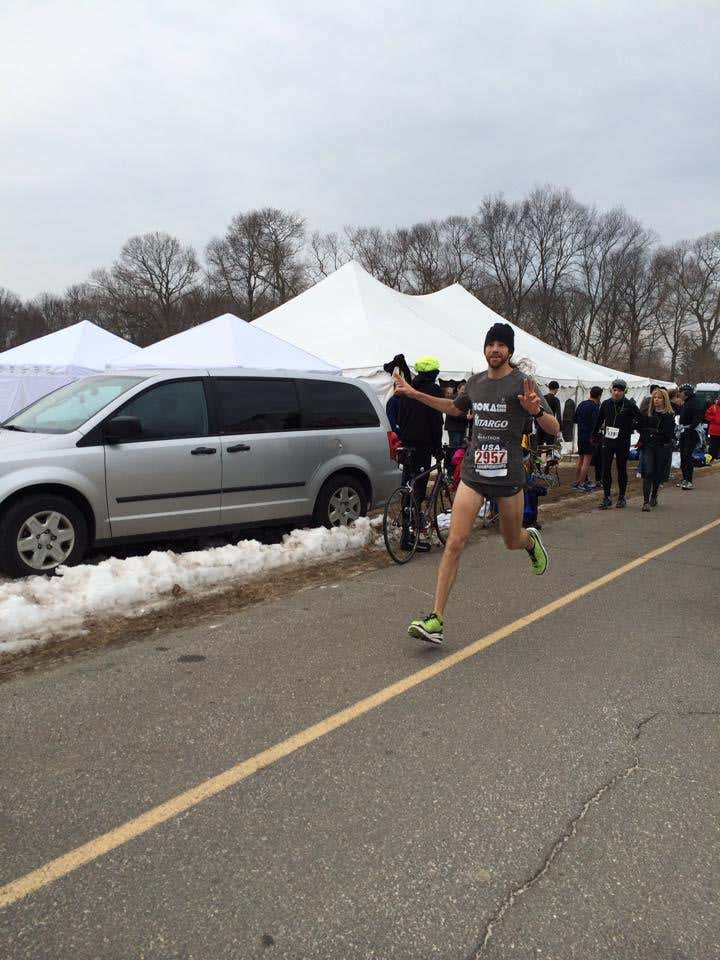 Are you training for a mountain race but live far from the elevation? Check out Runner's World's Q&A with Team Injinji's Brandy Erholtz and Mike Wardian. These expert tips can help prepare you for a high-altitude adventure no matter where you live.
And we can't share training tips without pointing out socks as an essential gear item. Mountain trails have loose dirt and small pebbles that can get into shorter socks and irritate your feet. Wearing Injinji toesocks that rest above the ankle (Mini-Crew) can help keep dirt and debris out. And wearing our Nuwool™ socks can help regulate the temperature of your feet, especially during changing mountain weather. It's essential you don't have to worry about foot pain or socks slipping on your incline, let Injinji help you reach your peak!
---
How to Train for Mountain Running
Prepare for a high-altitude adventure no matter where you live with these expert tips.
Competing in mountain races—or just tackling the occasional mountain run—isn't limited to folks that live in places like Chamonix, Aspen, and Mt. Hood. Sure, it'd be great to train on a mountain trail similar to the one you'll face in your goal race or run, but there are ways to prepare yourself that don't include daily high-alpine adventures. So whether you live with mountain trails out your back door or with no trails (or hills) in sight, there's hope for your training if you follow these expert tips.
If you live near mountains with trails…
Brandy Erholz, four-time member of the U.S. Mountain Running Team, lives in Evergreen, Colorado, with plenty of access to mountain trails. When training for mountains, Erholz maintains many of the same principles that she uses to train for a road race. "The weekly long run is important," she says, "and so is a tempo run and some sort of interval or speed session." The difference, if you're training for a mountain race, is to do these key workouts on hilly, technical terrain or straight uphill.
If you're training for a specific race, Erholz advises to know the course or run you're training for, and try to mimic the surface and terrain during your key workouts. "This can definitely help build confidence and muscle memory."
And to get fast on technical downhills, practice. Erholz says that any time she's running downhill on technical trails, even on easy days, she's trying to find her line—like in skiing and mountain biking—and working on technique to be fast and relaxed.
But Erholz does say that a mix of trail and road running can balance out your week. "In fact," Erholz says, "doing speedwork on the road (or treadmill) once in a while can help with leg turnover for your mountain race." And she says it's important to make sure you are recovering from your hard trail workouts with flat, easy runs.
If you live in a hilly area with a lack of trails…
Not to worry! You can gain much of the strength needed for mountain running by running hilly roads. You'll need to be strategic about working on your technical terrain skills, though.
Accomplished mountain (and road) runner and Washington D.C. resident Michael Wardian creates an interesting urban challenge for himself. "Once in a while, I try to run over the curb or pick a line and just run over everything in my path, kind of like parkour but not flipping over trees or anything," Wardian says.
He also says that jumping rope is not only great for foot speed, "but it will help to get your feet up and over on technical trails."
And Erholz advises the power of visualization. "If you don't have access to daily trails, visualize yourself flying down them when you are stuck inside on the treadmill or out on the road," she says.
If you live in a flat, urban environment…
Wardian lives over an hour's drive from the Shenendoah Mountains, and with a full-time job and a family, he doesn't get out on mountain trails very often. "Just because you're a 'flat lander' you don't have to be intimidated by climbs and descents," he says. "It is really all running and part of the adventure."
But to get stronger, Wardian recommends getting on a treadmill and cranking up the incline. His favorite workouts include:
- Setting the treadmill to 15 percent (beginners could set it at, say, 6 or 8 percent), and running or hiking as fast as possible to 1000 feet*. Then, drop the incline by 2 percent, but increase the speed, keeping the pace as long as you can.
- Set the treadmill to 5 percent (or 2 percent, if you're just starting out), and run a mile. Increase the incline by 1 percent; do another mile. Pick the vertical you want to hit and keep increasing incline until you reach it.
- Set the incline to 15 percent (or 6-8 percent, if you're just starting out), and run a mile. Then put treadmill at 2 percent and run at marathon pace. Try for 4-6 miles.
"The treadmill is a terrific tool for climbing, and allows people who are vertically challenged to get in a fantastic workout where they live," Wardian says.
Wardian also recommends running stairs or stadiums. "I warm up for 15 to 20 minutes, run stairs as fast as I can for as long as I can, and then cool down for 10-15 minutes," he says.
Wardian also says to ask around for tough trails near you. "You would be surprised--you might find some," he says.
br>
br>
br>
Courtesy of Lisa Jhung - Runner's Worldvia http://m.runnersworld.com/mountain-training/how-to-train-for-mountain-running