Trail running is a variation of running that takes place on unpaved surfaces, whether that be dirt, gravel, or sand. From mountains and forests, to deserts and ocean cliffs, trail running is all about enjoying the peace and tranquility of natural landscapes while challenging yourself to a more technical style of running.
Trail running is very different from road running and thus, requires specialized gear to get from start to finish comfortably and safely. Trail running gear needs to be adaptable for changing conditions in weather and terrain, while remaining comfortable for miles of sweating and friction.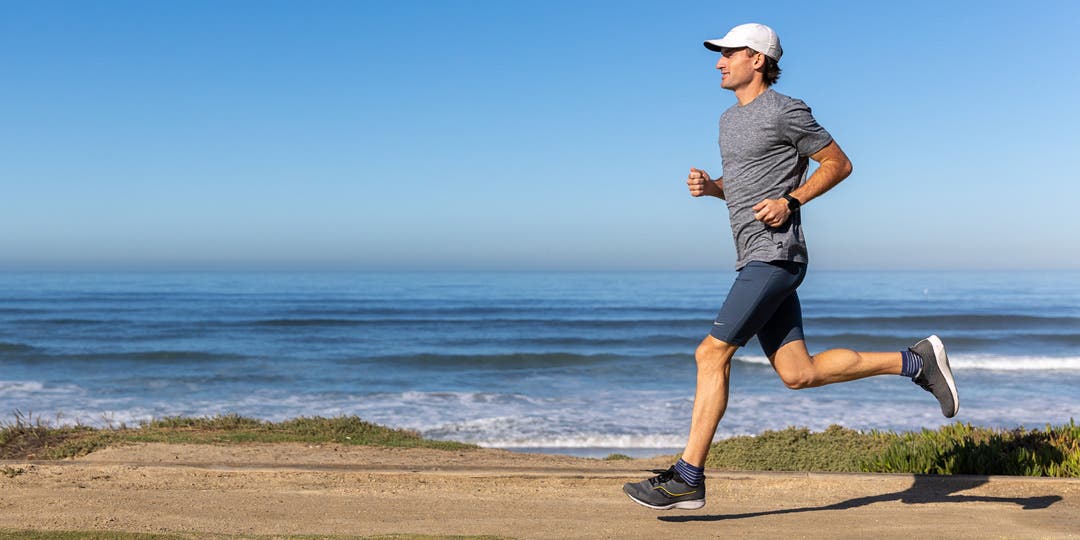 Trail Running Footwear
In trail running, everything begins and ends with your feet. Stocking up on quality footwear will make or break your experience on the trail, because ending up too far from the trailhead with aching feet is a recipe for disaster. Be intentional when choosing what you wear to protect your feet and toes.
Trail Running Socks

Running on trails can cause a lot of sweat and debris to build up in your socks, which when combined with friction can lead to blisters and hotspots. Socks are the first layer of defense in the battle against blisters on the trail and you'll want the benefits of toesocks on your side for ultimate protection.

The Injinji Trail series is the perfect choice for optimum comfort and protection on the trail. Each toe is wrapped in moisture-wicking fibers to evaporate sweat and reduce skin-on-skin friction. The Mini-Crew and Crew heights work to seal out dirt and debris, while targeted cushioning keeps you supported as you traverse unpredictable landscapes.
Trail Running Shoes

While trail running, your shoes are going to be your main source of stability as you navigate obstacles. Roots, rocks and other natural barriers will dot the terrain, so you need a shoe that has thicker treads to keep you stable. Plus, a lot of traditional trail running shoes offer more cushion to keep your feet comfortable.

No matter the brand you choose, remember that fit is key. Shoes that are too tight or too loose can cause blisters, slippage and affect your stability. Be sure to try them on with the socks you'll be running in, way you can accurately judge the fit.

Trail Running Insoles and Orthotics

Everyone's feet are different, and if you have specific needs to do injuries or pre-existing conditions, you can gear up with specialized insoles or orthotics in your trail running shoes to ensure support.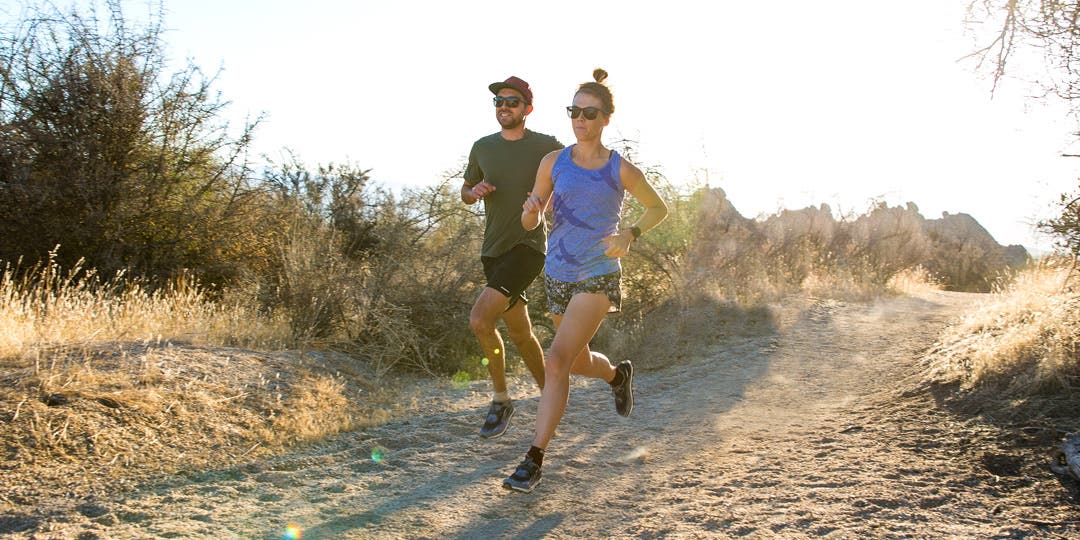 Trail Running Clothing
High quality trail running clothing is essential for staying protected from the elements, whether that be sunshine, thunderstorms, or snow. It is important to select clothing tailored for the environment and weather of the location you are trail running in. If you are running in a new environment, seek advice from local runners in the area to properly prepare.
Trail Running Clothing Materials

When choosing clothing for trail running, it is essential to consider what materials your clothing is made of. The best materials for trail running clothing are moisture wicking, technical fabrics that help to efficiently wick sweat and moisture away from your body.

Two of the best materials for this function are COOLMAX EcoMade (100% recycled polyester) and Merino wool. In addition to moisture wicking properties, Merino wool also resists bad odors, and helps to regulate temperatures.

Trail Running Clothing Items

The clothing items you will need for trail running will vary depending on your local environment and climate, but this is a list of great items to start with. Keep in mind that you will want these items to easily layer atop one another, so you can remove layers when you warm up, and add layers back when you cool off.
Lightweight Running Tops or Base Layers
Sports Bras
Lightweight Running Shorts
Lightweight, Water-Resistant Running Pants
Running Leggings
Mid-Layers: Long Sleeve Zip Ups, or Half Zips
Jackets: Rain Jackets, Wind Breakers Trail Running Accessories
The defense doesn't end with clothing, trail running accessories are essential for protection from the elements, navigation, and hydration!
Trail Running Headwear

Depending on your preference and the weather, different headwear will be your go-to pick at different times in your trail running journey. Lightweight hats, such as the Active Cap, are perfect for running in Spring and Summer months. Hats like this protect your face from the sun, and the interior sweatband absorbs sweat. During this time, you may prefer the Sweatband, a more minimal option for keeping sweat and hair out of your face.

In the fall and winter months, it may be more comfortable for your ears to be protected from the wind with a headband, such as the Lightweight Running Headband.

Trail Running Sunglasses

While navigating a trail, you may come across sections with very little shade, and sunglasses will be essential for keeping your eyes protected from harmful UV rays. The Injinji x Knockaround Premium Sport Sunglasses are a great option for trail runners, as they have polarized lenses, a lightweight construction, UV400 protection, and rubberized nose pads to keep them in place.

Trail Running Gloves

If you are running in the fall and winter, gloves will be an essential component in your kit. Check out our comfortable, tech-friendly gloves that are perfect for keeping you warm on chillier trail runs. Available in Women's and Men's sizes.

Trail Running Hydration System

Keeping an eye on your hydration and nutrition is crucial while trail running, especially when you are exploring trails that are further away from civilization. If the weather takes a turn when you are out on your run, you want to be certain that you can remain hydrated and fueled, whether you're waiting out a rainstorm, or finding cover during a heat wave. That could mean a hydration vest, or simply a handheld water bottle and some gels.

Determine your preparation based on your distance and your proximity to resources (public restrooms, gas stations, etc.)

Trail Running Headlamp

You never know what could happen out on the trails, so be prepared with a headlamp, in case you end up out later than anticipated and need to navigate in the dark.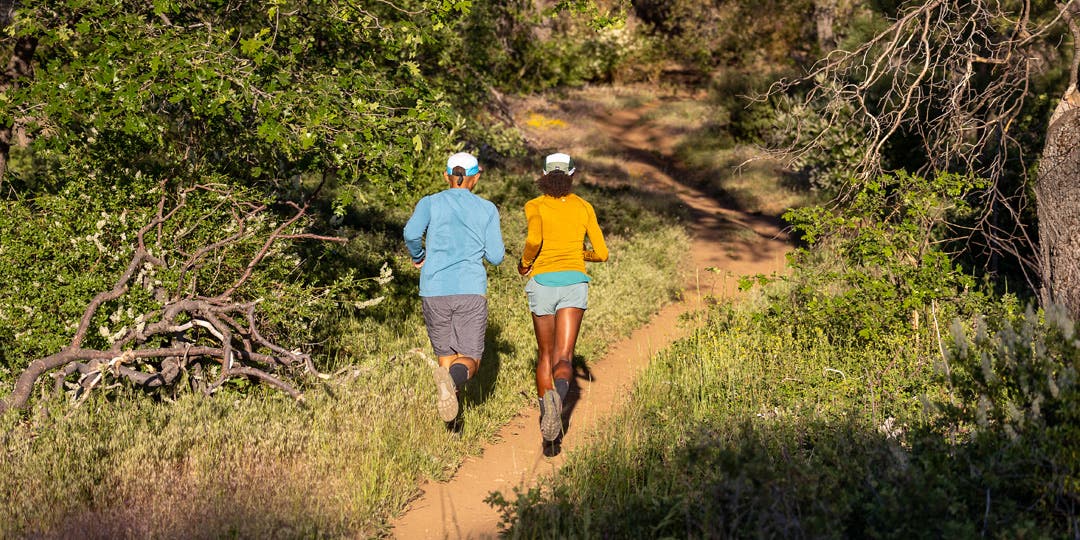 Trail Running Safety and First Aid
Every trail adventure is different, and it never hurts to be prepared, especially when taking on a trail for the first time. Here's a list of safety items that could come in handy in a pinch on a trail run.
Trail Running GPS and Navigation Devices

If you are thinking of taking on a trail that is far away from resources, or that you have never navigated before, be prepared with some type of GPS or navigation device. That could mean an app on your phone, a smartwatch, a GPS device, or a paper map.

If you are relying on technology for navigation, check your battery levels before you leave for a run, and download offline maps if you anticipate being in an area with bad or no reception. Be sure to notify someone where you'll be and how long you anticipate being gone for.

Trail Running Emergency Equipment

This is different in every environment, but there is certain equipment you may need in case of emergencies while running in certain places. For example, you may need bear spray or an air horn if you are in an area that commonly has bear encounters. A personal locator beacon may be a good option if you know you will be without cell phone reception in an area where it is dangerous and uncommon to come across others. Do your research on an area to best prepare for wildlife and weather possibilities.

Trail Running First Aid Kit

If you are carrying a hydration vest, it would be smart to throw in a small first aid kit in case you fall and need to patch up a wound. Trails are constant trip hazards between roots and rocks, especially when it's wet outside, so be prepared in case you take a spill.

Trail Running Insect Repellent and Sunscreen

You don't want to get caught out in the elements without protection from these two culprits: sunburns and bug bites. Apply sunscreen and insect repellent before leaving the house, and if your run is a long duration, bring a travel size with you in your hydration vest to reapply.
Hit The Trails
Successful trail running is all about having the proper gear. So, no matter where you go, if you've done your research and prepared accordingly, you're sure to have an incredible time connecting with nature.
If you're new to trail running, it's best to start small, with local trails that have easy access to amenities like bathrooms or gas stations. Then, slowly work your way up to more isolated areas with more technical terrain and navigation. Have fun and enjoy the journey!