One of the joys of running is its simplicity—just you, your favorite sneakers and the wide-open road! But what about when you want to take your running routine off the pavement? As you venture into the world of trail running, the simple joys are still there, but your gear may need to get a little more complicated. Changing weather, unpredictable terrain and more remote locations require a bit more prep than the average road run.
So take a peek at our suggestions for what to wear (and pack!) depending on where the road or trail takes you.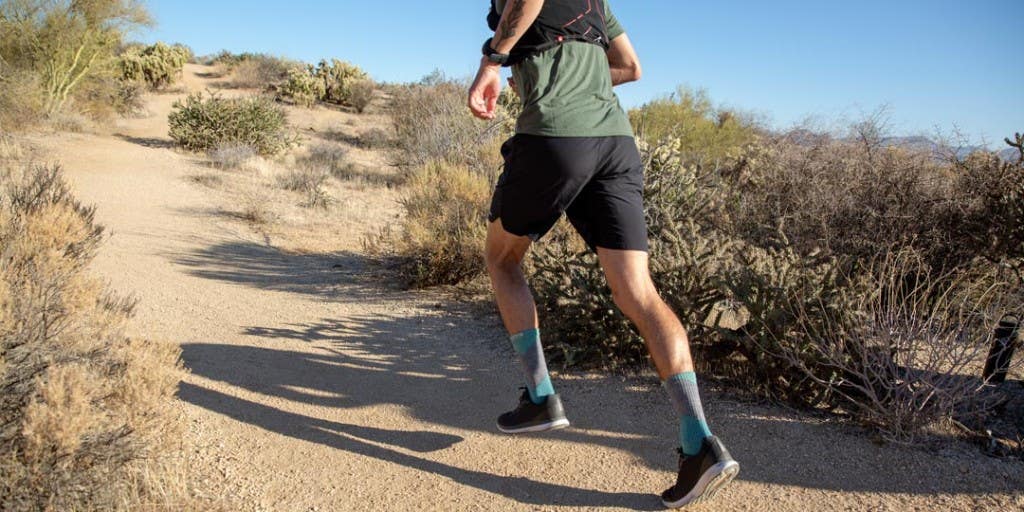 1. The Shoes
When you're pounding the pavement, your need for traction is on the lighter side. So the treads on road running shoes will be thinner, allowing you to glide over the pavement. Trail running shoes, on the other hand, are going to be your main source of stability in an unpredictable environment. Roots, rocks and other natural barriers will dot the terrain, so you need a shoe that has thicker treads to keep you stable. Plus, a lot of traditional trail running shoes offer more cushion to keep your feet comfortable.
No matter where you're running, though, fit is key. Shoes that are too tight or too loose can cause blisters, slippage and affect your stability on road or trail. Be sure to try them on with the socks you'll be running in, too. That way you can accurately judge the fit.
2. The Socks
When it comes to running socks, a lot of what you're looking for is personal preference. That said, it does make a difference what you're planning on doing—longer, more strenuous runs may require more cushion and protection from the elements. For road runs, you may want something more lightweight and unrestrictive, like the Injinji Run Series. The blister fighting toesocks allow you to flex and move as if you're running in your bare feet, so you won't even notice they're there.
For more strenuous runs on the trail, you may want to transition to a thicker sock that offers a little more protection from the elements. The Injinji Trail Series offers the same benefits of the running toesocks, but with more cushion and taller lengths to protect from dirt, rocks and vegetation.
3. The Clothes
You may be used to running on the roads near you, which means you have a collection of road running clothes that work. But trail running can offer a few more levels of difficulty. Changing weather means you need to dress in layers and be prepared for anything. One good way to do that is to run with a light backpack (or hydration pack with extra storage) filled with a few extra layers. Focus on sweat-wicking materials and carry a waterproof jacket in case of surprise downpours.
4. The Hydration
No matter where you're running or how long, hydration is key! Know the weather and your own hydration needs, then pack accordingly. For shorter runs, you may just need a hydration belt, but for others you may want a full backpack hydration system. Just do the research on where you'll be running (road or trail) and be prepared.
5. The Extras
Depending on where you're running (either on the road or the trail), you may need a few extras to carry with you. Things like a first aid kit, bug spray and a few emergency supplies won't go amiss. And be sure no matter what, you know where you're going! Study a gps or map of the roads or trails you'll be running on and make sure you tell someone where you'll be. And after that, just focus on having fun!