At Injinji, we are always innovating new ways to optimize performance and make the journey of life more comfortable. One way we do this is by offering our products in a wide variety of styles, including a diverse array of heights. From Hidden to Over The Calf, there is an Injinji sock for every occasion and any shoe!
Not sure which height is best for what you like or need? We've compiled a list of our available heights and their benefits, in order of height and level of protection.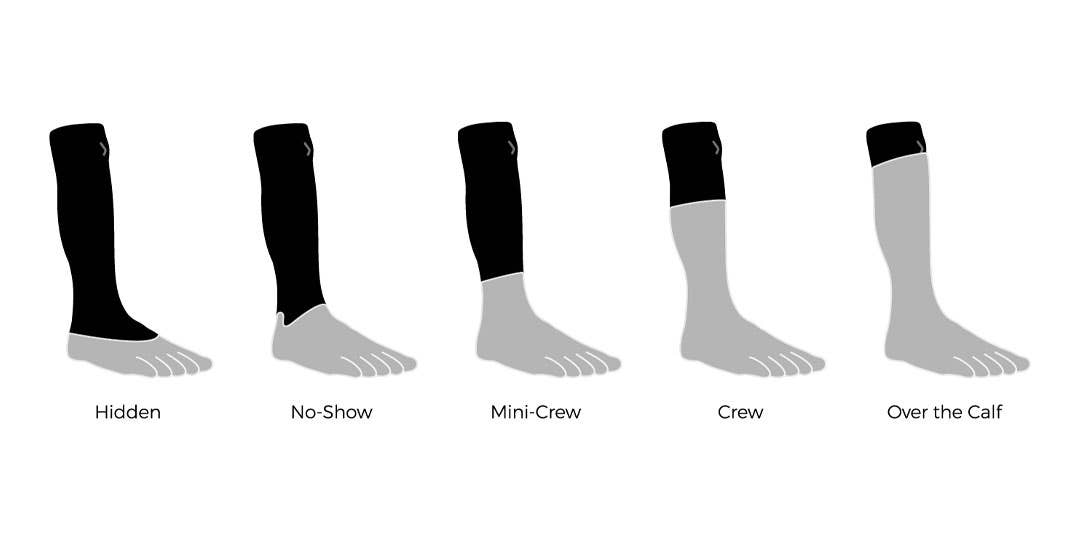 Hidden
Our Hidden socks fit low across the top of your foot, making them ideal to wear with low-cut shoes. A silicone grip on the inside of the heel prevents the sock from slipping. These are great for everyday use and athletic activity.
No-Show
Our No-Show socks hit below the ankle bone, following the contour of athletic shoes. A heel tab on the back of the sock prevents friction between your heel and your shoe. These are ideal for those who like the minimal look with added protection.
Mini-Crew
Our Mini-Crew socks fully cover the ankle, providing protection from dirt and debris while running and hiking. Show off your socks a little more with this fit. These are perfect for adventures in the dirt, sand and gravel.
Crew
Our Crew socks sit mid-calf, providing even more protection and coverage. Made for days spent adventuring through varied terrain, this height will keep out dirt, debris and brush. Your style is on full display with this height, pick a color or pattern that shows off your personality.
Over the Calf
Our Over the Calf socks sit just below the knee and provide full leg protection. The Ultra Compression OTC provides graduated compression to aid in circulation and blood flow, and reduce fatigue. The Boot sock is made for long days on your feet in heavy-duty work boots.
No matter which sock you choose, they all provide Injinji's trusted benefits: Blister Prevention, Moisture Management and Total Foot Utilization.