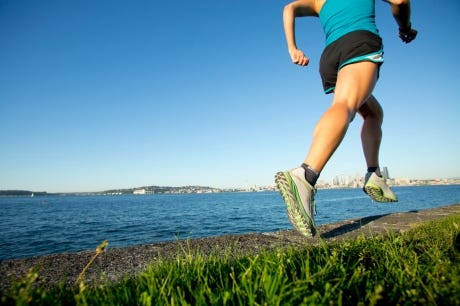 Spring came a little late this year in many parts of the country, but now that the ice and snow has finally melted it's time to get that Spring training into motion! With a plethora of races to choose from in Spring and early Summer, it's a great time to set some new goals and push yourself beyond your comfort zone. Here are some tips to keep in mind to stay motivated and crush last year's personal best.
Don't Push Too Hard, Too Soon
If you haven't been running consistently throughout the winter, you'll need to build your base again. Start with a few short and easy runs and try not to push yourself too hard at the beginning. One of the easiest ways to get injured is by increasing your mileage too soon, so keep your body safe by adding roughly 10 percent per week. Running is all about moderation and knowing when to push harder.
Keep Conditioning
It's important to re-condition your muscles with some basic strength training and stretches. Not only will you improve your fitness overall, but your muscle resiliency will increase. This will help in the long run (pun intended) in injury prevention and give your body more strength and power.
Stick to a Schedule
Set an end goal and work up to it by creating a running schedule. You can alternate between running in mornings and evenings if that keeps you on track. Sticking to a schedule will prevent you from working yourself too hard in the beginning and it will give you guidance to push forward.
Enjoy the Great Outdoors
The winter might have kept you indoors for a while so take some time to get used to running outside on a different terrain. Don't forget your sunscreen, especially during peak sun times (10 a.m. to 4 p.m.) as long runs will leave you with a lot of sun exposure. Don't forget to hydrate!
Incorporate Hill Training
Even though hills are daunting and tiresome, they're one of the best ways to condition your muscles and running strength. If you incorporate a few hills into your beginning workouts, gaining mileage isn't quite as difficult and you can increase your speed in the future.
Gear Up
Do a little Spring cleaning! Take an inventory of your running gear and gadgets and figure out what needs replacing. Sometimes a new watch, pair of running shorts, or set of headphones can inspire and reinvigorate your training. Running shoes should be replaced a few times a year depending on how many miles you're logging. Grab some new Injinji Performance 2.0 toesocks to make the ride even more comfortable in any shoe.
Don't Forget to Smell the Roses
When running gets tough, remind yourself of what makes running worth it for YOU. Stop to admire beautiful views and take in the blossoming Spring world around you. Push through the hard times by appreciating the journey and the destination will be that much sweeter.