Everyday Lightweight Hidden Upcycled Cotton
Unisex Sizing Guide
US
UK
EU
JP

SIZE




S

MEN


5-7.5

WOMEN


6-8.5
4-6.5
37-40
23-25cm

M

8-10.5
9-11.5
7-9.5
40.5-44
25.5-27cm

L

11-13
12+
10-12
44.5-47
27.5-29cm

XL

13.5+
12.5+
47.5+
29.5+cm
Women's Sizing Guide
US
UK
EU
JP

SIZE




XS/S

5-8.5
3-6.5
35-40
21.5-25cm

M/L

9-12
7-10+
40.5-44.5+
25.5-27.5+cm
Kids Sizing Guide
US
EU

SIZE




S

9-11.5
26-28

M

12-2.5
29-32

L

3-6
33-36
Product Details
Good for your feet, good for the environment! The Everyday Lightweight Hidden Upcycled Cotton is thoughtfully crafted from recycled cotton and post-consumer plastic bottles, reducing water waste, energy use and CO2 emissions. These ultra-soft recycled fibers result in a lightweight, eco-friendly sock meant to keep your feet comfortable every second of the day. Whether you're constantly on your feet or just want to kick back in style, these socks will be there for you – and our earth. Our Hidden socks feature a streamlined low-cut profile that doesn't show when wearing shoes. A silicone non-slip heel grip helps to keep your socks in place all day long without slipping and bunching inside your shoe.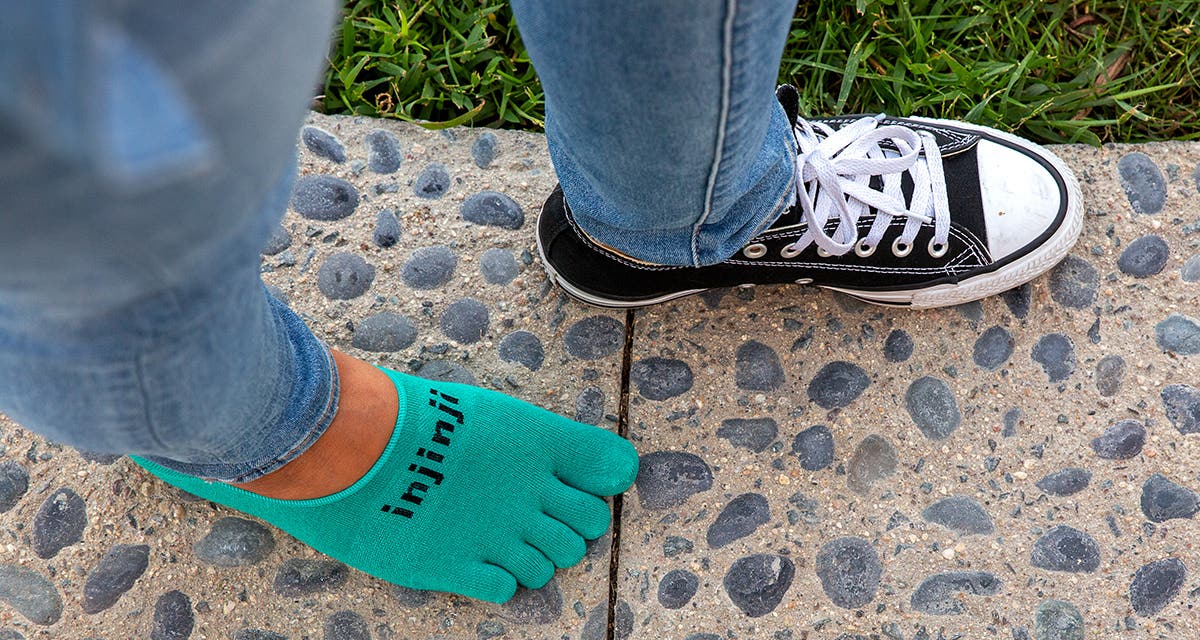 Features & Benefits
200 Needle Count

The more needles, the better. 200 Needle socks are lightweight, sturdy and durable.

Blister Prevention

With each toe protected, skin-on-skin friction is completely eliminated protecting your foot from blisters & just as important, hotspots.

Moisture Management

Each toe is wrapped in sweat-wicking material so your foot will be drier and therfore more comfortable than in traditional socks.

Total Foot Utilization

When your toes are separated, properly aligned, and splayed it distributes your weight evenly which allows your entire foot to be engaged in any athletic activity.

Fiber Content

45% Recover® Cotton, 41% Recycled Polyester, 12% Nylon, 2% Lycra®


Recycled Materials

Fibers are made from a blend of post-consumer plastic bottles.

Wash & Care
Are your Injinji's dirty after a grueling run through the mud? It's time to wash them! To extend the life of your socks, we recommend washing all Injinji socks on delicate with cold water, followed by line drying.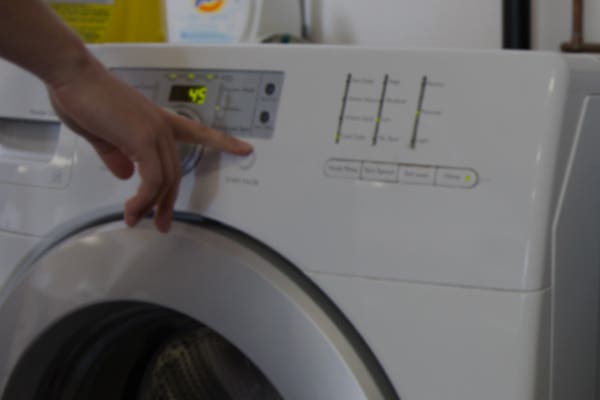 Machine Wash
For best results, we recommend washing your Injinji socks on delicate in cold water.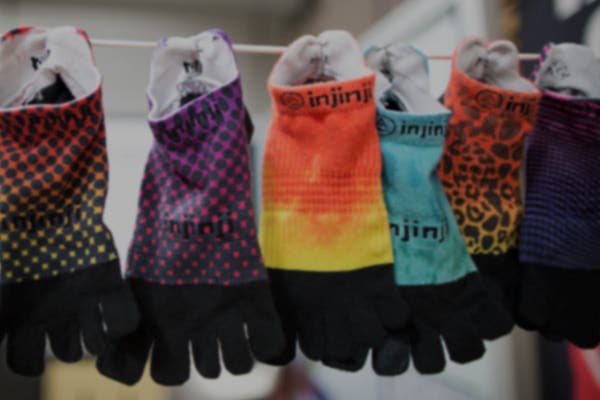 Line Dry
Line dry your Injinji socks to extend their lifetime.