Toesocks. Weird, right? The initial reaction to toesocks is typically met with skepticism or unfamiliarity, often because of the lack of exposure to them in everyday life. Maybe you've worn regular socks your whole life that you're hesitant to try toesocks, or maybe you just never had the chance! Besides, why would someone be inclined to wear toesocks over traditional socks anyway? Well, we at Injinji would like to tell you why toesocks should be in your sock drawer! Let's begin with the basic necessity that every sock should provide.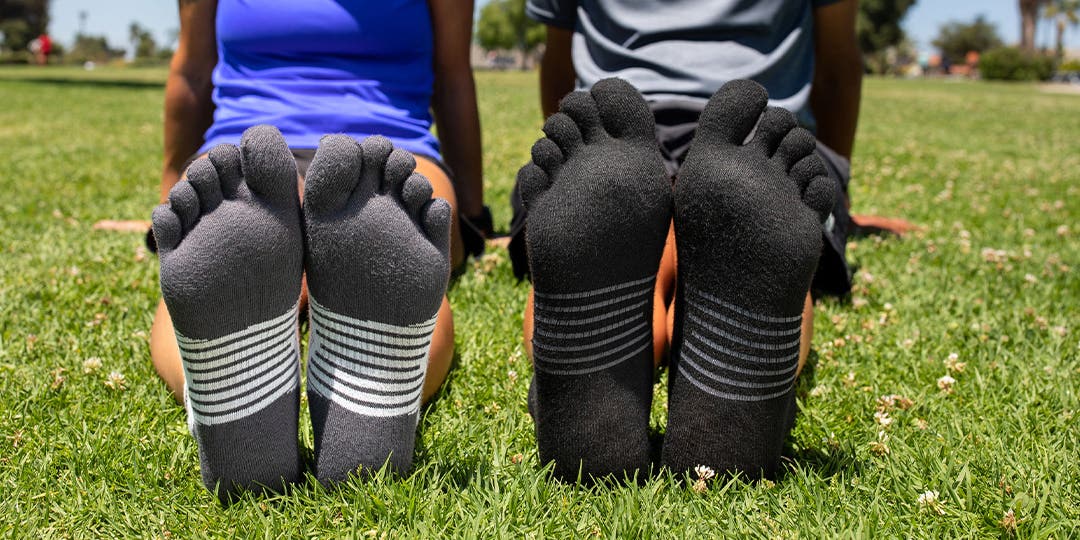 Comfort
Every Injinji sock is made with one of the following fabrics: COOLMAX, NüWool™, or upcycled eco-friendly cotton. Most toesocks in the Injinji lineup are created with COOLMAX, moisture-wicking polyester material. This material moves sweat from your foot to its outer layer and keeps your feet dry, resulting in a more comfortable feel during any sport or activity. Following that is NüWool™. Made for hikers, backpackers, and outdoor adventurers, NüWool™ is Injinji's own wool blend that provides temperature control, resists odor-causing bacteria, and wicks sweat. Lastly, Injinji's Everyday series is made with upcycled eco-friendly cotton to provide the softest feel for your feet in the office, around the house, or on-the-go.
Every sock is made with fabric that you can keep on all day long without experiencing irritation or discomfort. Since each toe is wrapped in comfort, your toes won't be cramped or sticking together! Injinji offers three different fabrics, each made with their own strengths, to accommodate your feet for any situation.
But Wait, There's More!
Yes, you heard that right. Comfortable fabrics aren't the only benefit of Injinji socks. Injinji's five-toe sleeve design allows your toes to be separated, preventing skin-on-skin friction, which is the primary cause of blisters. Since each toe is wrapped individually, your toes are no longer squished together, and the chances of developing blisters or hotspots are greatly reduced. Many athletes who wear Injinji socks say this is their primary reason for switching to toesocks. With each toe separated, Injinji socks provide natural toe splay, which means your weight is more evenly distributed, allowing your feet to be engaged in any athletic activity. While this might be a more subtle benefit, it helps give your feet proper strength and mobility over time.
Still Not Convinced?
Don't take our word for it. Injinji has been the number one running sock choice by Western State 100 Endurance Run participants from 2014-2019 (Source). Just take a look at our list of professional athletes who swear by Injinji!
Courtney Dauwalter
Courtney Dauwalter is an American ultra-runner known for competing in (and winning) some of the biggest Ultramarathon events. Her most recent win was at Big's Backyard Ultra, where she ran 68 laps for a total of 283.3 miles in 56 hours, 52 minutes, and 29 seconds. Along with several other running products to help her get through each lap, Courtney also sported Injinji socks throughout the entire race, switching out into fresh pairs as she needed. Her favorite running socks are the Women's Trail Midweight Crew and Women's Ultra Run Crew.
Mike Wardian
Mike Wardian is an American marathoner and ultra-marathoner known for the vast number of marathons he participates in. His latest achievement was winning the Quarantine Backyard Ultra in 2020, running 262 ½ miles over the course of 63 hours without sleeping in a neighborhood loop where he lives to follow social distancing guidelines. His favorite running socks to wear are the Trail Midweight Mini-Crew, the Ultra Run Crew, and the Liner + Runner Mini-Crew.
Last, But Not Least
Aside from feeling great, Injinji socks also look great! They come in a wide variety of colors and patterns leaving you with plenty of options to choose from. For those looking for bright, funky designs, our Spectrum series features direct-to-garment prints which allows for some vibrant combinations of color! In addition, new socks are constantly introduced throughout the year so that your options never run dry!
What are you waiting for? Give toesocks a try!