Team Injinji Athlete Courtney Dauwalter is a powerhouse in the world of ultra running! This past summer, she placed first in the Western States 100-Miler (again!), Hardrock 100-Miler, and UTMB – making her the first athlete in history to accomplish this feat in a single season. As a record-breaking ultrarunner, Courtney's unparalleled endurance, determination, and indomitable spirit have established her as quite the legend. We chatted with Courtney about the performance products and gear she trusts during her demanding training runs and high mileage races.
Courtney's Favorite Sunglasses For Running
Running sunglasses offer runners essential protection from UV rays and wind. We asked Courtney which sunglasses are her go-to for the trail.
"I love the SunGod Classic frames with green lenses. I've tested many sunglasses in my years of running and love these ones because they stay on my face, and the lenses work great in so many conditions!"
Courtney's Favorite Trail Running Shoes
Having supportive and durable trail running shoes is crucial for the type of challenges Courtney takes on. This trail running shoe got her across the finish line at three 100-mile races this summer.
"This summer I did all my races in the Salomon S/Lab Genesis so I guess I like that shoe pretty well! They provide great comfort for long days out, and plenty of traction for mountain trails. Keeping my feet happy is a big part of my job and these shoes definitely do that."
Courtney's Favorite Trail Running Socks
The best trail running socks will keep your feet dry, fresh, and blister-free. Courtney's favorite socks have been a staple in her wardrobe for years!
"Injinji Trail Midweight Crew socks are my go-to because they keep my feet blister-free. Discovering Injinji socks many years ago was a game-changer for me. I used to get tons of blisters on my toes during ultras and now I get none. I love the Crew style socks the most because they have the biggest canvas for cool designs and fun colors."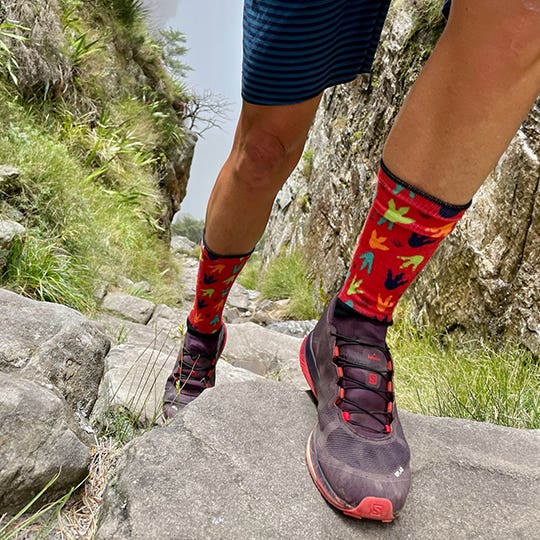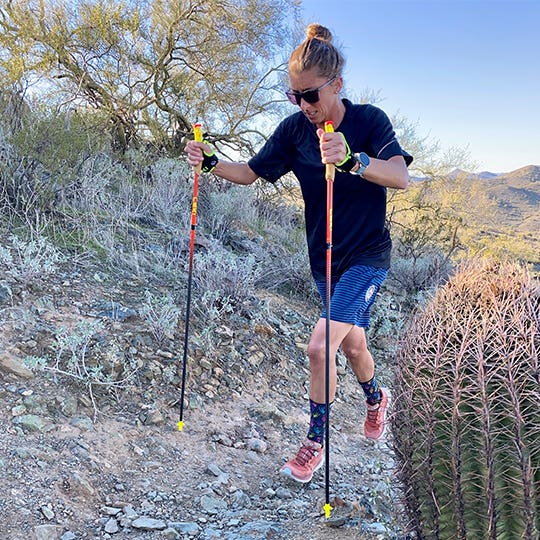 Courtney's Favorite Nutrition Products
Trail running nutrition keeps you fueled for hours on end. We asked Courtney about her go-to nutrition products that keep her energized and ready for the toughest terrains.
"Nutrition for ultras is really individual and I spent years testing out all sorts of different combinations to figure out what worked best for me. Tailwind is a drink mix that is delicious, provides tons of calories and electrolytes, and goes down easy, even late in a race when my stomach is refusing most other things."
Courtney's Favorite Vest
Vests allow runners to carry additional items with them on the trails – like gloves or extra fuel – to keep them prepared for anything. If you're like Courtney, you'll wear one that has room for everything!
"Comfortably carrying snacks and gear is key for big adventures. I use a Salomon vest that has a larger carrying capacity so that I can be sure to bring things like a rain jacket, gloves, headlamp, lip balm, poles, and, of course, some slices of leftover pizza."
Courtney's Favorite GPS Fitness Watch
GPS watches help runners track their paces, mileage, and monitor their heart rate, providing essential data to optimize their training and performance. Courtney's watch can get her through 23+ hour races!
"I wear a Suunto 9 Peak Pro because it has a super long battery life and because it's small & lightweight while still having a big enough screen to read it quickly. There are so many cool gadgets out there now - solar battery charging and colored maps are really cool options to have on our wrists! When I am exploring somewhere totally new, I have definitely utilized the map feature to make it really easy to navigate the route."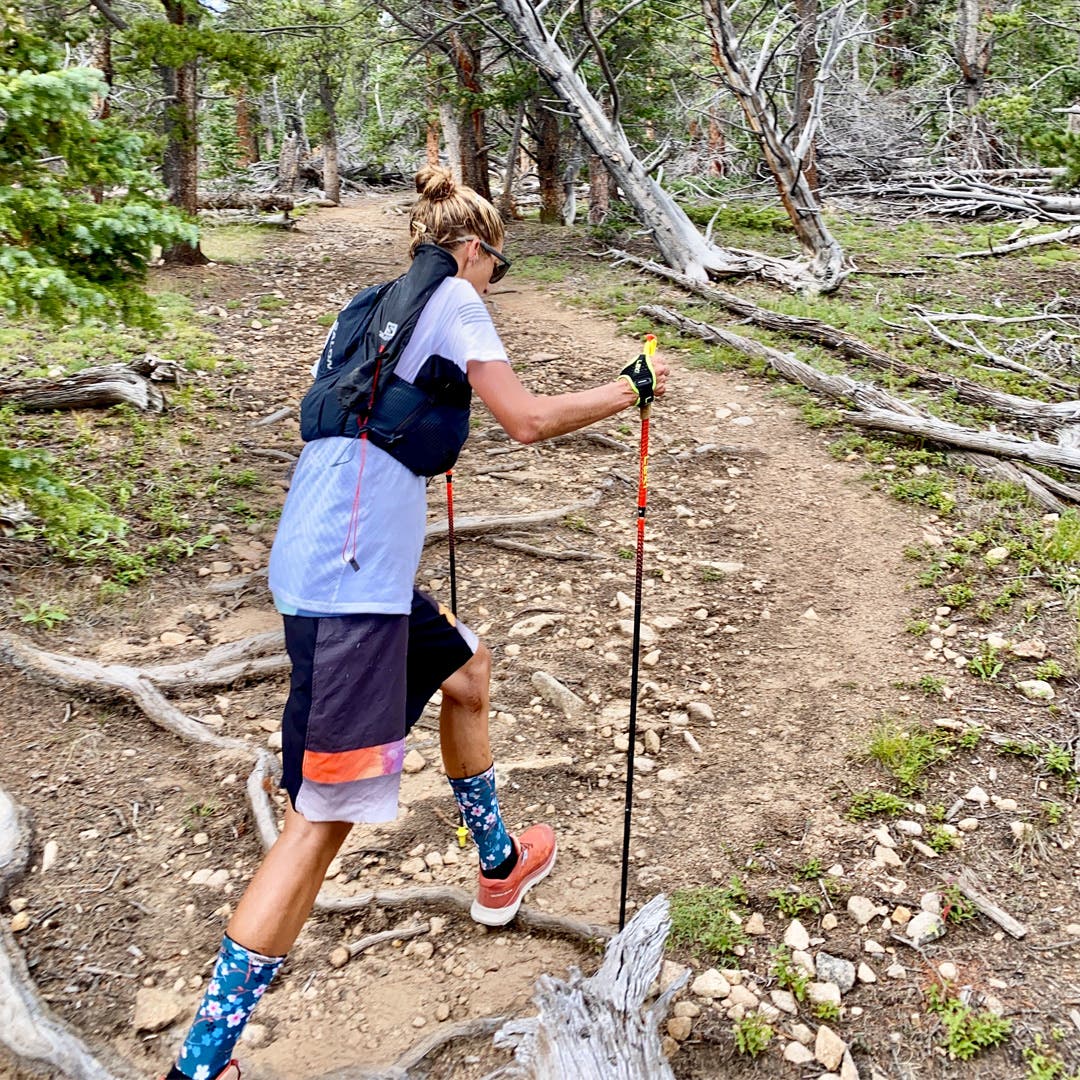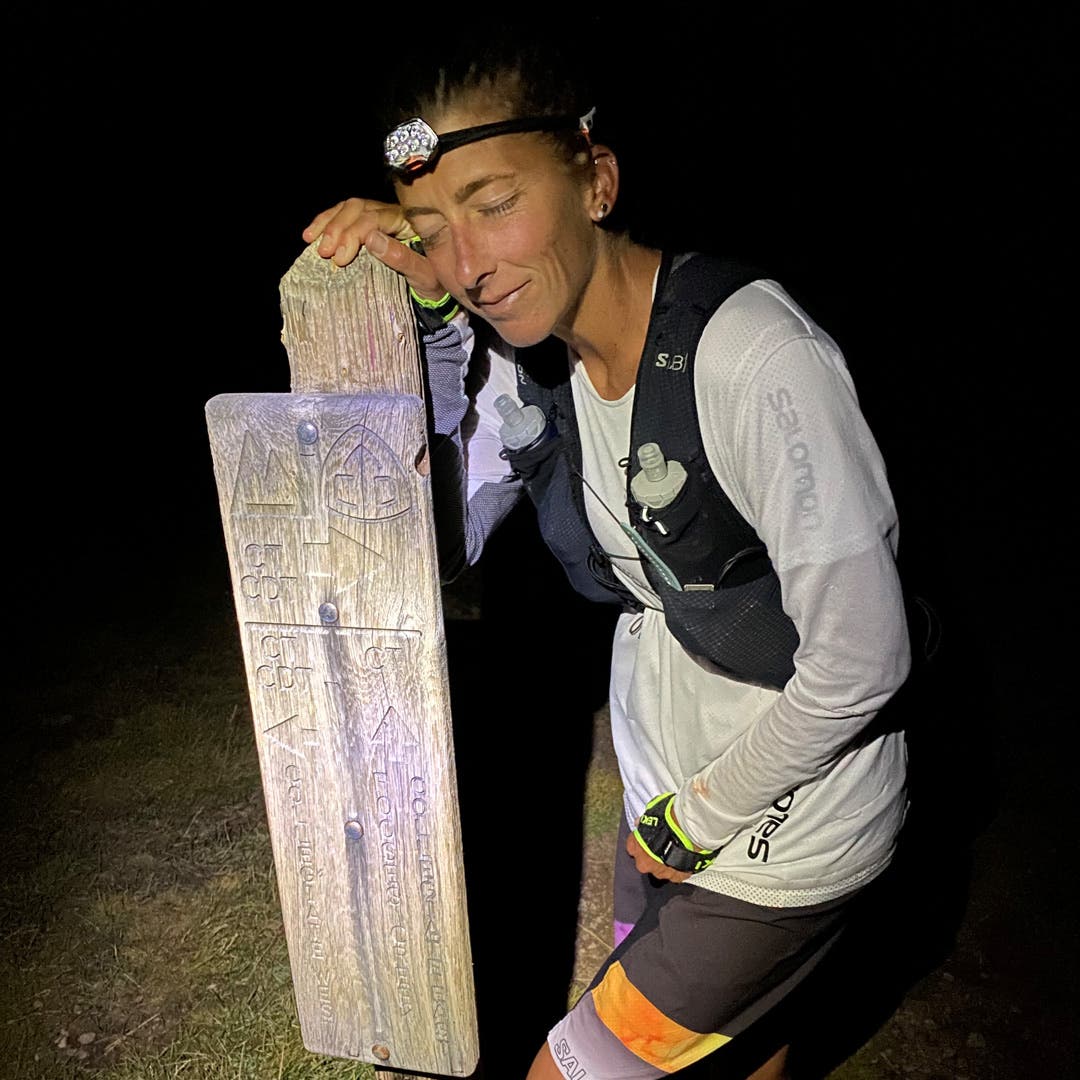 Courtney's Favorite Trekking Poles
Trekking poles can help significantly with stability and efficiency on the trails. Courtney's favorite poles even attach to her pack to free her hands during long races.
"Poles can be a great tool to help with big climbs, or really long runs. Your arms and core get to help with the work, and having some extra points of contact on the ground can be really helpful. I use Leki poles and carry them in what is called a "quiver" - which is an attachment you can add to your pack to stow the poles when you aren't using them. There are also great ways to attach them to a waist belt, or, they can definitely just be carried as well. If you're just getting into using poles, give yourself some time and practice with them. Initially, it might feel a bit awkward but the more you use them, the more natural and useful it will feel to have them."
Courtney's Favorite Shorts for Trail Running
Comfort is key on the trail! The best trail running shorts will provide comfort and breathability – and Courtney swears by the pairs she wears.
"For me, the longer the shorts, the better! The races I do are really long and the last thing I want to be doing while working really hard to get to a finish line is fidgeting with my clothes. Everyone should wear the thing that makes them feel the most confident and comfortable on the trails. It was super cool this year to work with Salomon to offer the Shortney as an option for everyone! One more length option out in the world to hopefully make some more folks feel their best out on the trails."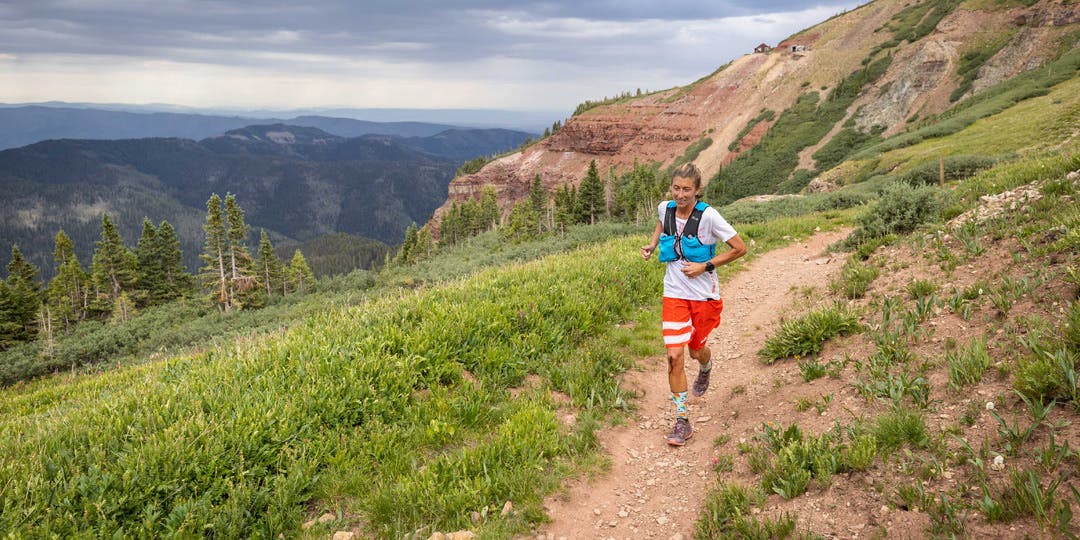 ---
Don't let your gear be the weak link in your trail running adventure! Follow in Courtney's footsteps and choose gear that's reliable and durable, from head to toe. With meticulously chosen gear – from trusted sunglasses to Injinji toesocks – Courtney Dauwalter exemplifies how the right equipment can take trail running performance to the next level.