There are people out there (active and not-so-much), who wonder why people would wear toesocks. Some remember toesocks as the rainbow striped, knee-high socks of their childhood—made to be flashy and fun, but not so functional. But toesocks have grown up, and they're not the ones you grew up with, they're so much more.
Don't worry, toesocks are still fun, especially Injinji toesocks. And they come anatomically designed for your foot, with a five-toe sleeve that allows your toes to splay naturally and align properly. They reduce friction between your toes and stabilize your feet while keeping them comfortable, no matter the activity. That means that these toesocks support your feet as you walk, jog, run from wild animals—whatever you like to do with your free time.
How does Injinji do it, you ask? It's simple. Using only superior fibers that are durable, light, and flexible, these toesocks increase breathability and result in some seriously cool, dry feet. They fit naturally, protect from blisters and they're so comfortable you'll forget you're wearing socks. Toesocks help form a perfect base for all of your footwear needs.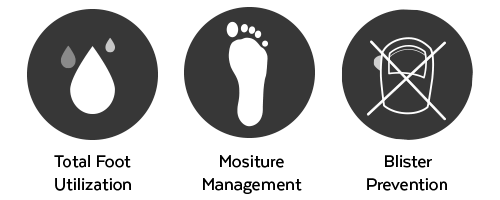 As more and more footwear brands design shoes to accommodate the need to run and perform in the most natural way possible, it only makes sense to have a sock that does the same. Your feet are the foundation for your entire body, so you want to make sure that you're making a solid choice for what you put on them as well as what you put them in before you head out on your next adventure.