The 26th Annual Angeles Crest 100 mile endurance run was held on August 3rd, 2013 from Wrightwood to Pasadena CA. This was my 5th 100 mile run, but by far the most memorable and satisfying ultra in my somewhat short running career. What follows are my thoughts, recollections, and a short recap of my journey.
I believe that running is all about learning and implementing life's lessons. When I sign up for a race, it has to have something that draws me to the event, and for Angeles Crest (AC), the profile and beauty reign supreme. It's a point to point course, technical and tough. I knew that the majestic views I would experience would make the unrelenting terrain and physical challenges worth every step needed to get to the finish line.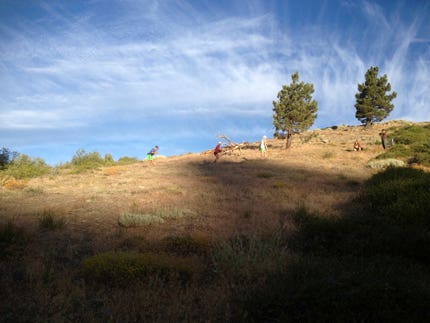 Now for a bit of back history; I first signed up for AC in 2012. I had high hopes of running a sub 24 hour race and as such, pretty much replaced my entire cross training with miles of mountain running. About halfway through my training, running was becoming very difficult, oftentimes causing painful burning and numbness from my left hip to the back of my knee. With four weeks until race day, I could no longer run, and finally went in to see a doctor. With two weeks to go, tests revealed the source of my injury. I had two severely bulging discs that were causing a pinched nerve. Starting the race was not a good idea, but because of my sheer stubbornness, I forged ahead. Perhaps even more foolish; I was still hanging onto my sub-24-hour goal. The result: I ran in severe pain for 90 miles, refusing to give up, and ultimately breaking my body down even more for a final finishing time of 24:05:55. I had given everything I had and I missed my goal. I was left heartbroken. Many didn't understand my anguish because I came in 2nd woman and received the cougar award as well as a second sunrise buckle; a respectable achievement by anyone's standard. In my mind however, I was a failure. That 6 minutes might as well have been 6 hours, and with the toll it had taken on my body, I immediately began to question if such a lofty goal was even a possibility for me. Afterwards I indulged in a pity party, then I became angry, soon I started to feel motivated, until finally I devised a plan!
I wanted a do-over!! As soon as I returned home I signed up for the 2013 race. I knew that if I had any hope of a different outcome, I would have to make some serious changes. I devoted the remainder of the year to healing my body and getting back to neutral. I then came into the New Year focused on AC as the ultimate goal. I changed my diet and incorporated much more protein in the way of lean meats which brought about a weight drop of 10lbs. I then decreased my weekly mileage from 90 to 60 and got back into the gym and worked diligently on core strength to help my back. In addition to that, I got on the bike at least once a week to practice quick turnover and engage my fast twitch muscles. These changes resulted in strong and purposeful runs that slowly began to rebuild my confidence. This confidence was new to me, and I soon realized it had been the missing component in my racing. Yes, I ran injured last year, but in all my races thus far, I have never risked it all. My goals were always safe, and I made them based on results I was comfortable I could achieve. My close friends and family believed in me much more than I believed in myself. As an athlete, I was discovering just how much of racing is mental. If you don't BELIEVE in your capabilities, it doesn't matter how dialed in your nutrition is, how hard you can push, or how many miles you run each week. I had become my own worst enemy in races by letting past people and experiences dictate my value. Once I chose to redefine that truth; racing….and life, changed. I then signed up for some preparatory races to test these changes I had made and they proved to pay off big. I had a solid 50k race in February, and in May I ran my fastest 50 miler to date, setting a new course record for the PCT 50.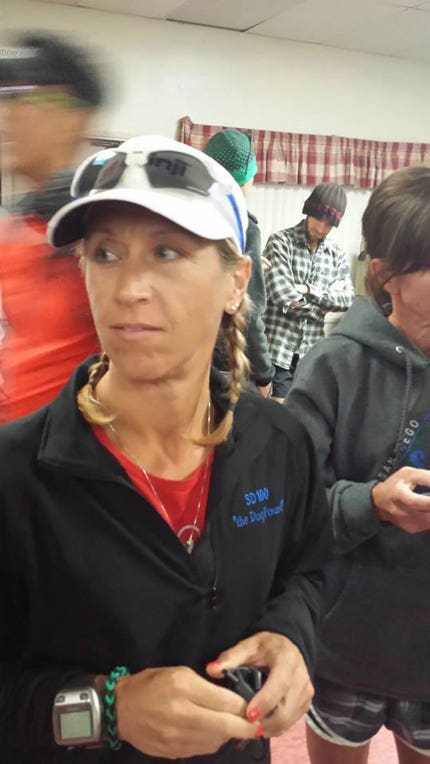 I spent all of June and early July training on the course and preparing for the heat that was expected on race day and then I started my three week taper. Race week came and I felt relaxed and happy. I was excited and looked forward to having the opportunity to run in the mountains all day like a child on a playground. I knew adversities would come, but I welcomed them, and trusted my ability to make the necessary adjustments along the way. And after last year's struggles, I had a respect and humility like never before for this course. I trusted my crew and their efficiency to get me in and out of aid stations which they executed like a professional NASCAR pit crew (28 min total)!
Going into the race, I had set three goals for myself: 1. Sub 24 hour finish (my splits were for 23:30), 2. First woman (having never won a 100 miler, I figured it was worth attempting if the opportunity presented itself), and 3. Course record 22:00:15 (if you aim for the moon, you may reach the stars). As the race started, I immediately ran how I felt and stayed in complete control of my breathing and pace. About 14 miles into the race I noticed that I was running much faster than my splits, but I felt good so I wasn't concerned. I enjoyed all the camaraderie of the fellow runners, and as I moved forward, I never looked back. I concentrated only on the direction I was heading, and constantly checked in with myself to see how things were going. My race was not without difficulties. My heel hurt early on as I climbed up acorn trail and I wasn't sure how that would affect my running. During the 4.5 mile section between Inspiration Point (9.3) and Vincent Gap (13.85), I under hydrated which resulted in calf cramps that started on the climb up Baden Powell and lasted until I got to Cloudburst (37.54)-I increased my salt and that seemed to correct the problem.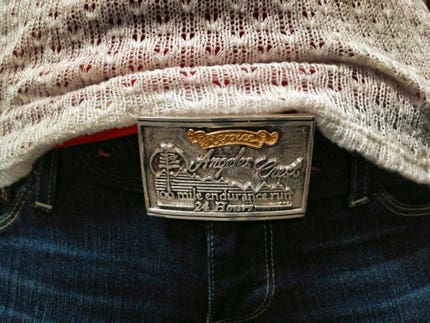 I picked up my first pacer, Matt Davis, at Chileo (52.8) and I began to feel like there were planks in my quads as we ran the downhill sections. However, that was also the time I first learned where the other women in the field were and I became very motivated to keep working. When we got to Shortcut (59.3), I met Scotty Mills and he got me to begrudgingly run the long fire road down to the bridge, only to have another climb before I would get to Newcomb (67.95). I can now say that was instrumental at getting me to push myself harder than I would have on my own during that section. He knew my pace would slow down on the later climbs, and he wanted to make sure that I kept an honest effort when I had the opportunities. He also informed me of my overall position in the race and was very encouraging about how I was doing. When we got to Newcomb, he told me that there was a possibility that I could get to Chantry before dark. I must've seen it as a challenge because I ran that entire section in. He was right, by the way.
At Chantry (74.55), I was ecstatic and full of energy. It was inspirational to see all of my friends who were there for me, and my daughters, who had come to see me finish. I left the aid station with my final pacer, Tracy Moore, at 8:17 pm. As we walked out, I smiled because for the first time that day, I allowed myself to believe that the course record was within reach. I knew that Suzanna Bon's time out of Chantry was 8:35 and I thought to myself "If I can just hold it together, this dream may come true." I headed up the Mt Wilson climb on a mission to let every ounce of energy I had left, slowly seep out of my body over the next 25+ miles. Tracy had the same plan - he kept me honest, positive, and on pace. I knew he wanted the finish just as badly as I did. He would not let up an inch on my nutrition, even though at times I wasn't sure my stomach could handle taking anything else in. I was continually beating the splits and when I felt like I couldn't run anymore, that's when he reminded me "It's not about the course record, it's about giving everything you have all the way to the finish line." I got there in 21:21:13 and I didn't have ANYTHING left.
I cannot be more overjoyed by how the day unfolded. I am so grateful for my experiences and the lessons I learned. Most importantly, I'm thankful for the love and support of my closest family and friends. They gave me the ability to BELIEVE, and to risk everything at the cost of failure, but with the hope of success.