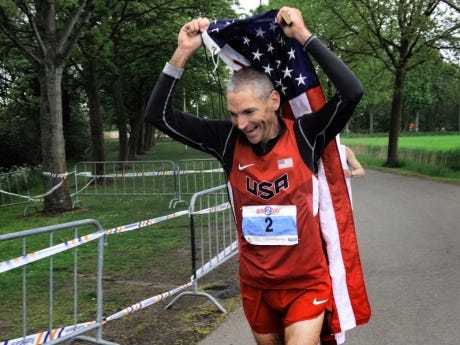 The 2013 IAU 24-Hour World Championships recently took place in Steenbergen, Netherlands. The American team delivered a solid performance and Team Injinji's own Jon Olsen won the individual men's gold. The American men's and women's also took home team gold. Below is Jon Olsen's account of his experience before and after the race:
Pre-Race: Sunday May 5th
I am heading to Steenbergen, Netherlands for the IAU 24 Hour World Championships. I am packed, reviewed my itinerary, and am mentally getting my race strategy together. But I can't help but think about my leg injury.It has been the longest three weeks of my life. I have seen six doctors/chiropractors/massage therapists and don't forget my wife is a physical therapist AND everyone is baffled by my injury. I have diagnosed it as a "need a new right leg" injury. I haven't been able to run one step without discomfort for this three week period. I can't put my finger on one single moment that may have caused it, but that's running for you. This injury has tested me and my family in so many ways. I believe God has a plan for me and I put my trust in him, even if it isn't the path I want to take :)My injury happened four weeks out from the race, so all my training had been completed, and I had the best 3+ months of training I've ever had going into a big race like this. I was telling anyone who would listen, that this was going to be the toughest race of my life because I was planning to run to empty, and I still plan on doing that. I have worked too hard and made way too many sacrifices to not see this through. I know the many prayers that have been made, will be answered and all the support I receive here in Modesto will help the pain subside for one day and therefore help me run like I have never run before.
Post-Race: Monday May 13th
I wanted to be the guy the team could lean on during the race. I wanted to put this team on my back and carry them to victory. Four weeks ago I had no doubt I could do this but with my injury, I didn't know if I would make it through the first two hours.
The weather forecast called for wind + rain until noon (race start), then it would clear for the afternoon but remain windy and the rain would return in the evening turning from showers to a steady rain. The race would end with clear skies and a light breeze.
We headed to the start line and the weather forecasters were right, the rain had stopped. The gun goes off to cloudy skies and I immediately try to lock into my "happy" pace. This was difficult because I could feel my glute start to tighten. I spent the next two hours trying to find a stride and a route on the course that relieved stress off of my hip. To my surprise, three hours into the race, I had no noticeable hip pain. It was like a crazed dog breaking free from its chains. I was ready to roll and roll I did. 7:50 pace per mile felt very comfortable, so I held onto that for hours. Running ridiculously relaxed and in control.
And with this newfound freedom, I slowly began to climb up the leader board. Team USA Assistant Coach Mike Spinnler asked me prior to the race if I had any timed splits I wanted during the race. I told him...a 12 hour split, 100 mile split, and when I hit 18 hours I want to know what place the team/I are in. Then, every hour I want to know what progress I had made.
As we approached hour six, seven, and eight, the race felt easy. My name was beginning to make its way around the course as the Dutch announcer was updating results on the sound system that had speakers spread out along the course. It was becoming comical because even I was starting to get tired of hearing my name. But I didn't need to know how to speak Dutch to know what he was saying. I was making my way up the leader board and quickly.
As nightfall came ten hours into the race, I was getting excited. I knew we would have about eight hours of darkness and I wanted to own it. The rains and stronger winds arrived and around midnight and I made my only significant pit stop of the race to change clothing. In a two-hour span between 11 pm and 1 am, I went from third to first in the steady cold rain and wind.
Just about the time I took the lead I began to hit my first low spot of the race. My pace was slowing from 8:10 pace down to the 8:20/8:30's. It was all due to me being tired. My tiredness got so bad at about 2 am that I could run straight. I was "stagger running." I got desperate! I brought some 5 Hour Energy to share with the team, but I had no intentions of taking one myself. I had never tried the product during the race and you know what they say, don't try new things on race day. But like I said, I was desperate. So downed one with some mashed potatoes and amazingly within ten minutes I was born again. I picked my pace back up to 8:10. This is where I made my big move. And in the next three hours, I went from a seven-minute lead to a 5k lead.
The light was beginning to peak through the night sky. Morning was near. The last six hours were going to be a mental race. The time became too daunting so I broke it up into 4 laps an hour. This seemed doable. Running for four hours did not. These are the kind if mind games you have to play late in these 24 hour races.
The last two hours were a war. I was putting together 13:20 laps and I knew if I could keep doing that, I would win. Easier said then done because every fiber in me wanted to walk. I wouldn't let myself do it. I walked only ten yards all day and wasn't going to start it again. In inevitable was clear...I was going to win. On a number of occasions the thought of it brought tears to my eyes. My mind began to think about what my wife was doing and thinking about back home in Modesto as she was following the results online. How badly I wanted her here to share this with me. She has been apart of this journey. The sacrifices made by both of us in our schedules...the emotional ups and downs.....she has seen it all. And today would mark the biggest moment in my running career and I wanted to share it with number one teammate! I knew she was watching and I knew she would be so proud.
Now with thirty minutes to go, I pass through the refreshment zone where the countries and there crews are situated and it looked like a scene out of the Tour De France. All the crew members were lining the road and cheering for me as I went by. Wow! What a moment! Then I came to our crew station at the end of the row and was handed the American Flag. My day was done and it was time to celebrate. I jogged a lap with the flag and as I got back to the start finish area, I proceeded to give all the spectators high fives as I ran by. Many of these spectators were out here all night and deserved to e apart if this moment. This was my way if saying thanks.
With about 12 minutes left on the clock, I started my last lap of the competition. I was soon joined by teammate John Dennis eventual silver medalist (2nd alternate) I handed him the flag and gave him his well deserved trip with the flag. It was a hard fought day. Emotions spilled over as I saw Coaches Howard Nippert and Mike Spinnler. I have each a hug that signified total team hard fought effort we put out today. John Dennis and I decided to finish this partial lap together as we congratulated each other. The horn sounded, we dropped our stick that signified our final distance....and it was over.
After walking back about a mile from where we finished to be drug tested and almost passing out on the toilet......TMI....I made it to the awards ceremony in one piece..barely. Standing at the top of that podium as the winner of such a tough race and hearing your countries national anthem playing for you, was absolutely overwhelming. I was the World Champion! Wow!
Soon after that, the men's team took that same step to the top of the podium and listened to that beautiful national anthem. What a hard fought victory by our team. We came out of nowhere, but in the end, we won handily. And that wouldn't be the last time the Star Spangled Banner would play. The women's fought off Japan to the very last hour to claim their Team World Championship. Add John Dennis' and Sabrina Little's silver medals and Suzanna Bon's bronze medal, and I would say the US represented quite well.
I could have done without the four weeks if drama leading up to the race, but it was worth it to say the least. I am so glad I was able to share this moment with the community who has embraced and constantly supported my talent. Thank you Modesto!