If you're a runner, a hiker or just a generally active person, you know that keeping your feet in top condition is key. And one way to do that is to make sure you've got the right gear. You've got the best shoes for your arches. You've got a recovery routine that the pros would envy. But have you thought about your sock choices recently? If not, it's time for a little toesock intervention.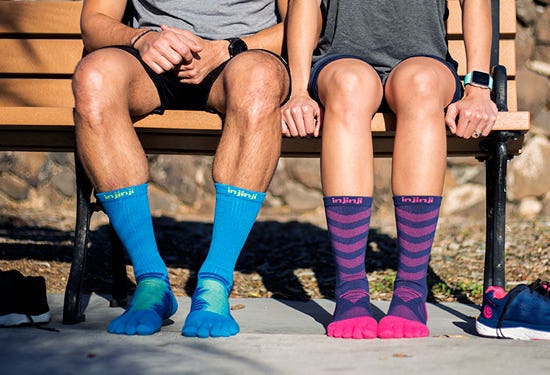 Meet the Ultra Run Collection!
If you haven't tried Injinji toesocks, there's no time like the present. All of our socks take away the toe-on-toe friction that often causes blisters, and they're made from wicking materials that keep your feet cool and dry. But now you can get those same benefits with EXTRA comfort included—in the NEW Ultra Run Collection!
What's New
Featuring our cushiest toe bed ever, the Ultra Run Collection takes our midweight toesock game up a notch! While all of our midweight socks have a terry cushion on the footbed, the Ultra Run Collection is the first to feature a terry-cushioned toe! And that cushion—paired with light compression, strategic mesh (for breathability) and arch support—helps reduce the impact from your runs and workouts. Just choose your perfect height (no show or crew) and get the benefits right away.
What Will Never Change
You're still getting the same quality, blister reducing technology and gender specific fit you've come to know and love. The Ultra Run Collection just boosts your comfort while you train. Plus, these toesocks come in bright colors and sleek designs—so you can look as good as you feel!
Why Your Feet Need Ultra Run Toesocks
Your feet are there for you day in and day out, so now it's time to thank them! Let our new Ultra Run Collection keep your feet (and toes!) feeling pampered no matter what you're doing.
To learn more about the Ultra Run Collection and find your perfect pair, click here!