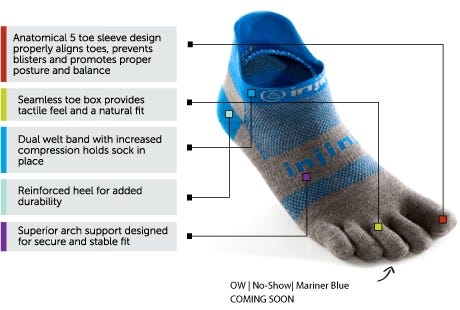 We'd like to dedicate this initial post to our brand new followers who may be visiting our site for the first time.
For any newbies who may be wondering—what's so great about Injinji?… here's the scoop on our socks. The advantages are so plentiful once you experience them you may not want to wear any other sock again. The anatomical 5 toe sleeve design and superior fiber construction provides:
- Proper Alignment & Toe Splay makes for healthier happy feet
- Superior Moisture Management for drier, less smelly feet
- Better posture, better balance for full use of your toes
- Blister and hotspot prevention to relieve some of that foot pain
- Tactile Feel enables a natural feel and movement in ANY shoe
If you still have questions, we are always here to help. Send us an email at cs@injinji.com with your thoughts, questions, or concerns and we will support you every step of the way!