Hiking is a great way to stay active and explore local trails, but having the right hiking socks is crucial for a comfortable experience. Once you begin hiking in toesocks, you'll never go back, just ask Team Injinji! Injinji proudly sponsors a team of Athletes who have a passion for challenging themselves. These talented individuals put Injinji toesocks to the test every day on the adventures and are the perfect candidates to recommend socks for hiking.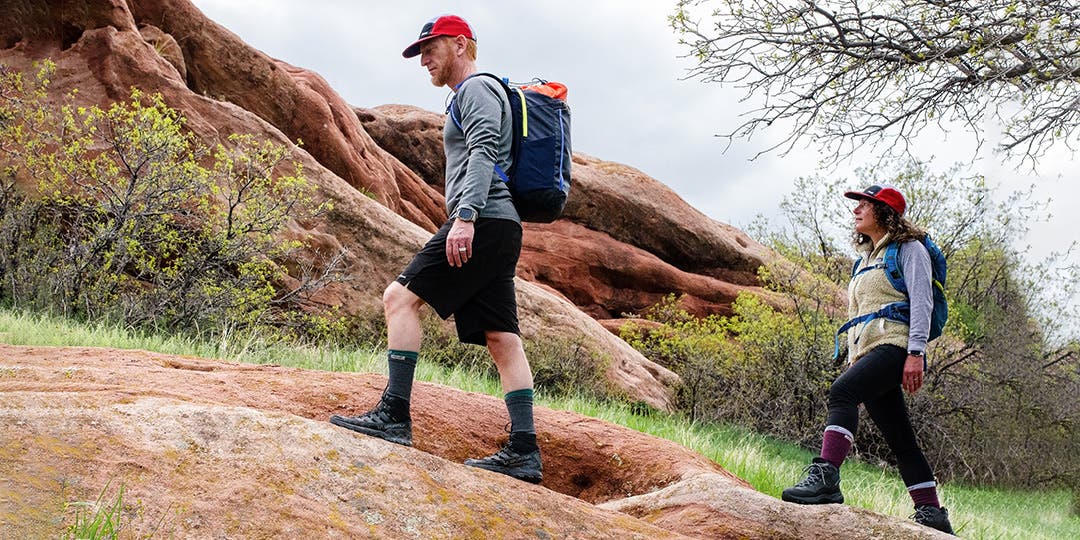 The Benefits of Toesocks for Hiking
Whether you are on a two mile or 20-mile hike, having the right hiking gear is essential. Injinji Toesocks prevent blisters by eliminating skin-on-skin friction. If you've been there, you know that getting a blister in the middle of a long hike can give you a serious setback – so comfort is key.
Hot, sweaty feet are extremely prone to blisters which can easily ruin your favorite hike. The best hiking socks will help your feet stay cool and dry, and that's why Injinji toesocks are made with moisture-wicking fibers such as COOLMAX EcoMade or Merino wool.
Injinji toesocks have a five-toe sleeve design to allow your toes to splay and align naturally within your shoes. This means that you get a better feel for the ground on rocky terrain or steep inclines, and your feet can give you the energy you need to complete that all-day hike or five day backpacking trip.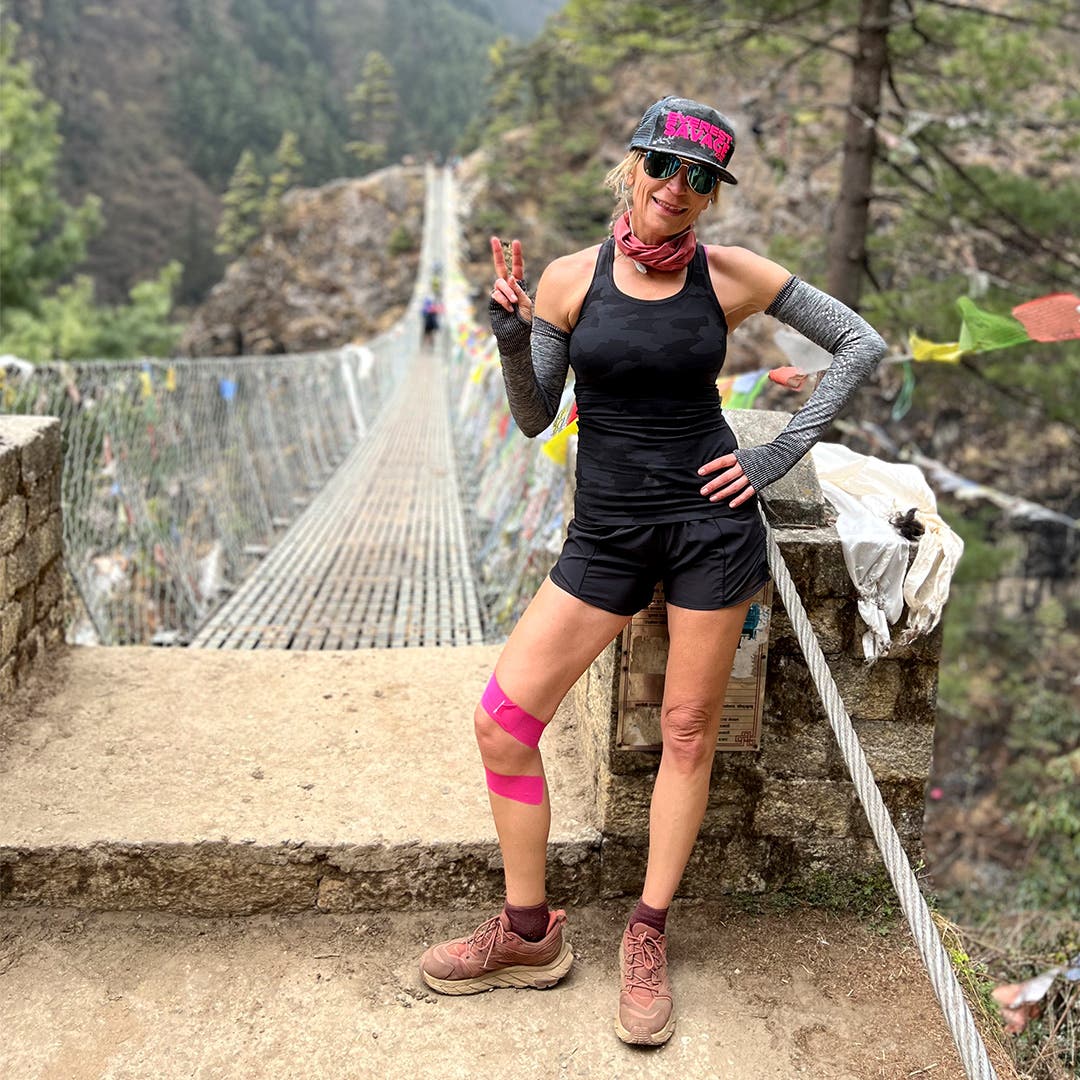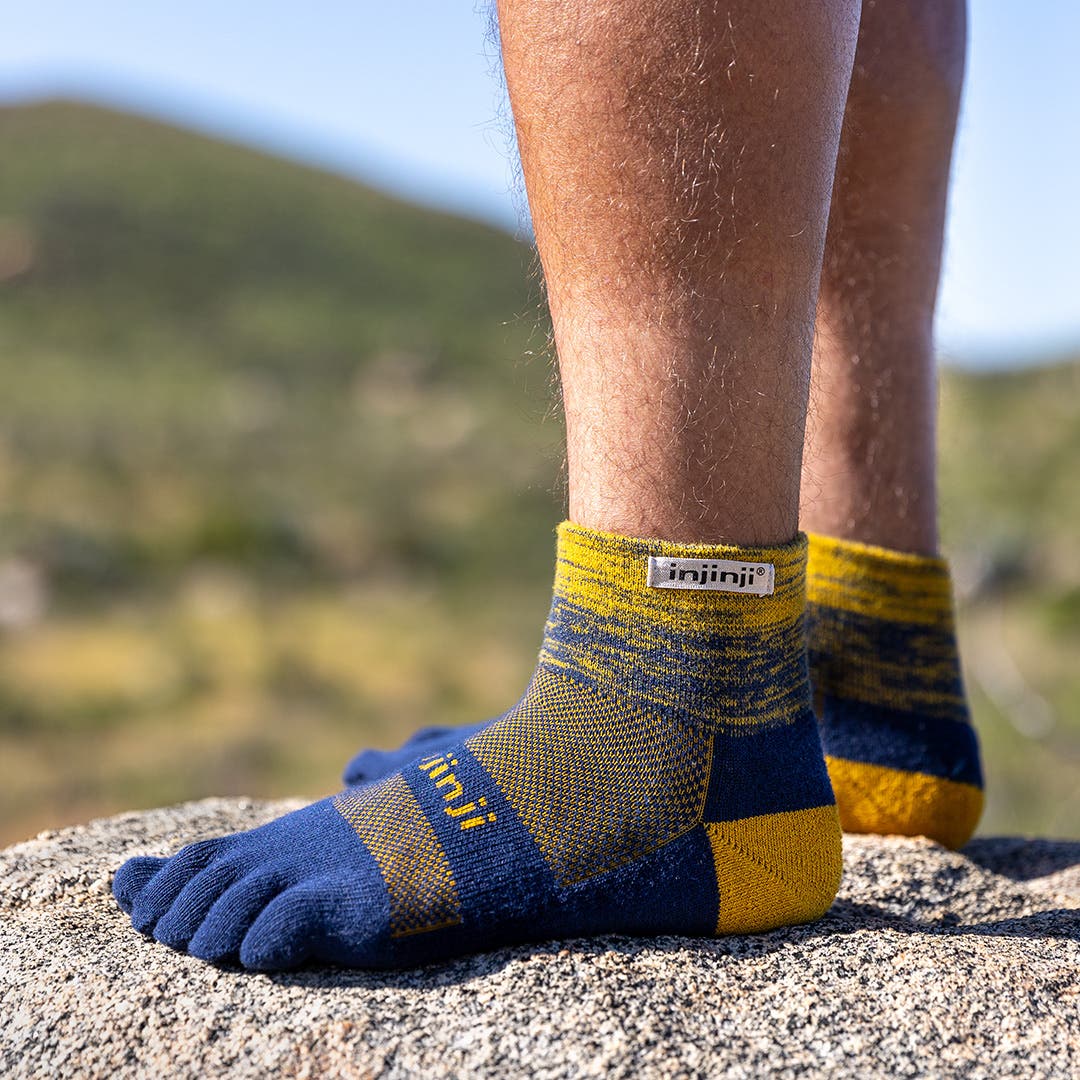 Meghan Buchanan's Favorite Toesocks for Hiking
Team Injinji Athlete Meghan Buchanan is an Aerospace Engineer, Motivational Speaker, and Adventure Athlete. Meghan has Dyslexia but doesn't let her learning differences deter her from adventures. She's completed the Seven Summits and is currently preparing to complete expeditions to the North and South Poles.
"I train year-round in numerous temperatures, terrains, and conditions so I use an arsenal of Injinji socks to train and be prepared for as many factors as possible. For hiking (and all gear in general), my recommendation starts with this simple rule, you need to try different combinations and socks until you find the system that works best for you. Injinji toesocks changed my life and took 'foot problems' off my worry list."
Here are my favorites for Hiking/Mountaineering/Climbing: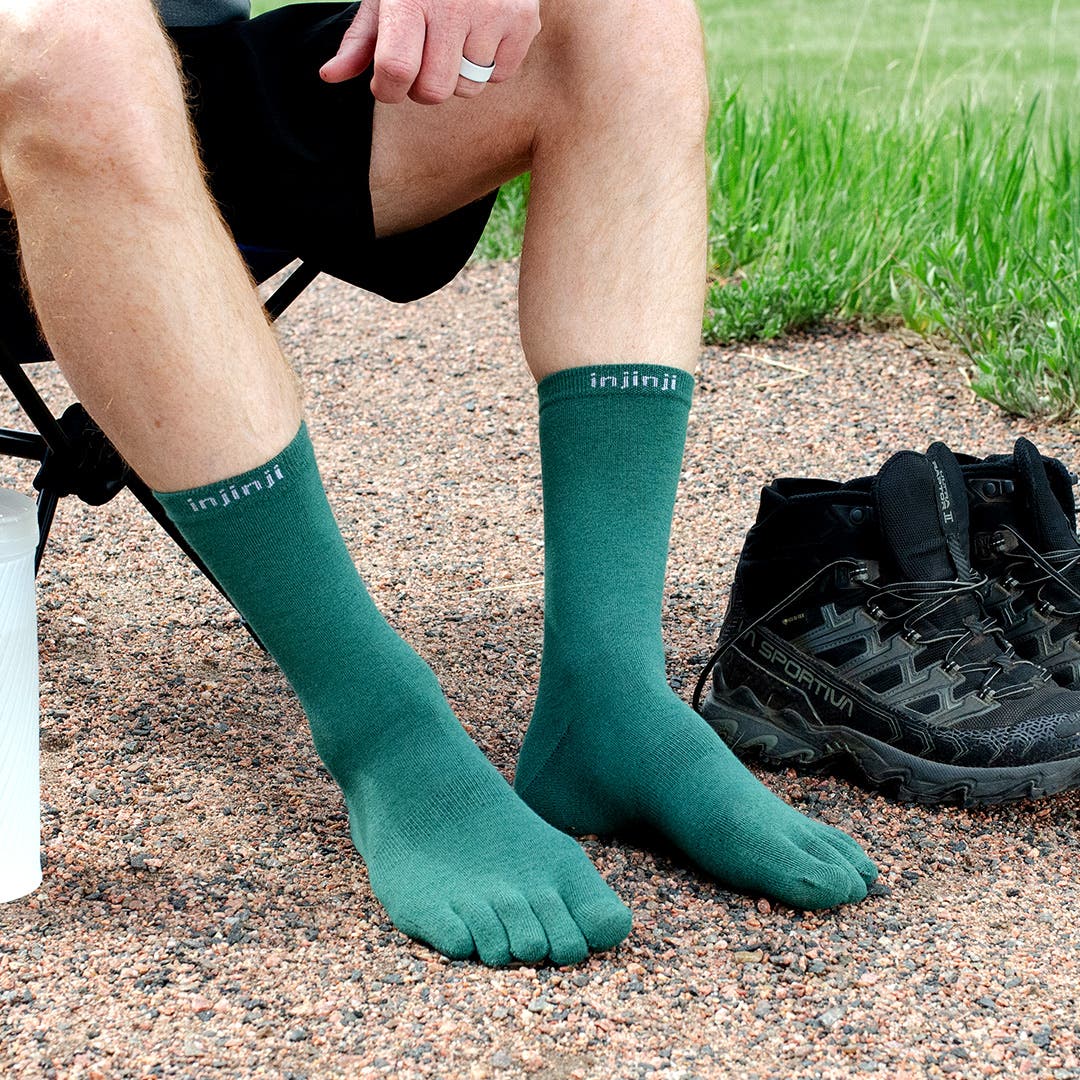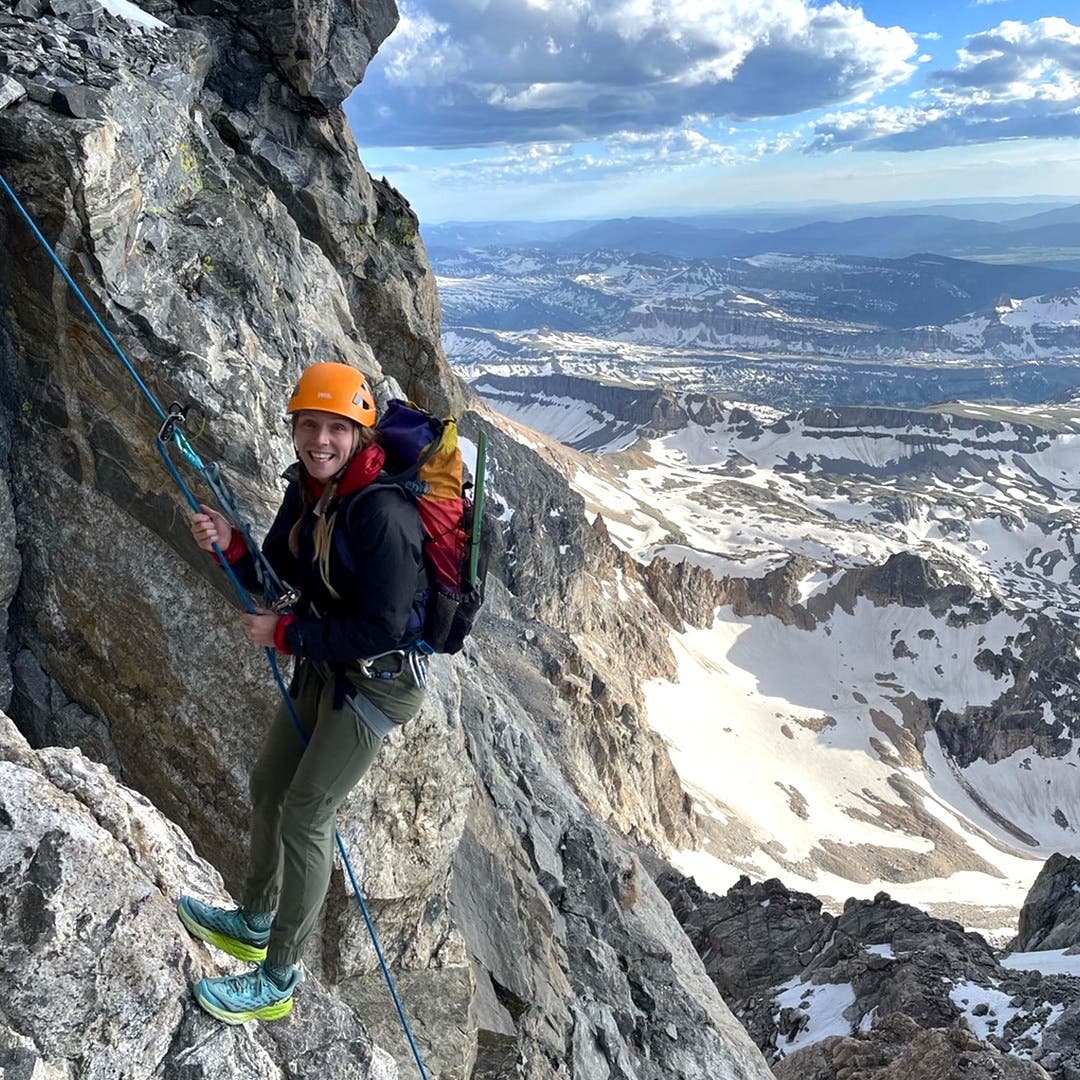 Caroline Himbert's Favorite Toesocks for Hiking
Team Injinji Athlete Caroline Himbert is a hiker, ultra and trail runner, climber, and backpacker. She is an active member of Women of the Wasatch, and hiking lead for Girl and Her Backpack. Caroline first discovered Injinji socks during her first big thru-hike of the PCT in 2016.
"I have used the Liner Crew on all my thru-hikes, for about 6,500 miles or so (PCT, CDT, CT, JMT, and others). It really helps to prevent blisters, is durable, and keeps small rocks out. I really enjoyed the lightweight in the desert sections like in New Mexico along the Continental Divide Trail. It doesn't make feet sweaty, and you know what they say, dry feet are happy feet.
I would often use the Women's Hiker Crew in addition to the Liner Crew. The Liner + Hiker socks were nice together, but it also helped to have two pairs of socks to switch out during the day. I really enjoy the length as it covers the ankles, but it is not too long to overheat the feet. It is nice for a more cushiony and softer sock."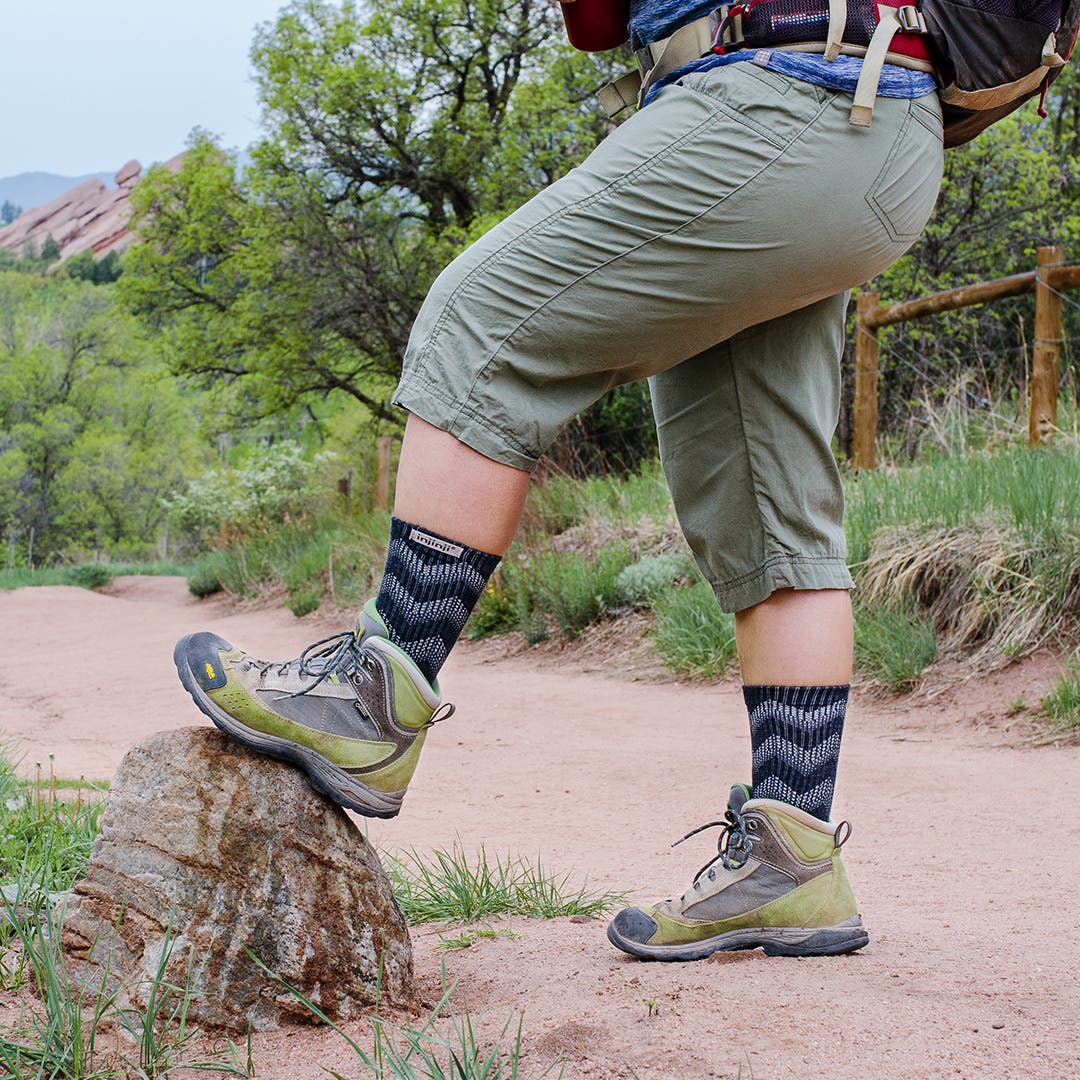 Trevor Davenport's Favorite Toesocks for Hiking
Team Injinji Athlete Trevor Davenport is an ultra-marathoner, triathlete, ironman, and RRCA-certified (Road Runners Club of America) running coach bringing athletes together to achieve any endurance and/or running goals.
"My favorite Injinji toesocks for hiking are the Ultra Run Crew and Outdoor Midweight Crew Wool. Both have the right amount of cushioning, wick moisture well, and protect the ankles/calves from all the pokey things in the Arizona desert."
---
If you're looking for the best socks for hiking, we've got you covered. Enjoy blister protection, moisture management, and total foot utilization with every mile when you hike with Injinji. Shop Team Injinij's favorites or explore Injinji's hiking socks!