Bored? Cranky? Feeling a little too cooped up? You may be suffering from cabin fever, friend. But, you're not alone. Although it looks beautiful outside our windows, most of us decide to stay inside all winter. This can leave us feeling tense, anxious, and generally unpleasant. So why do it?  Sure, the snow does narrow down options for outdoor activities, but there's still a way to get out of the house and stay active this winter. It's called snowshoeing and it's one of the fastest growing winter sports – and there are plenty of reasons why. It's relatively inexpensive, easy to do, great exercise, and most importantly, loads of fun! No wonder it gains popularity with each passing winter. Ready to take part? Here you'll learn everything you need to know to get started, including: What snowshoes you'll need, how to stay safe, and where to trek.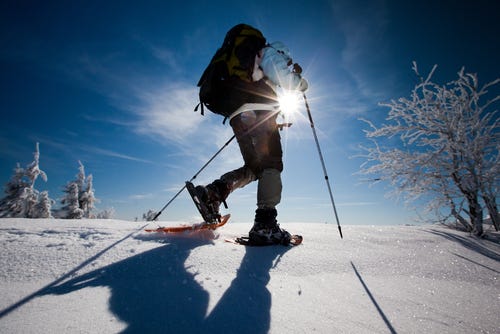 Types of Snowshoes:
Not all trails are created equal. Different terrains require different gear. You want snowshoes to match your environment. There are three basic types of snowshoes from which to choose.
Flatland
This make of snowshoe is designed for journeys on level terrain. If you're a beginner, with a big group, or just looking to keep things simple, these are the trails you're after.
Hills
Maybe you're feeling a little more adventurous. If you want to hop off the path and traverse some trickier trails, you'll want snowshoes designed to help you climb hills, hop logs, and take on all the other little obstacles found off-trail.
Mountains
You may want a few journeys under your belt before you tackle any mountains. But, when you're ready, make sure you buy snowshoes that can handle the steep, icy conditions. You'll be the one blazing the trail so you need shoes that can stand up to the task.
How to Stay Safe
Snowshoeing isn't necessarily a dangerous sport, but anytime you're setting off into the woods and the cold you want to take some precautions to keep yourself and your party safe.
Know Where You Are
Even if you plan to stay on a trail, it's always a good idea to pack a map and a compass. It can sometimes be easy to get turned around out there. Save yourself the worry and bring these things to know where you are and where you're headed. It's also a good idea to let people know where you'll be.
Keep Warm
Snowshoeing is simply not fun when your teeth are chattering. Fend off shivers by dressing in layers. You may find yourself getting sweaty as you walk. Peel off a layer to stay dry and maintain a regular body temperature. This same advice goes for layering under your snowshoes. It's important to have socks designed for the snow to keep your feet dry and warm – though you probably won't need to peel this layer off like you would a jacket.
Drink Water
Hydration is the name of the game. Drinking water fights off hypothermia and keeps your body functioning properly. You may be having a good time, but remember, it's most definitely exercise.
Where to Go
One of the great things about snowshoeing is that you can do it pretty much anywhere. Consider checking out one of these locations for your hike.
National Parks
Open to the public and filled with endless natural beauty.
Hiking Trails
If you can walk it in the summer, you can walk it in the winter. If you like to hike, you can hit up your favorite trails and see them in a new light.
Ski-Resorts
Although it's not necessary to go and pay for somewhere to hike, resorts do offer the luxury of maintained trails and other fun amenities. Cocoa anyone?
So now you know how to escape the house this winter. You've learned what type of gear you'll need, how to keep yourself safe out in the cold, and where to find the action. So, start your bundling, get outside, get some exercise, and have some fun. Let us know about your adventures and how you make the most out of each journey!