We all know that a consistent exercise regimen is a vital part of a healthy lifestyle, but spending day after day in a stuffy gym can leave you feeling a little lackluster about your routine. In addition, gym memberships can cut into your finances and leave you feeling like your attendance is more of a financial obligation than a healthy way to improve your life. In fact, there's no reason that a gym has to be your only—or even primary—place to stretch your legs and lift some weights.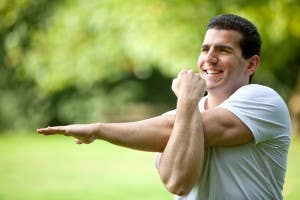 Exercising outdoors can offer added challenges and lead to higher satisfaction in your workout routine. It can also help you find new motivational reserves that can help you get moving. Let's take a look at how the great outdoors can rival the best of gyms with the added benefits of fresh air and new environments, free of charge.
Play
One of the best ways to get the most out of your outdoor exercise is to create an atmosphere that helps you achieve the greatest amount of enjoyment. Exercise doesn't have to involve counting reps or running boring uninterrupted miles. You can get a fantastic workout just by focusing on the activities you love. And what's better, the enjoyment and camaraderie that comes with playing a sport can help you stick to your exercise goals.
Look into local leagues such as VAVI to find community teams near you. Or choose a water sport and explore the wide variety of activities available. Grab a friend and a surfboard, paddleboard, kayak, or just don your swim trunks and hit the vast blue ocean. Check in with your local rowing club and experience for yourself how an hour of moderate outdoor rowing can burn a whopping 500 calories.
Park It
Park benches may seem mundane and uninteresting, but they can actually be highly effective workout aides. Need a more or less challenging way to get in those pushups? Try some bench-assisted pushups by putting your hands on the park bench seat and your feet on the ground for a gentler, inclined pushup. Or really kick it up a notch by placing your feet on the bench seat and your hands on the ground.
Park benches can also be a great addition to your leg workout. Try sitting on a bench and then quickly standing and jumping up in a jumping jack formation before returning to your seat. Or simply raise your hands in front of you and stand up, then sit down repeatedly for an assisted squat. To really work on your glutes and hamstrings, step up onto the bench seat and back down, switching legs each time.
Run Amok
Running outside provides a double dose of benefits. Purported to burn more calories than your standard indoor run, running in the great outdoors provides you with naturally uneven terrain, hills, and other challenges that you can't find on your neighborhood treadmill. Hills and inclines help target your glutes and calves, and changes in slope help you work on your core stability. In addition to a greater calorie burn and a more well-rounded leg workout, running outside provides you with an ever-changing environment to keep you mentally engaged. Looking for an extra challenging run? Head to the beach and take a jog in the sand.
Get Classy
Many instructors are moving out of the gym and onto the turf for their classes. From yoga on the bluff to boot camp in the park, there are a multitude of options to choose from. Choosing an outdoor class can be a great way to get motivated. If you enjoy yoga but you are tired of the stuffy room, bring your mat into the great outdoors and listen to the trees, the birds, or the ocean while you practice your next warrior pose. Boot camp classes combine all the great assets of a gym with the benefit of a natural environment. Often consisting of nothing more than a few tires and some kettlebells, these creative classes often rely on bodyweight to help you feel the burn.
Revisit Recess
Children are a great excuse to get to the park and play, and what better outdoor tool to help you get a great workout than a jungle gym? Get in some pull-ups and some dips, grind out some upside-down hanging sit-ups, and monkey around on the monkey bars by traversing them slowly and methodically. Use a swing and place your lower legs in the seat and your hands on the ground, and then slowly bring your knees forward and then backward for an extra difficult upside-down crunch. Work on your core by taking to the balance beams and concentrate on your coordination by climbing around.
Frolic with Fido
There's no better running buddy than man's best friend. A dog is a great motivational tool, and a friend who can share in the benefits of all your hard work. Go for a run, or take a bat to nearest baseball diamond and get your baseballs retrieved for you.  From Frisbee, to a game of catch, to creating your own obstacle courses, a canine companion can bring a new element of liveliness to your outdoor workout. Don't have a dog? Check around with your friends and neighbors. Many busy owners would be more than happy to let you take their beloved pup out for a good time.
There are a great many ways to use the outdoors to get a leg up on your personal health and fitness. With innumerable options to choose from—some that allow you to bring along your children and your pets—what's not to love? In addition, gym machines can limit your activated muscles, whereas body weight exercises and free weight build core strength and supporting muscles. This can help you avoid injury and also provide you with a more comprehensive workout. So why not take to the grass and get out into the open air. When it comes to spicing up your workout routine, let nature do the heavy lifting.