As we grow older, some friendships begin to dwindle while new friendships arise based on our lifestyle and passions. It is not uncommon to meet a complete stranger for a run, and after ten or fifteen miles have passed, you are now instant besties. Most runners would agree that their training partners, who follow them along the journey to cross a finish line, are the best friendships they have ever had. We connected with two Injinji Athletes Lindsey LaVeck and Kati Keenan who met on Instagram and shortly after became the closest of buddies.
Both ladies lived in the Cleveland area of Ohio and after finding each other through social media, realized that they only lived a quarter mile from each other. They began an "IG friendship" (we have all done this right?) with discussion on socks, races and training schedules. It was -19 degrees during their first run together, which was a 5-mile loop around their neighborhood. This was the same year as the polar vortex, with the area being in an actual State of Emergency. This didn't stop these two ladies from running and training together in the wind and snow. Their friendship was built through like-minded goals, training plans, and overall compatibility.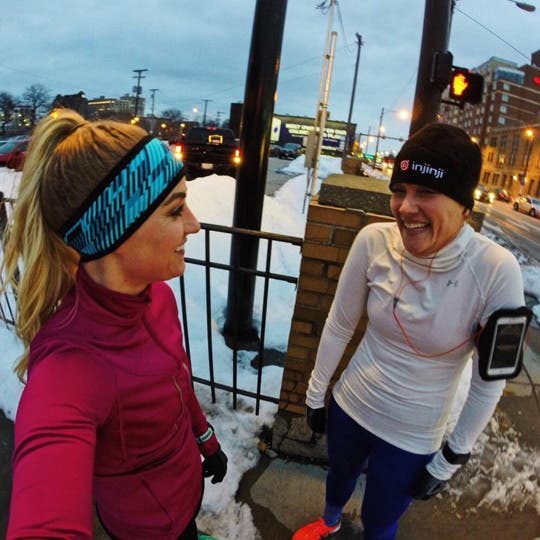 Lindsey first tried Injinji socks in 2014 after winning a free pair on an Instagram contest. She appreciated the quality of the product and loved the waves colorway so much that she started posting all about them on her Instagram account. Shortly after she became an ambassador and a year later got Kati hooked on the brand as well. Kati officially joined the Injinji team in 2015, with her favorite socks being the crew and knee-length, for the best photo-taking opportunities.
When it comes to training, Kati and Lindsey don't just run together. They're also involved with their local run clubs as well. The area is known to have pub runs, running groups and running stores, such as Fleet Feet, which host weekly group fun runs. However, as training gets serious, it is nice for these two women to work together pushing the pace and hitting their splits. Although now, six years later, these two friends live two hours apart. However, they continue to support each other and talk almost every single day. They plan their runs at the same time so that they can chat on the phone while running, which makes the runs more fun and easier to get through. This plan helped them both get through their Boston Marathon training cycles and their endless conversations made for some of their best memories. Sometimes they would even create fun games during their long runs in the brutal weather conditions such as - tell a story from grade school, or at mile 8 what was your favorite memory at 8 years old. The creativity was humorous, and yet it was these types of questions and games that helped Lindsey and Kati remain so close.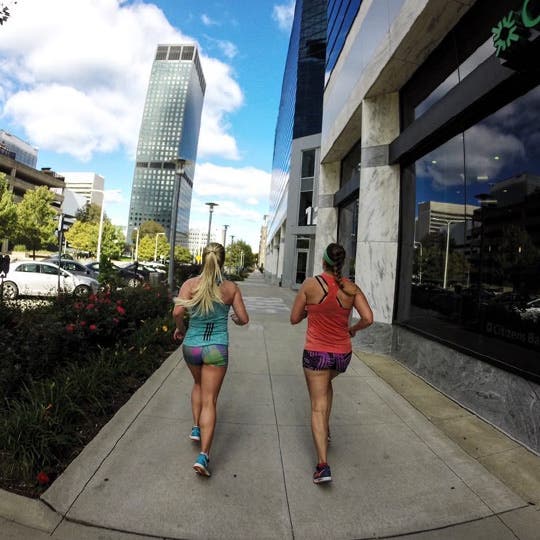 In meeting potential training partners via social media, there is a safety risk involved and one should take precautions when meeting new people. When meeting someone for the first time, it is always best to bring another buddy with you or tell someone where you will be running, how many miles, and your anticipated finish time. When running by yourself, it is smart to carry protection such as a knife, taser, or pepper spray, along with a light and reflective gear at night. Talking on the phone with a friend while running by yourself and letting them know when you have arrived safely back home are also key safety measures.
This winter Lindsey is taking a step back from running as she is getting ready for baby number 3 (congrats!), but she will continue to support Kati as she continues to train and race.
Last month, with Lindsey's support cheering from the sidelines, Kati ran for 3 hours and 17 minutes, a 7:33 pace, at the Wineglass Marathon in bitterly cold conditions, including humidity, headwind, and rain. Next up for Kati will be the Glass City Marathon in April, and after Lindsey's baby number 3 is born, both ladies will be training together again for the Philadelphia Marathon in the fall of 2022. Their daily phone conversations will continue, along with sending each other their workouts for encouragement, and advice on any concerns or issues that may come up. We have no doubt that their friendship will continue to grow and these two are so lucky to have found each other.