Every November, running retailers join forces to raise awareness during Running Safety Month—the goal is to remind runners that there are little things they can do to not only achieve all of their goals, but to do so while staying safe. In that spirit, we thought we'd share 5 ways you can keep yourself safe every time you head out on a run!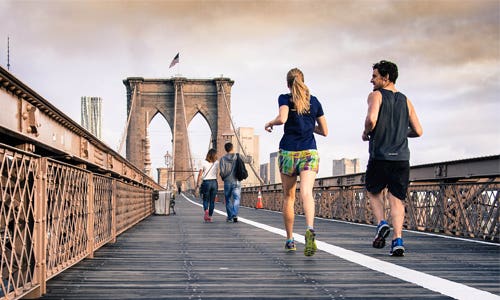 Be visible.
As easy as this sounds, it's just as easy to forget. If you're a fan of a twilight or night run, you need to be especially aware of the clothes and gear you're wearing. Make sure you're wearing bright colors—reflective materials are best—and you can even wear a headlamp to make sure that drivers and cyclists know exactly where you are. Don't have enough reflective running gear? Check out your local running store. They might even have a promotion for National Running Safety month!
Follow the rules of the road.
Check both ways before you cross the street, run opposite of traffic, and know whether you should be on the sidewalk or on a specific path for the area you're running through. This may take a little more planning, but your safety is worth it.
Be aware.
As much as it may be tempting to crank up your music and forget the world and its woes, it's probably not your best choice for safety. Loud music drowns out the world, which means it also drowns out warning signs from any cars, bikes, or possible assailants. So turn down your music and run like the defensive driver your mother still hopes you are. That means assuming the worst about drivers and cyclists, and being ready to move out of the way at any given second.
Use your tech.
Try an app like RunSafe that not only tracks your fitness progress, but alerts your friends when you start and end your run. It also has a panic button that sends out your name, photo, age, height, weight, and last known location to your chosen contacts. On the lower tech side, keep some form of identification on you—whether in the form of an ID bracelet, shoe tag, or just your license—so that in the event of an emergency, responders can quickly identify you and any chronic health issues you may have.
Phone a friend.
There's something great to be said about running solo, but there's something to be said for the kindergarten "buddy system." Grab a friend or bring your dog with you the next time you head out, or if you're committed to the solo run, at least let someone know where you're going and how long you should be gone. Whether it's a roommate, a friend, or even your mom, it's nice to have someone looking out for you while you're getting your run on.
Find more safety tips
here
.