Running, training, lifting weights, cycling, sweating. Working out takes time and dedication outside and in the gym. Putting your body through an intense workout alone may not yield the optimal results or split time because performance training is more than just the hours spent training. A key item to consider is the foods you consume and how it contributes to your overall health. It is important to note that every person needs to find what nutrition plan works best for them and their training habits, food tolerance and overall lifestyle.
The Injinji Staff had the opportunity to try the Smoked Salmon Egg Bake recipe from Stephanie Gaudreau's The Performance Paleo Cookbook. The foundation of Gaudreau's cookbook is to consume foods that are nutrient-dense while focusing on quality protein, vegetables, fruits and healthy fats. The recipes focus on eating enough carbohydrates to support training and recovery to take your performance to the next level. Check out the recipe below!
SMOKED SALMON EGG BAKE
[caption id="attachment_913" align="aligncenter" width="565"]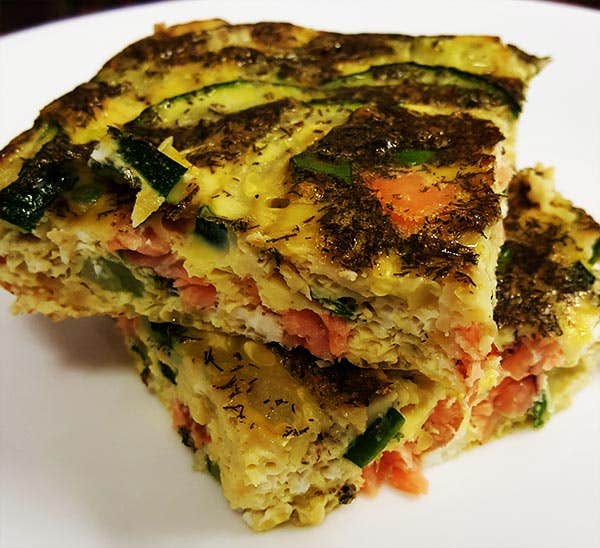 The finished product, Smoked Salmon Egg Bake![/caption]
Ingredients:
1 tsp + 1 tbsp (15 mL) coconut oil

1 lb (454 g) zucchini, shredded (we chopped ours)

3 green onions (2 oz [57 g]), white and light green parts, thinly sliced

1 tsp sea salt

1/2 tsp black pepper

8 large eggs, beaten

1 tsp dried dill

4 oz (113 g) smoked salmon, chopped
Directions:
Preheat the oven to 350°F/177°C and grease an 8-inch x 8-inch baking dish with 1 teaspoon coconut oil.
Sweat the zucchini and green onions. Heat a large skillet over medium heat, then add 1 tablespoon coconut oil. Add the zucchini, green onions, salt and pepper. Cook and stir until the veggies are wilted and lightly browned. You want most the moisture to cook off, about 6 to 8 minutes. Let the mixture cool.
Meanwhile, in a large bowl, beat the eggs together with the dill, then mix in the smoked salmon. When the zucchini and green onions are cool, add them to the eggs and stir until everything is well combined. Pour the mixture into the baking dish. Bake for 30 to 35 minutes or until the center is set and not liquid. Enjoy!
Total Recipe Macronutrients (in grams per serving)
Protein - 13g

Fat - 11g

Total Carbs - 3g

Net Carb - 2g