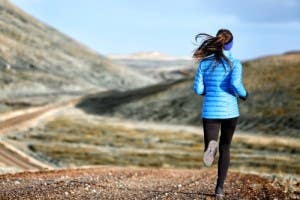 With temperatures dropping, it's easy to see why some athletes head inside for their workout. For joggers determined to stay outdoors during the winter months, there are certain essential clothing items that should not be overlooked.
Find out what you'll want to consider for your winter workout wardrobe below.
Invest in Breathable Layers
It may seem unintuitive, but multiple layers can often be cooler and more comfortable than just one. If you choose your layers right, you'll never have to worry about getting wet, getting cold, or staying sweaty.
Keep your eyes open for these breathable materials:
Merino Wool: Originating from Merino sheep, merino wool is praised for its lightweight warmth. Merino wool clothing is an ideal base layer as it will regulate but not overheat your body temperature. Since sweat and dampness is your worst enemy in cold weather, Merino wool is also sweat-wicking. As a bonus, many athletes have also reported it's hard to get stinky.

Synthetic Fleece: Synthetic fleece is versatile and comes in various weights. A lightweight fleece is recommended as a mid-layer and will insulate your heat while still remaining breathable. Fleece is also a fast-drying material.

Gore-Tex: Finish your layering with clothing that incorporates Gore-Tex technology. Gore-Tex works with other materials to create an effective wind and waterproof barrier that is still highly breathable. The science behind Gore-Tex is fascinating. Road Runner Sports describes it best: "each pore is smaller than a droplet of water but larger than a molecule of water vapor." As a result, wet weather can't enter the clothing, but moisture from sweat can still escape. There's a reason why high-quality workout gear carries the Gore-Tex emblem.
Whatever you select for your winter running gear, make sure it's not cotton. Cotton is not breathable and stays wet for extended periods of time.
Cover Your Face
Anyone who has ever run in the cold will recognize the sensation of having breathed in too much chilled air. Covering your mouth when breathing heavily will warm the air you're taking in. This is especially important if you have a pre-standing lung condition such as asthma, or if the region you're in bears a particularly dry cold. Breathability of fabric is key for obvious reasons, and a thin neck warmer made of merino wool will work best.
Winter-Hardy Runners
The most important qualities of winter running shoes are warmth and grip. Shoes with Vibram outsoles will provide excellent traction on icy days, and will also add bulk between your foot and the snow. Some shoes even offer the option of removable metal spike pins, the equivalent of studded tires for your feet. Shoes with a water-repellent finish and sealed seaming are ideal for warmth and dealing with slushy days.
Remember that your winter socks will be thicker than the socks you'd wear jogging in the summer. As a result, you may wish to buy a winter running shoe in the next size or half-size up to ensure you have room for air circulation. Bring your winter running socks when you go shoe shopping.
Watch What You Do Beneath the Shoe
The importance of good quality socks is not to be undervalued. On cold days wear a thin, sweat-wicking sock under thicker fleece or wool socks. Toe socks can provide extra wicking power for especially chilly days. Some sock brands make base layers that have padding at the shin area and offer full calf coverage in order to insulate extra warmth.
Be Visible at Night
With winter weather comes shorter days. Evening joggers should consider an outer layer with reflective strips. Clothing that incorporates illumiNITE technology works well. This add-on to higher end workout clothing bounces light off a runner and back towards the drivers of oncoming cars. You can also buy stand-alone reflective arm and leg bands that stay on using Velcro or elastic.
Once you've got your gear, you're ready to head outside. Have a happy and safe running season, and enjoy the liberation and feeling of resilience from sticking it to old man winter.