Did you know the Injinji toesocks you know and love were once just a hope and a dream? That's right, the brightly colored staples in your active lifestyle started as nothing more than the wild idea of a few innovators in SoCal. And in typical sunshine state fashion, it all started by the ocean!
Join us as we reminisce about our younger years and see how far we've come in our not-quite-twenty-year journey through the world of performance socks.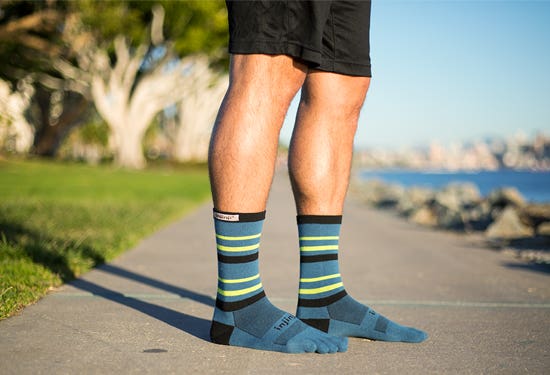 Who We Are
At its core, Injinji is a company driven by passion—a passion for the outdoors, a passion for adventure, and a passion for innovation. And when we strike out into new adventures we put our whole hearts into it. So when we saw the world of performance socks begging for an innovation (and one that would make the journey of life more comfortable), we couldn't turn away. And that's how our patented five-toe sleeve, anti-friction, seamless sock was born!
It Started by the Ocean
It was 1999, and we were determined to bring a brand new athletic experience to feet all over the country (if not the world). We dreamed of increased comfort, blister protection, and freedom and natural toe splay in any shoe. In our small warehouse and office in Pacific Beach, we built our brand and showed athletes everywhere what it meant to have happy, healthy feet.
Injinji on the Move!
Fast forward to 2008: we traded the beach waves for the hills and trails of the Sorrento Valley! Well, it was more about the need for space to house our booming business and growing family of adventurers.
It's here in our quiet valley location that we expanded our line to include new designs and innovative product pairings—and we didn't stop there! From the evolution of our Run & Trail series to Compression and on to the Hiker + Liner set, we've updated to meet the needs of athletes everywhere.
Where We Are Now
We're still in the Sorrento Valley, but we're not the same Injinji that first moved in. Our operations are streamlined, we've got a brand new website, and our product line has expanded again—we've welcomed the new Ultra Run collection to the family and we're excited for people to try them.
But the biggest news in the land of Injinji? We're not just an online retailer anymore! Our NEW show room is open, which means anyone can stop by and visit us during the week, Monday-Friday 9am-4pm. Come check out our new products and find your best fit! We can't wait to meet you and help your feet live a life more comfortable.
The Future is Full of Toesocks
We're not done yet! Here at Injinji we celebrate our successes, but we also push ourselves to continue on our path of toesock innovation. We are forever committed to helping your feet be most comfortable and perform at their peak. So stay tuned for even more fun announcements and inspired designs.