We love our Team Injinji athletes, and there's something special about welcoming someone new to the family. Today we have the pleasure of announcing our partnership with road runner extraordinaire, Cate Barrett!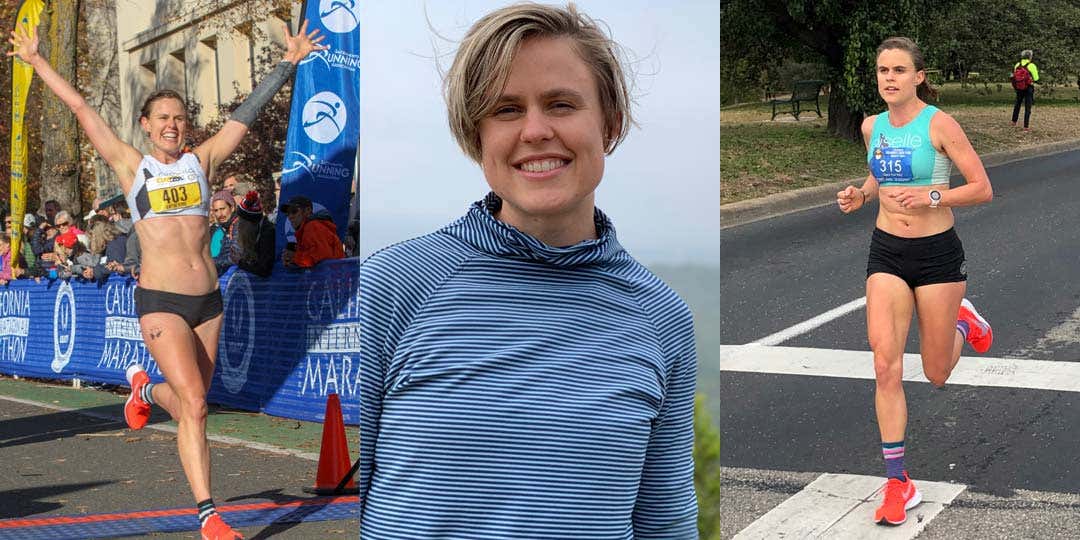 Hailing from Austin, Texas, Cate joins us as she heads into the 2020 Olympic Marathon trials in Atlanta, Georgia. From the first days of running with her mom to a competitive track career at Baylor University, and on to her 2018 Olympic Trial Qualifier at the California International Marathon, Cate has running in her blood. Read a bit about her and you'll see why we're so happy she's part of the team.
***
Injinji: Tell us a little bit about yourself. How did you get started as a runner?
Cate: I'm from Austin, Texas—that's where I live now, and where I've lived my whole life. I actually started running with my mom when I was 8 years old! I was homeschooled, so we would go for runs during my brother's soccer practices, and my mom would tell me, "Okay, that's your PE credit." She said she could just tell I had an aptitude for it, so I'm not sure I necessarily chose it, but I did like going to the local 5Ks that she would take me to. And at the end of my junior year of high school (age 17), I crossed paths with a track coach who had a running group that met on Sunday mornings with other high schoolers. It was kids from all over the area who just wanted to get together; we ran practices together and he started giving me training plans. I hadn't really understood training before that… I just thought, "I guess people who are fast, are just fast, I don't know!"
Injinji: When did you start getting the taste for competitive running?
Cate: I remember my coach asking me the summer before my senior year, "Do you want to do this? Do you want me to coach you? Do you want to go for this?" And I didn't even know what 'this' meant. I was like "Well, I'll keep coming on Sunday mornings, and you can keep telling me what to run during the week!" And it just totally changed the trajectory of my life.
Before that point, I hadn't been very competitive with running. I had done races, but I wouldn't win or anything. I had always admired people who went and did sports in college. I remember seeing college teams at meets sometimes, if they were dual high school/college meets, and just being in awe of them wearing their matching gear and being a pack. So I started performing a lot better in my senior year, and my coach told me that I was going to start getting recruited. And people did, they started calling me to see if I wanted to compete in college. It totally opened this door—it was a dream I didn't even know I had. And I got to go be on a team in college; I competed all four years at Baylor, and I've been training ever since.
Injinji: And what made you want to start running marathons?
Cate: I've been doing marathons since 2017, so it's kind of a newer thing for me. But the reason I started is that I had seen some of the other women in my training group go on and qualify and compete at the Olympic Marathon Trials. I'd never made a national championship for running before (at least as an adult), and I thought it'd be a really cool opportunity. It was just an open door. I thought to myself, "Is that something I can do? ...Maybe!"
So last year in December (2018) I qualified for the marathon trials. And the way it works in the United States, the way they pick the Olympic Team for the marathon, is they have a marathon. And if you're top 3 in that race, you're on the team. So it gets to be a pretty stacked field. 2020 is really crazy, especially for the women, because there are 511 women nationwide who qualified. To qualify, all you have to do to qualify (all you have to do… HA) is run a marathon on a certified course in under 2 hours 45 minutes. It's a pretty similar standard each year, but sometimes it's faster, sometimes it's slower. But just the fact that TWICE as many women have qualified this year as in the past, it's crazy.
It's definitely part of a movement, and that's what I'm really excited about. I don't think that anyone saw this happening in 2020, but women around the country have just stepped up, and been like, "Hey, I'm going for this." And it's been really cool to see some of the stories coming out around this movement, and I'm just flattered to be a part of it. It's something that's hard to wrap my head around, that I even did it. But being able to see so many women go before me and complete that, I know it's possible.
Injinji: So what do you think your goal is going into the Olympic Marathon Trials?
Cate: It's awesome to be able to say that you're in this race that's a qualifier for the Olympics, but there are 500 of us. I would say 15 women have even a shadow of a chance to do it, to be on the Olympic Team. There are some favorites, and then there's another tier of people who could be dark horses. And after that, the rest of us are maybe coming up with our own reasons for running, and why this is going to be competitive, because it's not going to have a material impact on the rest of our lives. It's not like we're going for sponsorships or prize money. So that's actually something that's been challenging for me, coming up with something that's going to be a meaningful goal for that race. Qualifying was really special for me, and in the running world, having what we call "the OTQ" comes with status. And it does open up opportunities for you to be on teams and be ambassadors (like I get to do for Injinji), but looking at the race itself, it's kind of like, "Well, what are you going to get out of it?" For me, it's not the Olympics, I'm not comfortable with the term "Olympic hopeful." I'm not saying it's not something I've ever thought about, but you have to take it one training cycle at a time.
Injinji: So have you changed up your training at all, heading toward the race in Atlanta?
Cate: I qualified for the trials in December 2018, and I envisioned in 2019 this blazing path to glory. I was going to train so hard and really up my game—my whole training cycle to get to my OTQ, I really held back, running 50 miles per week average (relatively low). So I had a lot of room to scale it up. But then this year, it just reminded me that running is hard, and then I took a new job in February that was definitely a step up for me professionally (which then took time for me to adjust). And because of that I didn't get much of the training done that I wanted to. I feel like I had a few setbacks.I had more anxiety than I've ever had before, so that kind of played into it. The summer in Austin is not very much fun to train in, and then I got into the fall and had some injuries, so it really took until November until I felt like I really hit my stride in training. And so it was like "Okay, we are here, and not a moment too soon!"
It was really nice, the race (for the trials), they organize a preview course run for us the weekend before Thanksgiving. So they let us run one loop (the marathon is three) and there was a police escort so we could run the loop and see the course. They had it divided in pace groups, and because they had police officers escorting us on motorcycles, we had to all kind of stick together and run the same pace. And I got dropped off the back of the pace—I was the only woman who couldn't hang on.
It was upsetting. And I thought to myself, "How am I going to come back here in February and actually compete?" It was sobering, but it was right around the time I was coming back from injuries in the fall. I think I'm getting around, I'm in better shape. Since then, I've hit the training really consistently, doing up to 65 miles a week, which is pretty much my lifetime high. I've really gotten the basics back, but that's really what you need to run a marathon—you've got to be able to run for a really long time at moderate speed. So I feel like that part is really coming together, and right on time!
Injinji: Throughout the years, you've run a lot of different races. Do you have a favorite?
Cate:  Well I had an amazing time at the California International Marathon (CIM) both times I've run it (up in Sacramento). They take a lot of care to make sure that every runner there has a good experience—one thing they brag about is they have more porta potties at the start line than any other race. It sounds silly, but it's great! When you're waiting before a race, you don't have a lot of time for shivering in lines for the porta potty, so it's a great asset. And that's just a small example of the care the race director has for runners. They actually call this race "OTQ Factory." OTQ is Olympic Trials Qualifier—I think it might be the race where the most people qualify because it's usually good weather, it's a good course, and they give you a starting spot near the front of the field so you don't get lost in the crowd. I ran my marathon PR there, I ran 2 hours 43 minutes, and I was in 70th place (for women). At most other marathons (outside of races like Boston), that could win, but at CIM you're just a face in the crowd. But you get the chance to run with a lot of people who are faster or near your pace, and that really helps me stay focused, when I have other runners nearby me in the race, so it was perfect.
And of course, I love my local races! We have a big one, the Capital 10K in Austin, and that is I think the biggest 10K in Texas (in terms of runners registered). I think it's in its 40th year or so? That one's fun because it gets people out who may not do any other races throughout the year. You'll see people wearing costumes, people who are coming out with their work teams, and at the front of the field, it's a pretty competitive 10K. I like that it's a race where all your friends are out there, either running or cheering.
Injinji: We have to ask, what's your favorite part of running?
Cate: I think it's a sense of belonging for me. I always feel the most "myself" when I'm with my runner friends. Maybe we're nerding out about training plans, or our favorite Oiselle gear, or we might be talking about our relationships or our work, but I just feel the most comfortable when I'm around those people. And it's been a consistent thread in my life since I was a kid, but especially since I was 17. I feel like if I didn't have my running world, I would be alone and I don't think I would know as much how to navigate the world. Even my job now, I got a referral to work here based on a friend I had in the running community. It's just how I connect with people the best, so I feel really lucky to be part of it.
Injinji: And how were you first introduced to our Injinji toesocks?
Cate: I was working at a running store for a couple years after college, and we sold them. Kind of first thoughts, I wasn't really sure what they could do for me. Other than blister prevention, okay, but I don't get a lot of blisters, what do I need this for? But I had a pair, and I would wear them occasionally when they were the socks on the top of the drawer. That was several years ago, and I didn't think a whole lot about it. But recently, what made me get interested again, what rekindled the flame, is the foot problems I've been having. It's been my dress shoes, my running shoes, I guess I have "picky feet" or something. I was having foot pain, and one of the things my chiropractor suggested was getting shoes that were more naturally shaped for my foot. So I started to do that. And kind of the next step from there, I felt like regular socks were compressing my foot.
When you're in a shoe that has a little bit more room for your toes to splay out and support your foot, a regular sock kind of takes away from that benefit because it's squishing everything back together. Especially a lot of compression socks styles, I like the support they offered, but it was too much. And I thought, "You know what, I think this Injinji compression sock (the one that goes up to your knee), that's like the dream sock!" I'm at a place in my "old body" and my foot health, that I've been investing in a lot of new dress shoes, new running shoes, and the sock is all part of this. I'm happy to say it's paying off—my foot pain symptoms have been resolved lately and I haven't had any problems.
I've had this foot problem for a long time, and it's really made me worried if I'll be able to keep training, or if any shoe will hurt it. But I'm really really relieved to find that being in the right shoe and sock combination is relieving the symptoms. What I like about the Injinji product is that it's an affordable solution. You may not have to buy a whole new pair of shoes, but you can get some of those benefits of more natural foot motion and your big toe being able to really move independently from your other toes. It's like a gateway drug into getting more interested in natural foot movement and treating your feet in a way that's going to help you be healthy.