On an overcast Sunday morning in March, 3,789 runners crossed the finish line at the San Diego Half Marathon. Spectators would have to have been preoccupied not to notice the hundreds of runners sporting San Diego Track Club running gear. As the oldest and largest running club in San Diego, the club's athletes participate in droves at local, national and even international races.
San Diego Track Club (@sandiegotrackclub) runners represent all abilities. You may see a SDTC singlet on the first place finisher, as was the case when San Diego Track Elite athlete Dylan Marx (@amarxson) crossed the line in 1:07:32 at the San Diego Half Marathon, followed close behind by several of his teammates. Coming in 10th overall, and the first place female, with a women's course record of 1:16:23, was one of San Diego Track Club's coaches, Meriah Earle (@meriahearle).
Since 1953, the San Diego Track Club has been supporting the development of distance running, track and field, and related sports in and around San Diego County. With experienced coaches, dedicated mentors, low cost races and more than 600 members, the club helps runners of all levels meet their goals in a fun and supportive environment.
Runners like 81-year-old Virgina Lopez – a member of the San Diego Track Club masters women's team for decades – who continues to toe the line at road races and cross country races alike, benefit from the club's weekly track workouts and training for half and full marathons. Virginia happily crossed the finish line as the last runner on the course at the San Diego Half Marathon with a time of 4:07:10.
The club was founded by San Diego State University track and field athletes searching for more inclusive, post-graduation competitions that did not require long drives to Los Angeles. They originally called the club the San Diego Track and Field Association. In 1954, founding member Bill Gookin invited a Los Angeles-based rival and his friends to race in San Diego's historic Balboa Park for an eight-mile race that included flat pavement and hilly cross country miles. Fifty six runners participated. Known today as the Balboa Park 8 Miler, it is the longest running road race on the West Coast, now with 2,000 participants every August.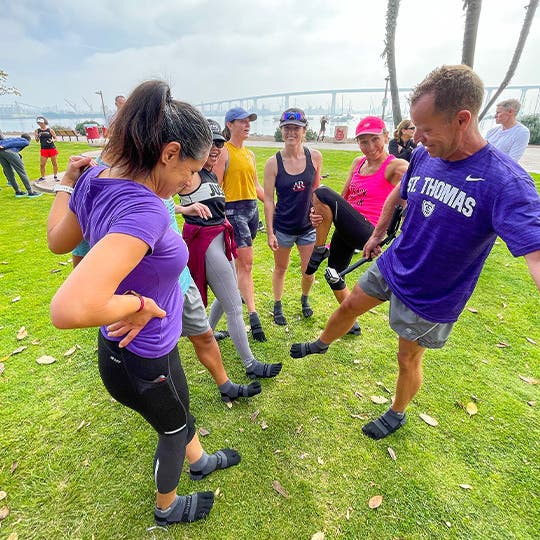 During the early days of the club, the USA Track & Field prohibited women from distance running or running in races with men. But Donna Gookin, Bill's wife, joined the club and invited other female recreational runners to join her. They were welcomed with open arms, setting the club apart from others.
In 1962, Bill and the club created the Mission Bay Marathon. To get around regulations prohibiting women from running with men, the club created a separate Women's Southern California Marathon that just happened to take place on the same course, same day and same time as the Mission Bay race.
Priding itself in being as an inclusive club dedicated to encouraging new and experienced runners to be active and healthy, the club tailors workouts for different levels to ensure everyone can participate whether they want to race or just enjoy the camaraderie of a running community.
For those who do want to race, the San Diego Track Club today hosts events like the annual Chuck McMahon Memorial Track & Field Meet, which draws former Olympians and nationally ranked masters athletes, the Summer Nights all-comers track series, and for those who want to swap roads for trails, the Tom Bache Balboa Park 4-Miler (cross country) and the Ursula Rains Balboa Boogie 5K (cross country).
Many people may not realize that the nation's first triathlon was held by the San Diego Track Club in 1974 at Fiesta Island, an area of Mission Bay Park. Forty-six people, including a large contingency from the club, took part in that historic race which included 500 yards of swimming, five miles of cycling and a six-mile run.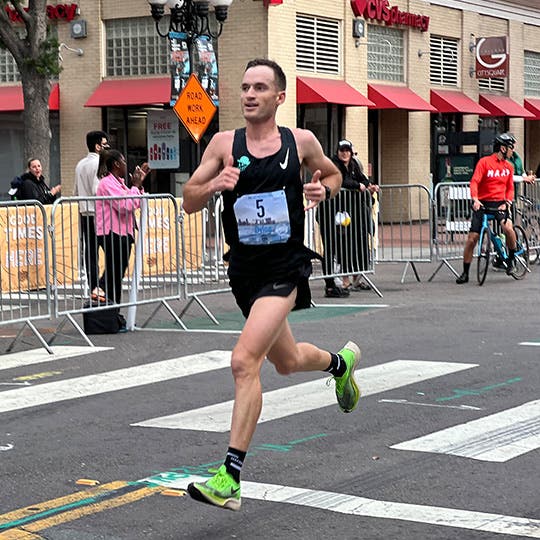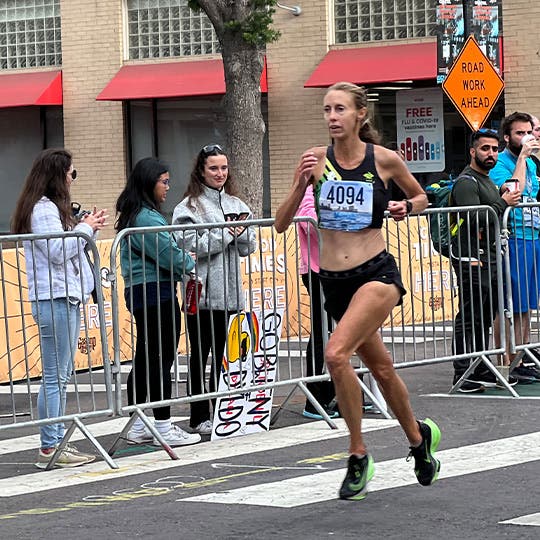 Today, San Diego Track Club members run to stay fit or challenge themselves. Some are looking to place on the podium or age group wins in all types of races and distances. The club's growing influence in marathons gained momentum in 1998 when it formed a training group to help runners prepare for the inaugural Rock 'n' Roll Marathon, a race that itself changed the shape of long distance running by promising musical entertainment all along the course and encouraging people to run for charity.
To date, more than 10,000 runners have been a part of the Rockin' 'n' Runnin' half and full marathon training program, including a rare few, like San Diego Track Club Assistant Director Bill Aaron, who have participated in all of the previous San Diego Rock 'n' Roll Marathons. Bill plans to keep his running streak going to mark the 25th year of the race in 2022.
The Rockin' 'n' Runnin' training program then and now is coached by Paul Greer, who has been the San Diego Track Club metro coach for 37 years. In addition to customized training schedules, runners receive course support during increasingly longer runs on routes all over San Diego. Guest speakers include professionals and Olympians and American record-holders who share tips and their experiences.
As the club has grown, a weekly track workout was launched in San Diego's North County to accommodate runners from the community. Meriah Earle, an Olympic Trials finisher, is the coach, offering North County members access to the same quality training program.
"People come to prepare for a marathon, but they leave the program with something far more valuable: lasting, often lifetime friendships," said Head Coach Paul Greer.
Injinji proudly partners with the San Diego Track Club to support accessible and inclusive running in our hometown. Check out our full list of partners. If you're new here, learn about the Injinji difference and start shopping our performance toesocks.