New to the Injinji lineup is the Liner + Runner sock set! Our unique two-sock running system delivers exceptional blister prevention, moisture management, total foot utilization, and cushioning. Layer one is our ultra-thin liner. It forms to your foot and features our patented five-toe design to protect you from blisters and leverages COOLMAX® fibers to quickly wick away moisture. The seamless outer sock is specially designed to layer over the liner. It provides underfoot cushioning, ventilation, and arch support. The Liner + Runner's ergonomic design moves with your foot, and its mini-crew height seals out dirt and debris. For a perfect fit, the Liner + Runner is available in Men's and Women's specific sizing.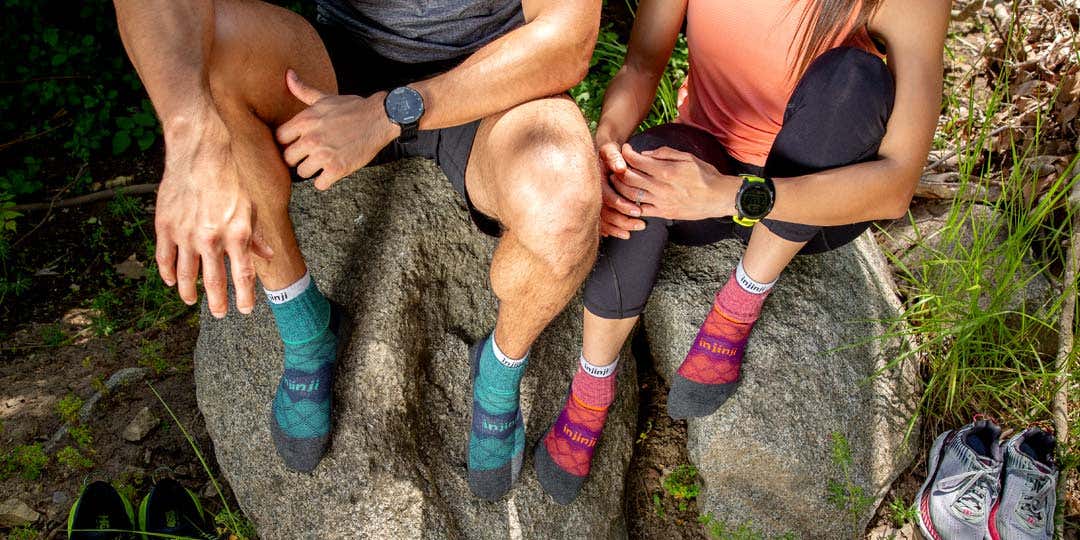 Want to hear more about the unique sock set? Take a look at what our team has to say about it along with the experts. The socks were also recognized as Editors' Choice in Best New Socks at Outdoor Retailer!
I really love the combination and plan to use the socks at Western States in June for my final which will be #20.  What's really great is how thin the inner sock is and how well it matches up with the outer shell.  – Scott Mills, Team Injinji Member
The concept is one I've actually tried before - a regular sock over the toe sock to provide another layer to move rather than having my skin move and blister. – Team Injinji Member 
Being an Ultrarunner with a heavy step and more muscular build, this combination works great with the Liner Base Layer that is one of the best Injinji Socks ever made, and I get that added cushion and protection with the runner that covers it. It keeps all the miles comfortable and ever increasing.  – Tim Dalton, Injinji Sales Manager
For the ultimate protection from hot spots, check out this double sock system. – Runner's World 
The thin interior seamless toe sock is highly moisture wicking and provides full surface coverage for blister prevention, while the external layer is a terry mid-weight sock with a traditional toe compartment that adds cushioning while pulling moisture from the liner. – Ultra Running Magazine
The Injinji Liner + Runner sock system combines the blister-fighting five-toe design of classic Injinjis (the Liner) with the performance and cushion of a midweight crew sock (the Runner). – Gear Junkie
Ready to try out the Liner + Runner for yourself?