 Last Christmas I was on vacation at my parent's house in Arden, NC and I got my first taste of Mt. Mitchell on a 3600ft, 5.5 mile climb out of Black Mountain Campground. The trails were steep and technical and the top featured a picturesque Spruce-Fir forest covered in 6" of powder. I shared a few pictures from the run on Facebook, and a generous Brevard native, Scott Wolfe offered me his spot in the Mount Mitchell Challenge (40 miles). I was psyched to have an excuse to come back in February and compete in a race known for snow and harsh conditions.
After race director Jay Curwen graciously let me in, I started preparing for the worst (or best depending on your perspective) by spending January and February running snowy peaks in the San Gabriels in Southern California. The actual course is much more of a gradual climb taking some 20 miles to climb 4,300 feet from the town of Black Mountain; but snow, rain, hail, and ice are known to make the race much more challenging than the numbers let on. As the weeks past before the race, more and more inches of snow began to fall on the mountain, and it was looking like a foot of snow would be awaiting us on top of the mountain.
Perhaps I did one too many snow dances because the State Park which permits the course beyond mile 13 decided the gnar was out of control, and we would be restricted to the bone dry Mt. Mitchell paved road for miles 13-24. Nevertheless, I was pumped to get after it with Dave Mackey and the talented locals on hand, Mark Lundblad and Paul Scouten amongst others.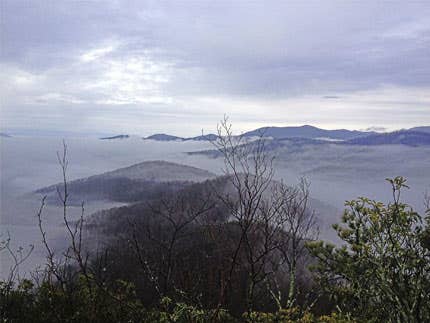 We took off from downtown Black Mountain at 7am in a light rain with a police escort up to the start of the trails. I felt good on the road, but struggled to get a rhythm on the technical and gradual trails. The marathoners pushed the pace and I worked hard to chase them in hopes of a solid placing in the challenge. I was concerned about fueling early on because I knew I needed to keep my legs firing on the long and technical return downhill. I took 6 gels in the first 13 miles but my stomach didn't have enough blood to process them and I emptied a few of them back on the trail. I pushed past the marathon turn as the sun started to shine and tried my best to make quick work of the road, but my legs were a bit zapped. I tagged the summit and got to work on the long 18-mile downhill awaiting me. From what I could gather, I was 25 minutes behind Dave, 10 minutes behind Mark and 10 minutes up on Paul.
My legs felt awkward and tight after a steady uphill for the last 18 miles. Just as they started to open up on the pavement, I got back on the rocky and technical trail meeting up with marathoners that were engaging in the rare act of walking on a downhill. I honestly couldn't blame them though as sections of the trail were definitely designed to collect teeth and break ankles. The final 5 miles was a different route from the start and I had no clue where Paul was or when the race would suddenly end. Locals around the town cheered me on and kept telling me "1 more mile!" and I finally made my way to the finish for a quick lap around Lake Tomahawk to finish 3rd in 5:02. It was an imperfect performance but a productive day on some uniquely challenging east coast trails that reinforced my respect for east coast runners..