After 61 Days, 23 minutes, and 50 seconds, Team Injinji Athlete Mike Wardian made it HOME after an incredible journey running across the United States! His 3,200+ mile transcontinental feat, #RunningHome, began on May 1, 2022 in San Francisco, California, and ended in Mike's hometown of Rehoboth Beach, Delaware on July 1, 2022. Not only was this a major personal accomplishment for Mike as an athlete, but it was also an effort to raise funds and awareness for World Vision, a non-governmental organization that implements clean water initiatives worldwide. We recently caught up with Mike on a recap of highlights from this incredible adventure.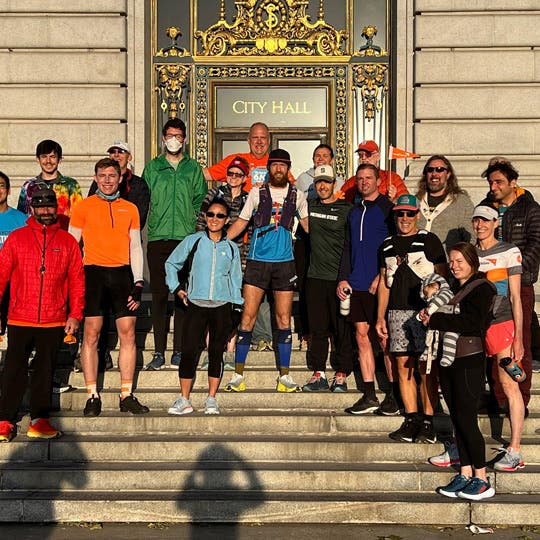 What were some of the last-minute challenges and logistics right before the trip started?
There were so many last-minute challenges regarding the event. We lost the custom Sprinter Van that was being built for the trip and had to rent a 25-foot Cruise America RV, which meant a huge expense that was not expected, but also worked out for the best, as it had much more room which we needed.
Tell us about your crew.
The crew for "Running Home" was Eric Belz, my dad (Dick Wardian), and Henry Griffis.
Eric Belz was my crew for the entire trip while my Dad and Henry came and went throughout the trip. My crew is the only reason that I finished the run. They were always where I needed them, dialed in and adaptable.
I feel so fortunate to have had them along and it would have been impossible without them.
How was the start and the big send-off in San Francisco?
We started on May 1, 2022 at 7:00 am from City Hall in San Francisco and we had a nice group of about 15 people. We ran 6 miles west, the wrong way, to get to "Ocean Beach" so I could put my feet in the Pacific Ocean, as I wanted to run from Ocean to Ocean.
What was a typical day like for you on the road?
A typical day started with a wake-up at 4:45 am. First, put on my running kit, slip into my Injinjis after taping my feet, eat something, usually oatmeal or an egg sandwich, go to the bathroom a few times and get to running by 6:00 am. I would run 5-6 miles 10 times through the day with breaks every hour for food, changing socks, and the bathroom. It didn't matter if I was in the mountains, desert, or city, I was going to get in the 50 + miles no matter the weather or terrain.
What were some of the weather and traffic challenges? Any other challenges?
There were so many challenges, such as traffic, weather, and terrain, but also just people being mean, swearing at me, throwing things like half-eaten hamburgers and garbage at us runners. I knew it would be bad in some sections, but I didn't think it would be that bad.
I also was challenged by tight roads and weather. The weather each day was huge, especially as we were going to be out in whatever it was the entire day, so wearing the right clothes and socks mattered. In colder weather, I went with heavier wools and layers and in the heat and humidity, I tried to strip down as much as possible.
Also, eating became a huge challenge. I just wasn't excited about food but knew I needed to eat, so each day was a battle to get enough calories in.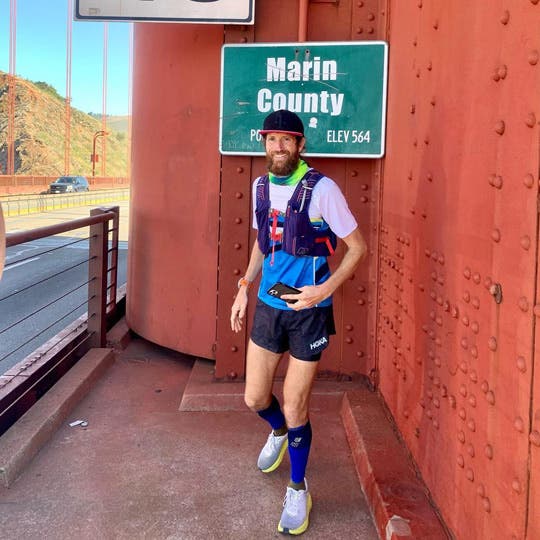 For the animal lovers out there, tell us about the dog you met on the road!
We met a beautiful stray yellow lab-golden retriever mix about 5 miles into our 50-mile day near the Katy Trail in Missouri. At first, we tried to get the dog to leave, but he wouldn't and after a few miles, we just let him stay with us, but didn't expect what happened. After 10 miles I figured the dog would get bored and run off but "Yellow", that is what we named him, stayed with us till the next checkpoint. Yellow would run ahead and wade into ponds, streams, and puddles when he got too hot and needed water, but he didn't slow and after 6 hours he had covered 30 miles. I was shocked, but Yellow stayed and ran with us for 40 miles, if not further, as he would wander off and investigate cows and whatnot. It was one of the coolest things I have ever seen and the best part was the guy that joined me for the day, Ron, also fell in love with Yellow and decided to clean up Yellow and adopt him. It was something right out of a movie. Yellow has a happy home and is no longer a stray. What a day!
What did the final last few days feel like knowing that you were almost done?
The final few days felt amazing, as I knew I would finish, but I was also so scared to make sure to do all the little things. I didn't change anything. I came up with a quote, "just keep hitting singles" meaning, just do what you have been doing. Don't get greedy, put your nose down, grind, and you will get there.
How was the finish?
It was a dream come true! I finished strong with a 6:16 mile, surrounded by family and friends, as the most beautiful sunrise I have ever seen was happening. It was something out of a movie.
What was the most memorable moment of this adventure?
I think for me one of the most memorable parts of the adventure was getting to the Virginia State sign. That choked me up and really broke me down. I was so happy, but I knew it wasn't over and I needed to be strong until the finish.
How much money was raised for your cause, World Vision?
As of today, we have raised $116,736. The goal was $100,000, so now we are able to change even more lives by providing clean water through the charity World Vision USA. World Vision is the largest non-governmental provider of clean water in the world. With the amount of money we raised, we are going to change over 2,200 lives for the better.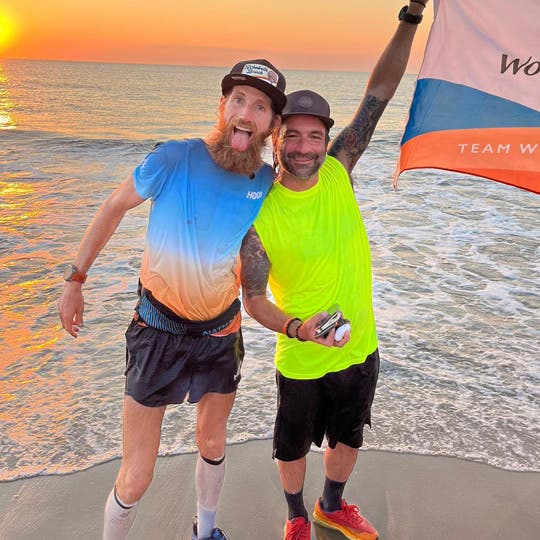 Transcontinental Facts and Figures
3,234 miles run
13 states
61 days, 23 hours, 50 minutes
0 days off
52 miles run each day
5,000-7,000 calories consumed per day and hated eating by the end.
Fastest Mile: 6:16
Longest Day: 104 miles
Shortest Day: 49.85 miles (miscalculated, kilometers to miles)
2 x getting lost
35 audiobooks. My favorite was, "North" by Jenny & Scott Jurek.
30 jars of Big Spoon Almond Butter consumed.
3 pairs of HOKAs destroyed, 7 pairs of shoes total. 1 pair of HOKA Bondis had 1,500 miles on them.
20 pairs of Injinjis used. My favorites were Injinji liners, so light, comfortable, and easy to get on.
5 single Injinjis, somewhere around the country is the other sock. Sad about that.
61 egg sandwiches eaten, though I don't eat eggs at the moment, so completely vegan, excluding honey, which I still eat.
4 x charging Coros Vertix 2 watch.
1 x HOKA bucket hat worn every day.
Ran with over 250 people.
Over $116,000 dollars raised for clean water for World Vision USA, changing the lives of over 2,200 people.