On July 16th, 2021, at 6 AM, Michael Wardian began the Hardrock 100 ultra marathon in Silverton, Colorado. This course includes over 33k feet of climbing at an average elevation of over 11k feet in Colorado's San Juan Mountain Range. To say that this race is challenging would be an understatement. Runners cross 13 major passes with the highest point at Handies Peak at 14,048 feet and travel through the towns of Telluride, Ouray, and Sherman. This race tested participants on how they can handle altitude, multiple scree climbs, and their wilderness survival skills.
Wardian is no stranger to this race. In 2017 he was 17th male in 31:24, and in 2018 he finished 11th male in 30:23. However, anything can happen during an ultra. Anything.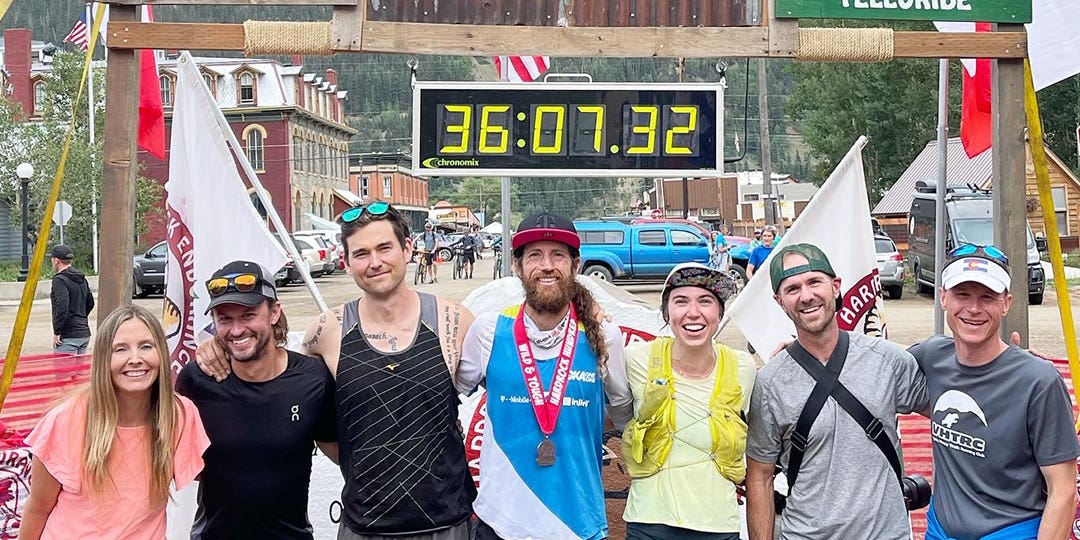 On the first day of the race, Mike got slammed with altitude sickness, which included nausea, headaches, and shortness of breath. This caused Mike difficulty to keep down fluids and food, which caused dehydration and a calorie deficit. During the climb up to Handies Peak, between miles 30-40, Mike was forced to lay down several times on the trail (something he had never done before), where numerous people passed him, and the decision was made in his head that he would drop from the race at the next aid station. After reaching the summit at 14,048 feet, Mike still had to make it down the mountain in rain, wind, and hail to get to the aid station at mile 42. Thankfully to his crew members, after about an hour at the Grouse aid station, Mike rebounded from his "low" and continued on course with his first pacer Matt.
Once again though, anything can happen during an ultra. Anything.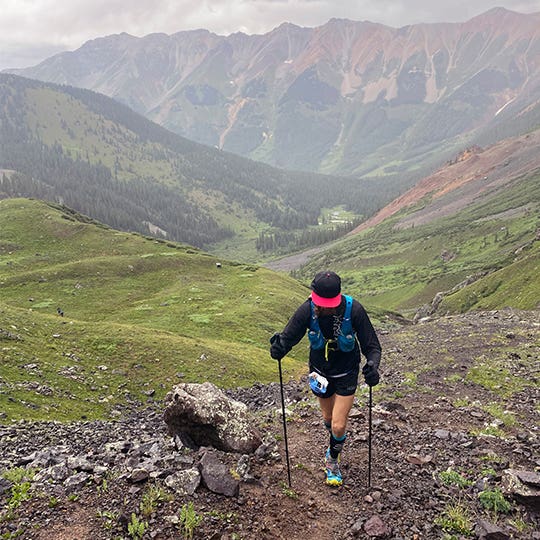 During the section to the Ouray Aid Station at mile 56 and an elevation of 7,680 feet, Matt felt and heard a pop in his ankle and was immediately on the ground. Mike recalls, "I am barely moving, and I kept thinking I can't help him, but Matt dusted himself off and shuffled the last 12 miles to Ouray. Still can't believe he made it in that condition." Since Ouray was only at an elevation of 7,680 feet, here Mike was able to get some much-needed calories in him, picked up his next pacer Zach and was on his way!
Starting from mile 64, Mike finally started to get his energy and racing legs back. He began to pass the same runners who stepped over him on the trail earlier. His speed increased and even though he still had climbs left in the race, the altitude was no longer affecting him. At the Telluride Aid Station at mile 72, Mike picked up his third pacer Adam and continued to catch and pass other runners.
Day two had arrived, food and calories stayed down, and Mike remained strong on the brutal climbs. His last pacer was Hillary, who started running with him at mile 82, held a strong pace, and kept Mike in good spirits, despite the lightning striking the ground around them. Together they passed almost 20 other runners and even ran a few sub 7-minute miles in the final stretch. Mike finished hard with a time of 36:00:25, 26th overall and 23rd male. What an amazing comeback!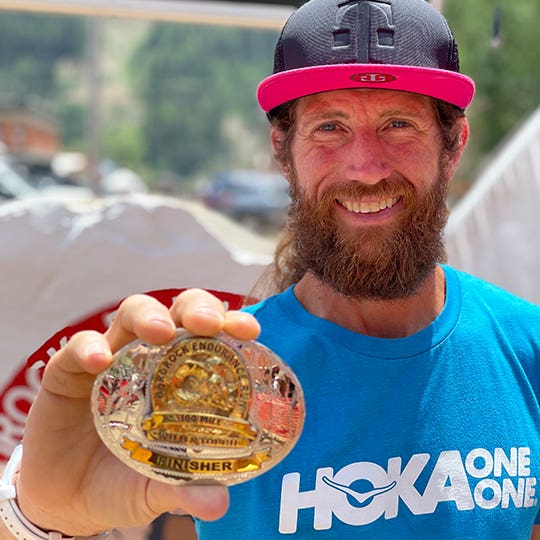 Mike concludes his final thoughts, "I really thought I knew my limits and that I had reached them earlier in the day, but I didn't. I was able to scratch and claw my way back but not alone. I did it with the help of the running community."
Anything can happen during an ultra. Anything.
Pro Tip: When preparing for an ultra marathon or even a backpacking/camping trip, consider keeping an extra pair or two of socks on deck just in case.