Many ultra runners do multiple sports such as obstacle course races, with Spartans being the most popular. With three different levels of competition and four different distances to choose from, there is something for everyone. Spartan races are worldwide, can be found in every major city, have a series of points and medal ratings and end with an invite-only championship competition. Training for these races is slightly different than training for ultras, as there's more upper body and core needed to complete obstacles and heavy carries. So what is a Spartan race and how does one train for one?
Not for the faint of heart, Spartan races are characterized by their rugged climbing, heavy carry, grip and cardio obstacles with the added challenge of technicle terrain. The most competitive race tier are the Elites, who are usually sponsored runners racing for prize money. Age group competitors are next, and race against their age for podium finishes and must compete with a certain set of rules, such as 30 penalty burpees for each missed obstacle. The last tier is Open, which is more for beginners. These participants do not have to do the penalty burpees, although it is encouraged, and can have assistance completing obstacles, such as getting a nice push over a wall or up a rope climb. The distances are the sprint (5k with obstacles), super (10k), beast (13.1m) and the ultra beast (50k). Each distance has its own color associated with it; sprint is red, super blue, beast green, and ultra beast purple.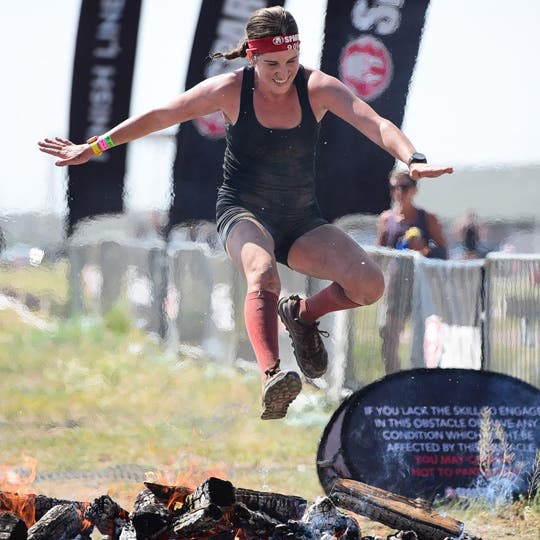 Team Injinji Jill Becker recently got into Spartan races last year and completed her first super in Colorado with approximately 25 obstacles. Jill has been running since middle school and ran her first marathon after college. She is not only both a road and trail runner, but a running coach as well. Jill first got into ultras from her local Iowa friends that started with a relay running across the state with seven other runners. After that experience, she was hooked.
Similar to most ultra runners, Jill loves a challenge and is always hunting for the next test. She competes in mountain biking, has done two 70.3 triathlons, ran the Boston Marathon, and rides motocross. Although ultras are her passion, she found out about Spartan races and decided to try one, where she set herself up with a training plan, a different mindset on the course, and took it one obstacle at a time.
With Jill's coaching background and multiple certifications, she was able to devise her own training plan where she continued to focus on things that she could control, like running, and added a "burpee run" once a week. She then added more heavy lifting, hanging and grip strength exercises, lots of pull-ups, rope climbs and more explosive strength movements. Jill was also able to train with friends who were seasoned Spartan racers and researched how some Spartan Elite Pros trained as well.
After the race, Jill had many takeaways and is already implementing what she learned for her next race, which will be the Spartan beast in Utah this summer. Her goal is to progressively increase her distance and perhaps even one day run a Spartan Ultra Beast after more training, consistency and experience with obstacle course racing. Jill also has some other big races and adventures this year including the Quad Rock 50 miler, co-leading a running camp in both Arizona and Leadville, and pacing and crewing some of the athletes that she coaches with the company Boundless Coaching. We are pumped to follow Jill through her Instagram page @jbeckruns as she trains for both her 50 miler and her next Spartan race. Good luck Jill!