John Muir once said, "The power of imagination makes us infinite." Here at Injinji, we wholeheartedly agree. What is life if we aren't striving to use our imaginations to reach our goals (and to set new goals that challenge us)? That's why we're in a constant cycle of innovation and adjustment—to take our passion for making the journey of life more comfortable to the next level.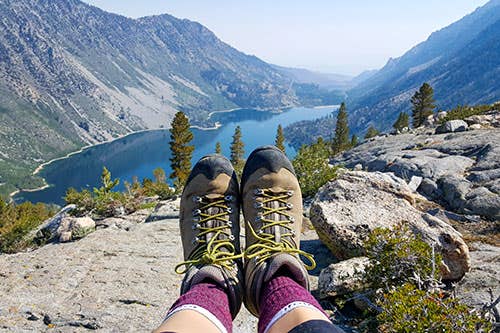 Our latest foray into the world of imagination began with a simple question: how do we improve the hiking experience from the ground up?
We know hiking—from the short day trips to the long hauls—can be hard on feet. And the more you focus on the right gear for them, the less you have to worry about being slowed down by discomfort.
Enter our new dynamic duo: the Liner + Hiker.
What is it?
The Liner + Hiker is actually made of two socks: the Liner CoolMax Crew Toesock and the Hiker Crew Toe-Fitted Sock. It's a perfect sock set for every hiking adventure!
The Liner is an ultrathin, lightweight base layer designed to wick away sweat from your foot—keeping it dry and comfortable. And it features our signature toesock benefits: Since the toes are separated, skin-on-skin friction is reduced, helping to prevent blisters.
The Hiker is worn over the Liner for increased cushion and protection. Made with NuWool, the Hiker mirrors the shape of your toes, providing more room and reducing bunching. The bottom of the Hiker and the top of its toebox features an additional terry loop for maximum padding to keep your feet comfortable.
How does the set work?
The Liner + Hiker is a package deal. We believe it functions best as a set, so that's the way it's packaged. You get one pair of Liner toesocks along with the heavy duty Hiker, all together. This set is available in women's and men's, so you can get the best fit possible.
But for those of you who hike to the beat of your own drum, fear not. We also sell the Hiker on its own.
Hold up. Isn't Injinji all about toesocks?
We know, we know. It's a little jarring to see a traditional sock in the Injinji lineup. But that's what innovation is all about—playing to your strengths in new and interesting ways! We've always strived to provide the best socks for all athletic activities, and the Liner + Hiker is no different.
The Liner is one of our oldest and most popular socks for hikers, but it only provides an initial layer of protection. To be the most effective, it needs an outer layer. And we figured, if we could provide an outer layer preassembled to fit perfectly overtop the Liner, we could make our customers' lives easier!
So we built on our experience and expertise as top-notch knitters to answer the call for a better wool hiking sock. The Hiker features the Toe-Fitted outline to give your toes ample room, without restricting or bunching. The set combines powerhouse performance in a perfectly fit package! It's a match made in (foot) heaven.
Testing? Testing? 1-2-3
As you know, we believe in putting our products through their paces, so we can provide the best possible experience for our customers. The Injinji team trekked in the Liner + Hiker near and far—from our own backyard in San Diego to the nearby desert and up into the Sierra Mountain range. We arrived a little tired, a lot smelly, but happy as can be. And we can't wait for you to try this set for yourself!
For more information on the Liner + Hiker and to purchase a set, click here!