Whether he's running in the Southwest or adventure racing across Abu Dhabi, Injinji athlete Travis Macy enjoys training and racing in the desert.  We caught up with him recently after his annual spring desert family camping trip and training camp in Fruita, Colorado.  Macy, author of The Ultra Mindset: An Endurance Champion's 8 Core Principles for Success in Business, Sports, and Life (available on Amazon now and in stores on April 14th), shared the following desert tips and an Injinji exclusive preview from the book.
Download a free chapter and enter the awesome prize contest here!
________
Desert travel and exploration can offer incredible, life-changing experiences!  I always enjoy getting out there, especially in the spring and fall when things have not heated up too much.  Trekking across the desert can be fun, but it's also a unique environment that calls for special planning, skills, and gear.
A few things to keep in mind:
• Think carefully about what to bring.  Will you need extra clothes for drastic temperature changes between day and night?  Do you have what you will need in a flash rainstorm?  Have you brought the food, water, sunscreen, and other items that will keep you going?
• Pay attention to your feet.  Heat and sand can shred feet quickly.  I like to cover my feet with a lubricant like Sportslick and wear Injinji Toesocks to keep my toes from rubbing against each other.  I also like oversize Hoka shoes for a bit of extra flotation on the sand.  Gaiters that cover the entire shoe and lower leg can be very helpful if you are running or hiking in sand dunes.
• Navigation is key.  Desert landscapes are awe-inspiring--and potentially dangerous because they are unique and challenging with a map and compass.  Plan carefully and work ahead of time to gain the nav skills you'll need out there.
From The Ultra Mindset: An Endurance Champion's 8 Core Principles for Success in Business, Sports, and Life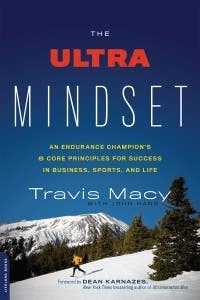 Basically, conditions were perfect for the seeding and quick growth of this overarching, negative story that quickly began to brutalize me on a daily basis:
I've got two kids and I'm 30 years old. It's going to be impossible to continue racing at a high level, and I might as well pack it up, get a regular, 9-to-5 job, and try to make some money in a corporate gig I don't really care about instead of doing something that makes a difference but not much money (teaching) and something I really care about and makes even less money (racing).
I took out a map, examined the deserts of the Southwest, and there it was: Zion National Park, in the southwestern corner of Utah. Not as famous as the Grand Canyon is for tourists, or Moab is for adrenaline junkies, Zion is no less aesthetically impressive and genuinely wild; it's a true gem of the American West. Furthermore, a close look at the map revealed that much of Zion's 232 square miles was exceptionally inaccessible, with roads few and far between and vast stretches of wilderness visited only by backpackers who carried gear for multiple days—or runners experienced and fit enough to move through them with high efficiency. Another thing that caught my eye: the park encompassed a wide range of terrain and elevations, from 3,700 feet to over 8,700 feet above sea level.
Could I run all the way across Zion in a single push? I wondered. Yes, said the Internet, which turned out to be much less profound than Abbey, albeit a bit more informative. I learned that people had been hoofing it along a network of trails running the length of Zion since the park was established.
Most travelers completed the trek over the course of five to seven days, carrying heavy packs and camping along the way. In the early 1990s, the pace picked up: some of the ultra runners of Dad's generation had started running it in a single day, calling the 48-mile journey the "Far Far Fest" and completing it in 14 or 15 hours. Over the next two decades, many male and female runners set out to run the route for speed, and the record at the time I was doing my research was 7 hours, 48 minutes, by elite ultrarunner Luke Nelson.
I had never been to Zion, but it was impressive (and intimidating) on paper. I needed a goal. I had to prove myself to myself and rewrite my narrative. What better way to do it than running across Zion National Park faster than anyone had ever done it before?
In December 2012, I set a goal to establish a new FKT for running 48 miles across the wilderness of Zion National Park. Doing so would require a lot of training. Doing so would require mental toughness and grit. Doing so, most importantly, would prove to me that, even as a father of two (one of whom would be less than two months old at the time of the run), I could train and compete as a world-class athlete.
Shortly after that, Vitargo came on as a supportive sponsor, and I had the funding and fuel I needed to fight my demons by pursuing some big goals. By forging ahead both as a working father and serious athlete, I felt I might pursue another ideal introduced by Abbey in the same text: "Balance, that's the secret," he wrote. "Moderate extremism. The best of both worlds."
On April 6, 2013, I arrived in Utah sleep deprived and a bit strung out (though also overjoyed) since the birth of our daughter, Lila, seven weeks earlier. When I set out from the Lee Pass Trailhead on the west side of Zion National Park early in the morning, I was racing against much more than the current record for the run. I was racing to rewrite the negative story that had taken over my life. And I had to win....
Read more about this adventure and MINDSET 7: Bad Stories, Good Stories: The Ones You Tell Yourself Make all the Difference in The Ultra Mindset.
Travis Macy is a speaker, author, coach, and professional endurance athlete. He is the author of The Ultra Mindset: An Endurance Champion's 8 Core Principles for Success in Business, Sports, and Life, and he holds the record for Leadman, an epic endurance event consisting of a trail running marathon, 50-mile mountain bike race, Leadville 100 Mountain Bike Race, 10k road run, and Leadville 100 Run, all above 10,200' in the Rocky Mountains. Travis lives with his wife and two young children in the mountains around Evergreen, Colorado.