If you haven't noticed, Injinji toesocks are one of a kind. They put the fun in functional and keep your feet comfortable, no matter the task. Plus, they're meant for every type of athlete—from the hardcore to the hardly moving. If you've got feet, Injinji has a sock for you.
Still not sure why you should try Injinji toesocks?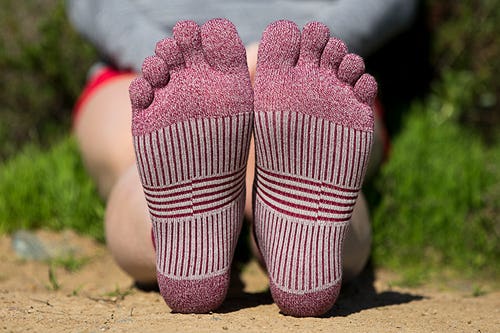 They prevent blisters.
With each toe protected in its own cocoon of fabric, skin-on-skin friction is completely eliminated. Which means that while you're off running up a mountain or running to the store, your toes won't rub against each other. They'll be happily protected from blisters and hot spots.
They keep your feet dry.
No one likes sweaty feet, for a multitude of reasons. They're uncomfortable, they often start to smell and they can lead to blisters and hot spots. But with Injinji toesocks, each toe is wrapped in sweat-wicking material—keeping your feet drier and more comfortable than in traditional socks.
They help you use your whole foot.
It may sound odd, but often, your toes aren't properly aligned in your shoes. That throws you off balance and doesn't engage your whole foot, making whatever you're trying to accomplish a little harder. When your toes are separated, properly aligned and splayed, your weight is distributed evenly on your feet, allowing your entire foot to be engaged in any activity.
They're designed with your foot in mind.
Feet are an easy to forget part of the anatomy when thinking of areas you need to prep for activity. But they're also one of the most important areas to keep in top shape. Injinji toesocks' anatomical design properly aligns and splays your toes, preventing blisters and keeping you cool and dry.
They're made with top-notch, quality materials.
Injinji toesocks are meant to perform and meant to last. With superior fiber construction, they have the durability to last through all your miles, while keeping moisture to a minimum—from heels to toes.
Are you ready to buy your first pair of Injinji toesocks or add to your collection? Let's get started.