You may have heard about Liner socks when exploring gear lists from hikers and backpackers, and now you're wondering, should you wear liner socks for hiking? Hiking and backpacking puts quite the strain on your feet, as you log long miles in unpredictable weather on ever-changing terrain. Your feet need socks that will protect them from blisters and sweat, while offering comfort and durability, that is where Injinji Liner socks come in.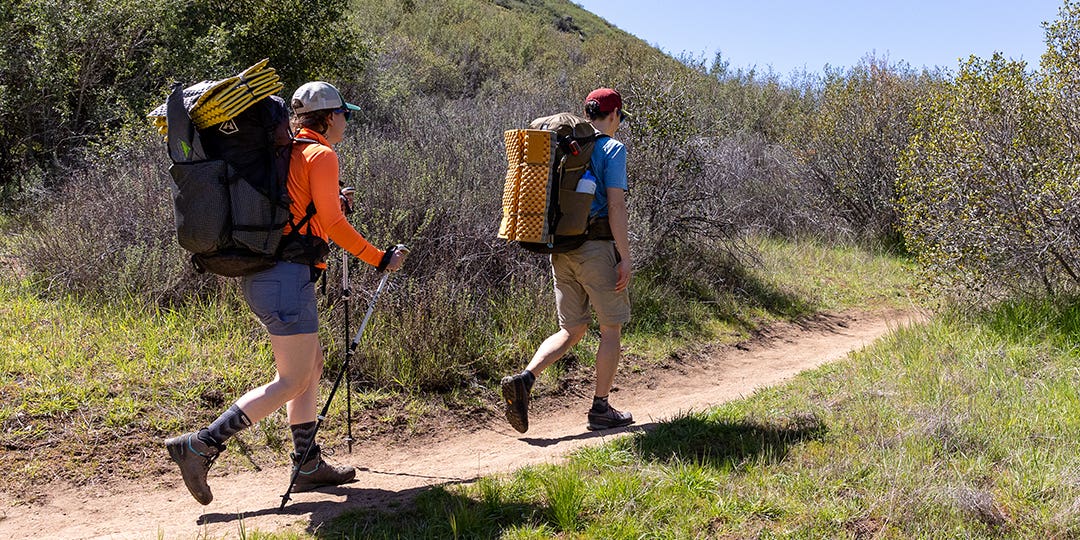 Liner socks (or sock liners) are lightweight, breathable base layer socks that are designed to be worn under a thicker pair of socks to wick away sweat and prevent blister-causing friction. Liner socks are typically used for hiking and backpacking, to protect your feet and improve your overall performance.
Experienced Hikers wear lightweight Liner socks under a pair of thicker hiking socks, especially when traveling long distances. But why do you need Liner socks for hiking? Hikers love Liner socks for hiking and backpacking because they offer powerful moisture-wicking qualities without adding a lot of bulk, which is essential for long days on the trail. Plus, Liners can be washed and dried quickly on a multi-day trip, which is a huge benefit to those on week-long hiking, biking, or backpacking trips.
Liner socks are much more flexible than their name implies. You can wear Injinji Liner socks for almost any activity, including running, walking, and cross-training. Liner socks don't have to be used in a layering system to benefit your feet, you can wear Liner socks by themselves for a lightweight feel on low-impact days.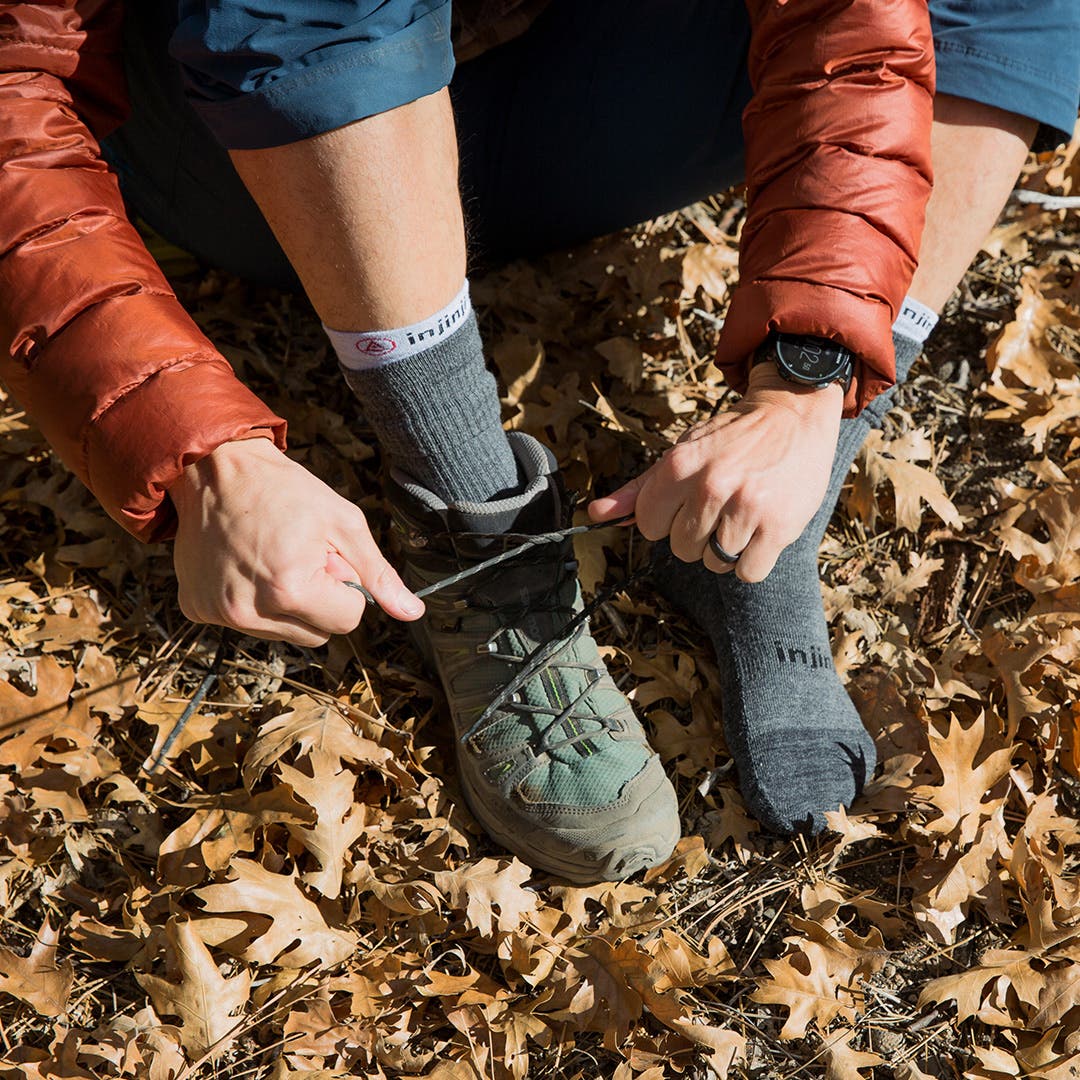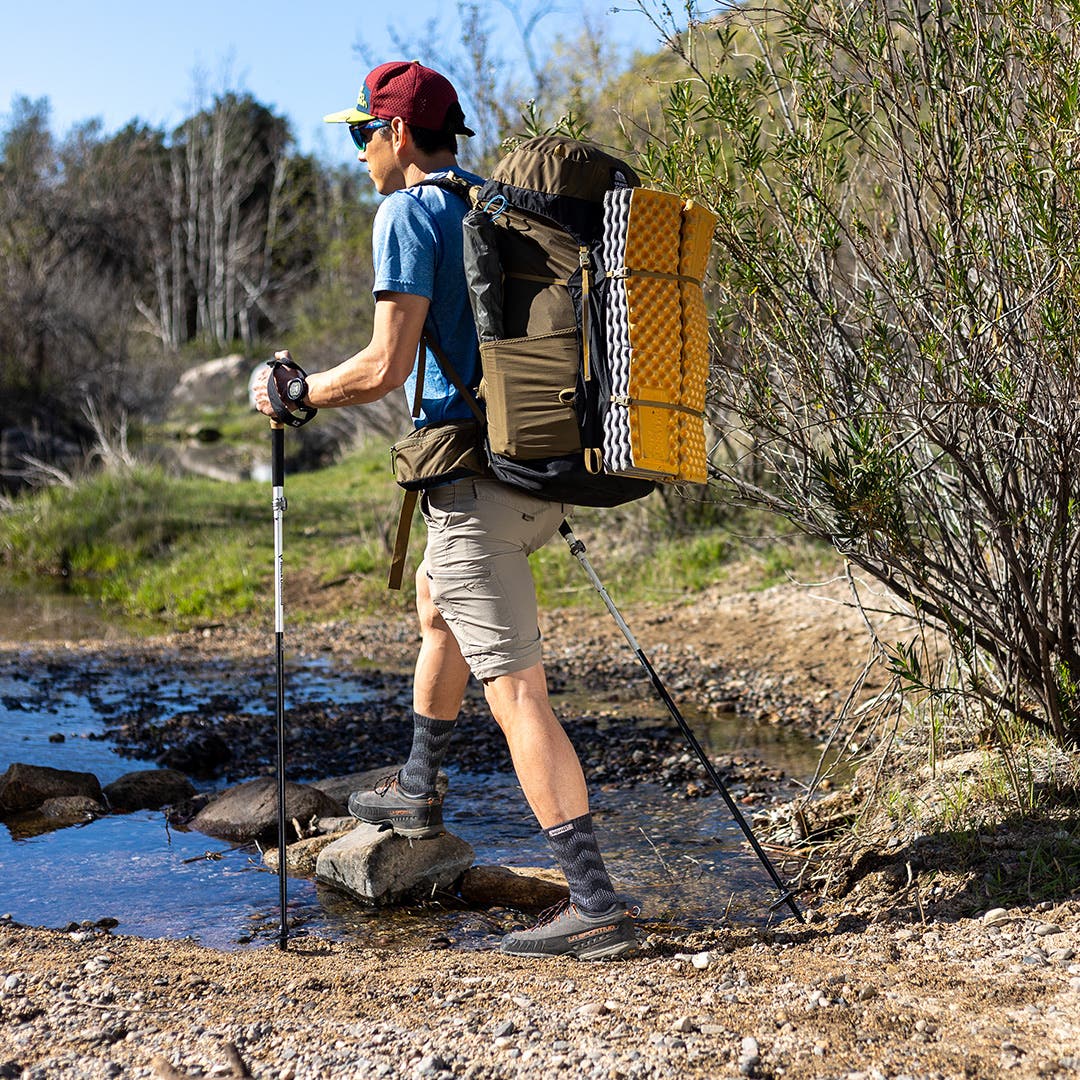 Injinji has two different types of base layer Liner toesocks for hiking, the Liner Crew and the Liner Crew Wool. These socks hit mid-calf and fit comfortably beneath traditional socks for a comfortable, barely-there feel. Injinji Liner socks are made with two different materials, each with unique benefits.
The Liner Crew socks are made with recycled COOLMAX EcoMade fibers, which work to keep your feet feeling cool and dry. The Liner Crew socks are available in a variety of colorways. These are the perfect Liner socks for day hikes and short backpacking trips.
The Liner Crew Wool socks are made from Merino wool, which is naturally engineered to wick moisture and resist bad odors. The Liner Crew Wool socks have a soft feel, making them the perfect companion perfect for multi-day hiking trips. Injinji's wool Liner socks offer temperature regulation, working to keep your feet cool in the summer and warm in the winter. These are the perfect, anti-stink Liner socks for multi-day backpacking trips with unpredictable weather and terrain.
Injinji Liner toesocks pack in many benefits that will make your hiking experience more comfortable.
Injinji Liner socks prevent painful blisters and hotspots. Blisters are formed when friction is combined with sweat inside your sock. For the first line defense against blisters, Injinji Liner toesocks wrap each toe in fabric to prevent skin-on-skin friction. To pack on the protection, Injinji Liner socks are all made with moisture wicking fibers (either COOLMAX EcoMade or Merino Wool), which efficiently move sweat away from the skin to the outside of the sock, where it quickly evaporates.
Injinji Liner toesocks also improve comfort by adding an extra layer of cushion below the main hiking sock. The snug anatomical fit does not bunch or slip down underneath the outer sock. The five-toe sleeve design allows toes to splay naturally inside the outer sock, allowing for more freedom while navigating rocks and gravel.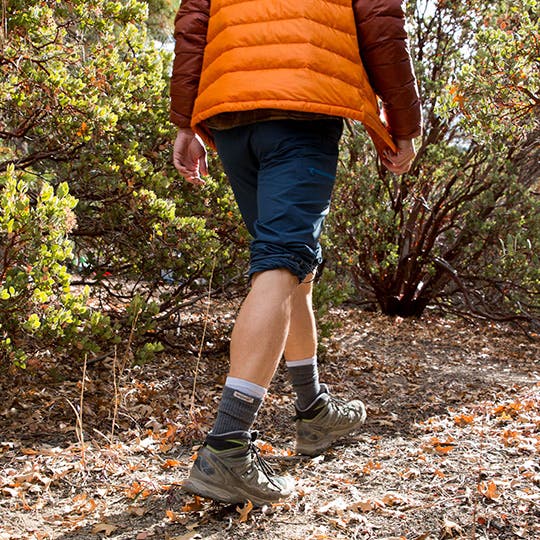 How to Choose the Right Liner Socks?
Choosing the right Liner socks depends on the activity you will be using them for. Injinji Liner socks are available in Unisex sizing, so you can choose your perfect fit based on your shoe size.
If you are looking for Liner socks for everyday activities like running or low-impact hiking, go with the Liner Crew socks. These socks are made with recycled COOLMAX EcoMade fibers, which work to keep your feet feeling cool and dry. Sweat will be efficiently wicked away from your feet as you move, and blisters will be prevented due to the separation of your toes.
If you are looking for Liner socks for high-impact hiking or multi-day backpacking adventures, go with the Liner Crew Wool socks. These socks pack in the same benefits as the Liner Crew socks, but are made with Merino Wool, which quickly wicks away moisture and regulates temperature, making them incredibly versatile. Wool Liner socks also prevent bad odors, so you can wear them for multiple days on the trail without bad smells taking over.
How to Care for Liner Socks?
To extend the life of your Liner socks, we recommend washing them on delicate with cold water, followed by line drying. To further prolong the life of your Liner socks, be sure to keep your toenails short.
Conclusion
If you're experiencing painful blisters, or are sick of trudging down the trail in wet socks, you should give Injinji's Liner socks a try. Pair them with a pair of comfortably cushioned hiking socks for the ultimate experience, no matter the distance or terrain you are taking on.
Frequently Asked Questions
What are Liner socks made of?
Injinji's Liner socks are available in two different materials, COOLMAX EcoMade and Merino Wool. Both socks offer premium moisture-wicking qualities, while upgrading to the Merino Wool adds odor resistance and temperature regulation for long, grueling days on the trail.
What is the purpose of Liner socks?
Liner socks are lightweight performance socks that are designed to be worn underneath an outer sock. Liner socks offer extra protection from blister and moisture on long days hiking and backpacking. If you are experiencing blisters or discomfort while hiking, Liner socks are a great option to try.
How do you wear Liner socks?
Put your Liner sock on like you would any other sock. Then, layer your favorite pair of traditional (non-toesock) hiking socks on top of the Liner socks. Finally, lace up your hiking boots. You may find the fit to be a little more snug than usual, in which case, you can loosen up the laces on your hiking boots to accommodate the additional layer.
What hiking socks need to be worn with a Liner?
Any hiking socks can be worn with a Liner sock, but we recommend lacing up with socks that have moisture wicking fibers. Materials that don't wick away moisture, such as cotton, retain sweat and work against the Liner sock, leading to uncomfortable friction and blisters. To get you started, Injinji offers a Liner + Hiker two sock system, perfectly designed to work together to protect your feet and toes.
How breathable are Liner socks?
Injinji Liner socks are very breathable, as they are made with low bulk, moisture-wicking materials that work to keep your feet feeling cool, dry and comfortable.
Where can I buy Liner socks?