Have you been hearing about something called a "liner sock" lately? Ever wondered what that is? Or why someone would want it? Let's break it down.
Spoiler alert: you're going to want to add a pair (or five) to your sock drawer.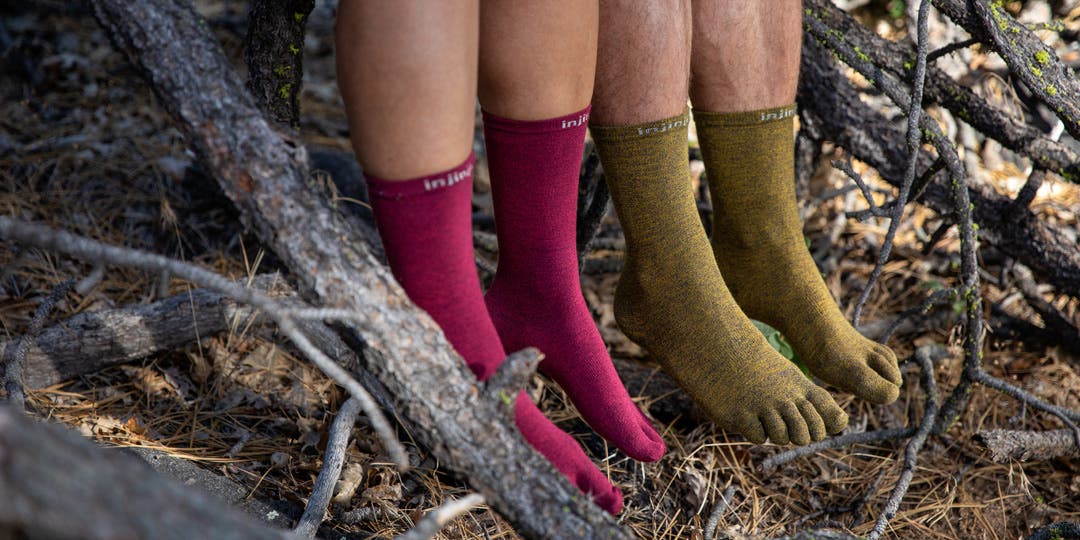 What are Liner Socks?
The basic definition of a liner sock is one that's meant for layering with a thicker pair of socks. You'll hear a lot about liner socks from your hiker friends - often hikers will wear a lightweight liner sock under a thicker hiking sock, especially on long hikes. But liners are more flexible than their name implies. You can use them for almost any activity, and they don't have to be used in a layering system to benefit your feet.
The reason people love liner socks is because they offer powerful moisture-wicking qualities without adding a lot of bulk. Plus, liners can be washed and dried quickly on a multi-day trip, which is a huge benefit to those on multi-day hiking, biking, or backpacking trips.
Liners as a Baselayer
One of the best-known ways to wear a liner is as the baselayer for a sock system. The liner sock, made from a synthetic or wool, will wick the moisture away from your foot and transfer it to the outer sock, where it will evaporate. Since liners are so thin, they don't add bulk to your sock system, meaning your favorite hiking boots or trail runners are still going to fit correctly.
Liners as Standalone Socks
Like we mentioned before, there's not just one way to wear a liner sock! You can wear the liner sock on its own on extra-hot days or for your tighter fitting shoes. The moisture-wicking qualities will still keep your feet cool and dry, and you'll have even less bulk than with a two-sock system. You can wear the liners for everything from grocery shopping to running and even for multi-day backpacking trips.
Toesock Liners for Added Benefits
Why stop at a regular liner when you can get even more foot-focused benefits? Injinji created liner toesocks to combine the benefits of a liner sock with the benefits of their signature toesock design. With these liners, you get the moisture wicking qualities liners are known for plus the blister-beating power of an Injinji toesock. Choose from CoolMax or NuWool depending on your preference and you'll never look back.
Check Out the Reviews
Like most of the outdoor world, we don't buy anything unless we've got a friend who loves the gear or we've read all the reviews. So we figured we'd make it easy on you and highlight a few reviews of the Injinji Liner Toesock from REI's website! See all the reviews here.
☆☆☆☆☆ - 5 out of 5 stars - BMind - AZ
These comfy toe socks rock !!!
First toe sock liners I've tried. Best liners EVER of any kind after decades of wearing hiking boots. I bought Large size for my 11-11.5 man feet. These adjust to my toes and feet for a nice fit and surprising great comfort. They don't look very strong, but are holding up well so far. Perfect under a pair of boot socks. My toes keep cooler, no rubbing, no blisters, with less toe pressure felt on steep descents. While putting them on it takes a little longer to get all the pups into where they go, but it's worth it! I first bought one pair to try. Love them so much I now have three pair!
☆☆☆☆☆ - 5 out of 5 stars - Need2know - Camden, NC
Funny looking, but fun to wear.
While the design might make you chuckle, the feeling will make you smile. I was tired of my sock drawer being raided by my daughter and was looking for a way to differentiate between her socks and mine. After teasing a friend about his socks, I thought I would at least give the Injinji Liners a try. After a 6 mile day hike on easy to light moderate trail, I actually forgot I had them on. They do not feel bulky between the toes and the material felt smooth and cool against the skin. These have become my liner-of-choice after just one use. And they haven't disappeared from my sock drawer yet.
☆☆☆☆☆ - 5 out of 5 stars - sage1193 - Phoenix, AZ
Cool Feet
I've used the ankle high Injinjis for years in my running shoes. I moved up to the crew liner socks for my hiking boots. I tried both wool and polyester, both types wick sweat away from your feet into your next layer of socks. My preference are the wool liners because of their odor resistant properties. The wool is soft and non-itchy. The polyester pair might be a bit cooler for my summertime hiking in a desert climate. I have never had any foot issues arising from wearing these socks.
Want to Know More? Ready for Your Own Pair?
We can help with that! Reach out to cs@injinji.com for any questions you might have. If you're ready to shop, check out our Liner Series now!