Editors Note: This blog has been updated to reflect Injinji's current offerings. As of September 2022, Injinji ceased the sale of NuWool products and released Merino wool toesocks, redesigned with a higher percentage of Merino wool fibers for increased durability, temperature regulation, anti-odor and softness. The following products were affected by this change: Outdoor Midweight Mini-Crew Wool, Outdoor Midweight Crew Wool, Liner Crew Wool, and Run Lightweight No-Show Wool.
Additionally, Injinji transitioned from a COOLMAX fiber blend to a recycled COOLMAX EcoMade fiber blend. This change was implemented in the following series of socks: Trail, Ultra Run, Run, Trainer, Sport and Liner.
---
If you're an active person, you've likely worn some article of clothing that utilizes moisture wicking fibers because they're meant to keep you cool and comfortable as you work out, even in the most extreme conditions. Two of the most popular fibers designed to enhance your performance are COOLMAX EcoMade and Merino wool.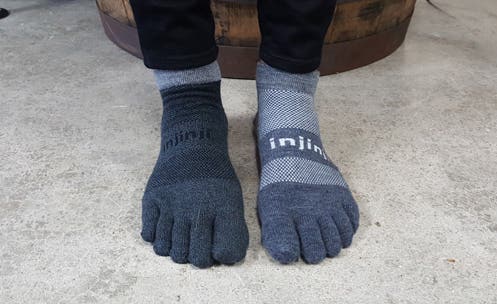 What are the differences between COOLMAX EcoMade and Merino wool?
Made from the finest mulesing-free Merino wool, Injinji Merino wool socks are compactly spun to provide benefit-rich, durable and soft toesocks. The benefits of Merino wool include temperature control, odor resistance, breathability, and moisture wicking power. This natural fiber is ideal for all conditions, especially hiking and backpacking. The Outdoor Mini-Crew Wool, Outdoor Midweight Crew Wool, Liner Crew Wool, and Run Lightweight No-Show Wool are all offered in Merino wool.
Injinji toesocks are also available in COOLMAX EcoMade which differ from Merino wool due to its high-tech polyester fibers, specially formulated with cooling technology and excellent moisture wicking capabilities. Designed with purpose, Injinji uses earth conscious recycled COOLMAX EcoMade which is similar in feel to the classic athletic sock material that many are familiar with.
Both of these fibers aim to wick moisture, keeping your feet cool and dry, however, choosing between them comes down to personal preferences. Either of these two fibers will suit any activity from cyclng to trail running.
Why do these fibers matter?
For one thing, cool, dry feet are the best kinds of feet. When they don't smell or chafe, they'll complain a lot less and that's just in everyday life! If you engage in any kind of physical activity, moisture wicking fibers become very important. The right material can help reduce blisters and hotspots, keeping you moving comfortably for longer.
No matter your choice of performance fiber, COOLMAX EcoMade or Merino wool, all toesocks have an added perk. Injinji's five toe technology separates your toes into individual sleeves allowing for full foot utilization, while moisture wicking material reduces skin on skin friction, increasing the benefits of the fiber blend they're wrapped in.
Learn more about the best running sock material, the best light hiking socks, and the benefits of wearing toesocks. You can shop all COOLMAX EcoMade and Merino wool toesocks here.