If you're someone who's active, you've likely worn some article of clothing that utilizes the technology of COOLMAX® fibers. As the name suggests, COOLMAX® fibers are meant to keep you cool and comfortable by wicking moisture away as you work out, even in the most extreme of conditions. But what about NüWool™?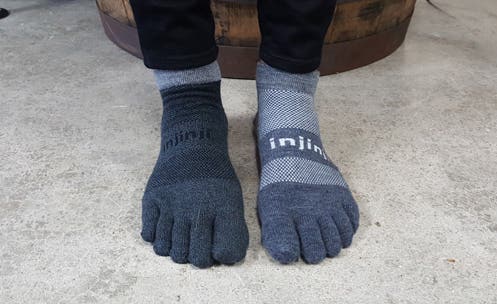 If you haven't heard of it, that may be because NüWool™ is Injinji's own Merino wool. Made from the finest Australian wool, it's compact spun to provide superior durability and prevent itching. Nüwool™ also provides maximum temperature control, odor resistance, and wicks moisture away from the foot.
Injinji toesocks are available in both state of the art enhanced COOLMAX® fibers and with the high-quality natural fibers of NüWool™. It is your choice, but both fabrics are moisture-wicking powerhouses. Wearing either of these two fibers, our toesocks help keep your feet cool and dry while you do anything from yoga to trail running.
So why do these fibers matter for you?
For one thing, cool dry feet are the best kinds of feet. They don't smell, they don't chafe, and they complain a lot less. And that's just in everyday life. If you're doing more than just walking around, moisture wicking technology becomes more important. It can help reduce blisters and hotspots, which can keep you moving comfortably for longer.
No matter your choice of moisture wicking fabric, COOLMAX® or NüWool™, all toesocks have an added perk. Keeping your toes in their own pockets of moisture wicking material completely reduces toe-on-toe friction, while increasing the benefits of the fiber blend they're wrapped in.
Sources:
http://www.invista.com/en/brands/coolmax.html