Running is a sport that has a great appeal to many. With a low barrier to entry and not much special equipment required, almost anyone just about anywhere can participate in the joys of running. With a good set of running shoes and some ground to cover, running can become a great way to unwind from the day, stay fit, and build confidence.
With great speed, distance, and endurance comes the title of great runners. The history of running has seen many legends come speeding into it. Here we'll take a look at some of the top runners of our time and the inspiration they can provide to runners across the world.
Roger Bannister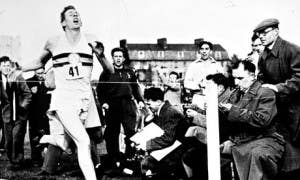 Known as the first individual to beat the four-minute mile, Roger Bannister is a household name. Born in England in 1929, Roger was clocked at a mile in 3 minutes and 59.4 seconds. His record lasted 46 days. Most notably, he achieved this feat with little training and while in medical practice as a junior MD. He went on to become a distinguished Oxford neurologist.
Katherine Switzer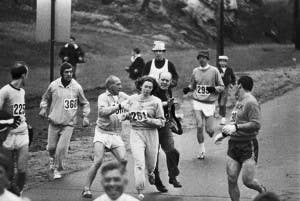 Katherine Switzer holds the title as the first female to enter the Boston marathon. Her endeavor was fraught with challenge. In 1967, Switzer entered and completed the marathon five years before women were officially allowed to compete. Finishing in 4 hours and 20 minutes, Switzer was challenged mid-race when race official Jock Semple physically tried to remove her. Her boyfriend Tom Miller shoved Semple aside in order to allow her to continue running. After this run the Amateur Athletic Union barred women from competing with male runners until 1972, when women were finally officially allowed to run in the Boston marathon.
Kenenisa Bekele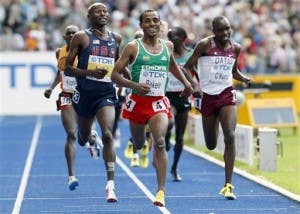 Kenenisa Bekele hails from Ethiopia and holds five world records, including the 5,000- and 10,000-meter Olympic events. He is the most accomplished runner in the IAAF World Cross Country Championships, and he became the first man to win both of these events at the same championships. Considered one of the greatest long-distance runners of all time, he is a name that will not be soon forgotten.
Bryan Clay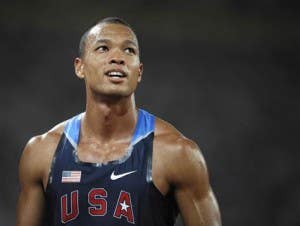 Born January 3, 1980, Clay is America's foremost decathlete, and is the reigning Olympic champion for the decathlon, as well as the world champion in 2005. Since 2002, Bryan Clay has been commonly ranked as one of the top two athletes in the United States decathlon. In 2008, Bryan Clay won the gold medal and was named winner of the USA Track & Field's 008 Jesse Owens Award and the U.S. Athlete of the Year by Track & Field News.
Haile Gebrselassie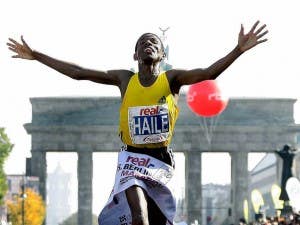 Born in 1973, Haile Gebrselassie is an Ethiopian long-distance runner. He holds the title of one of three of the most accomplished living runners. Gebrselassie won the Berlin Marathon four times in a row, the Dubai Marathon three times in a row, two Olympic gold medals over 10,000 meters, and four World Championship titles in the event. He has broken 61 Ethiopian national records, set 27 world records, and in 2008 set the world record marathon time (which stood for 3 years) at 2:03:59.
Paula Radcliffe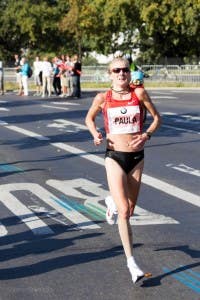 Paula Radcliffe is a British runner born in 1973. She is the current women's record holder in the marathon, finishing with an unbeaten time of 2:15:25. Paula has won the London and New York marathons a whopping three times each, and won the Chicago Marathon in 2002. Shockingly, Paula had to overcome asthma and anemia as a child in order to grow up to become one of the most notable names in marathon running. For her achievements, Paula has been inducted into the England Athletics Hall of Fame.
Michael Johnson
Michael Johnson is a professional American athlete who set the record 400 meter event with a time of 43.18 seconds in 1999. This record still stands today. Specializing in sprint running, Johnson also won a gold medal in the 1992 Olympics in the 4x400 relay, double gold in the 400 and 200 meter during the 1996 Olympics, and gold in the 400 meter at the 2000 Olympics. He has also picked up an impressive eight World Championship gold medals.
Hicham El Guerrouj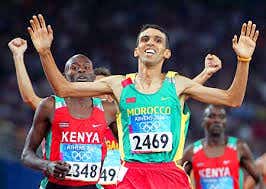 Hicham El Guerrouj hails from Morocco, and is known as the "King of the Mile." He is the current world record holder for the mile at 3 minutes, 43.13 seconds. This record was set in 1999. El Guerrouj is also the world record holder in the 1,500 meter and 2,000 meter. He has won two Olympic gold medals.
Wilson Kipsang Kiprotich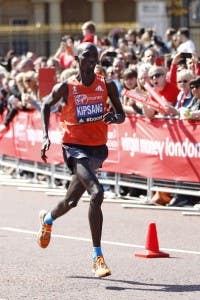 Kenyan-born Wilson Kipsang Kiprotich is 6 feet tall, yet only 135 pounds. He holds the men's world record for marathon running. He set the 2:03:23 record at the Berlin Marathon in 2013, and also won the bronze medal in the 2012 Olympic marathon. Kiprotich has also won New York, Honolulu and London marathons.
Steve Prefontaine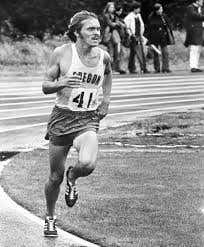 In America, Steve Prefontaine is a well-known name, helping to generate media coverage and inspire the sport of running in the U.S. He is a middle- and long-distance runner born in 1951 in Oregon, and competed in the 1972 Olympics. Prefontaine held the American record in seven track events ranging from the 2,000 meter to the 10,000 meter.
Dean Karnazes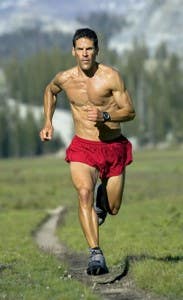 As the world's most famous ultramarathon runner, Dean Karnazes is well-known by the media. In 2006, Karnazes ran 50 marathons in 50 states in 50 consecutive days. He began with the Lewis and Clark Marathon in St. Louis in 2006 and completed the New York City Marathon on November 5. Eight of these races were conventional marathons, with the rest of the marathons being run along marathon courses but not during the live events. A film by director JB Benna was created to document the adventure, released in 2009.
Usain Bolt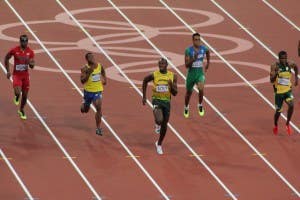 Usain Bolt is a Jamaican runner who holds the men's world record in the 100 and 200 meter races, at 9.58 seconds and 19.19 seconds, respectively. "Lightning Bolt" holds six Olympic gold medals in sprinting and is commonly known as the fastest person ever. His awards include the International Association of Athletics Federations and the Track & Field World Athlete of the Year, and he is the highest paid athlete in his field.
Ashton Eaton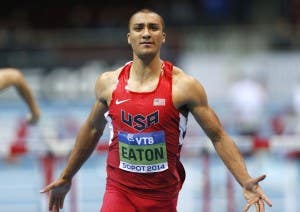 Young Ashton Eaton is an American decathlete born in 1988. He currently holds the world record in the heptathlon, which comprises seven events: a 60 meter race, a long jump, a shot put, a high jump, 60 meter hurdles, a pole vault, and a 1000 meter race. Eaton beat a previous record that had lasted 17 years.
Along with these notable athletes is a long list of many more who have run their way through previous records, sprinted to the top of their class, and pounded through medal after medal. There is no shortage of talent in track and field, and this impressive list proves that running is open to those of all ages, genders, and backgrounds. And with so many runners out there who are passionate about this timeless sport, who knows what great feat is next.
Image credits:
http://static.guim.co.uk/sys-images/Guardian/Pix/pictures/2014/5/5/1399302577508/Roger-Bannister-breaking--011.jpg
http://3.bp.blogspot.com/-6DFZnIcoETk/T-kez81gL9I/AAAAAAAADx0/P2pJPvlVdmg/s1600/ks.jpg
http://ethiograph.com/album/albums/userpics/10133/kenenisa-bekele-berlin-aug-23-2009a.jpg
https://www.injinji.com/media/amasty/blog/uploads/2014/08/Bryan-Clay.jpg
https://www.injinji.com/media/amasty/blog/uploads/2014/06/haile-berlin.jpg
http://i.factmonster.com/images/michaeljohnson.jpg
http://www3.pictures.gi.zimbio.com/Hicham+El+Guerrouj+Bernard+Lagat+Olympics+XaYKTKjJzYJl.jpg
http://cache3.asset-cache.net/gc/484587635-wilson-kipsang-of-kenya-passes-buckingham-gettyimages.jpg?v=1&c=IWSAsset&k=2&d=X7WJLa88Cweo9HktRLaNXhf1sAPhwYB8u0vXb7%2BA5Ev50JRiFxm7Z%2BBJ4DLrBjjO
https://www.injinji.com/media/amasty/blog/uploads/2013/10/steveprefontaine.jpg
http://www.ultramarathonman.com/web/resources/images/dk_about_bio-run1.jpg
http://nbcolympictalk.files.wordpress.com/2014/03/ashton-eaton1.jpg
"Marathon Berlijn 2011" by Ramon Smits is licensed under CC BY 2.0
"Ah, good, no-one is near. I can slow down - Usain Bolt in action..." by Father of Spider Cat is licensed under CC BY-ND 2.0