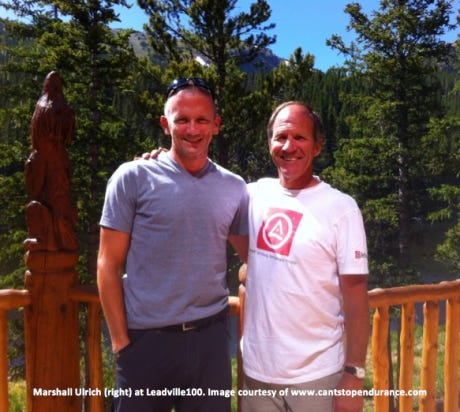 Last month, Team Injinji athlete Marshall Ulrich was inducted into the Colorado Running Hall of Fame. Marshall is a widely recognized and highly respected athlete in the ultrarunning community. He is the only person in the world to have completed the "triple crown" of extreme sports, achieving records and firsts not only in running, but also in mountaineering and adventure racing. He has completed more than 125 ultramarathons, averaging over 125 miles each. Ulrich has climbed the Seven Summits (including Mt. Everest) on first attempts, and completed 12 expedition-length adventure races.
Marshall began ultrarunning in his 30s after realizing his talent for the sport, stating that "initially, I wanted to show people that they can do more than they think they can." His running accomplishments include being a four-time winner at Badwater, breaking two transcontinental speed records at the age of 57, and completing the Leadville Trail 100 and Pikes Peak Marathon on the same weekend. Marshall has written a memoir, "Running on Empty", which details his journey with running and how it changed his life.
On top of being an inspirational athlete, Marshall is an accomplished speaker, trainer, and guide. He has raised more than $850,000 for various charities, including the Religious Teachers Filippini, helping to provide an education to women and children in some of the poorest countries in the world.
Marshall's favorite Injinji sock is the Performance 2.0 RUN Original Weight Mini-Crew toe sock. All of us here at Injinji congratulate Marshall on this amazing accomplishment!
Visit the Colorado Running Hall of Fame's website for more information:http://corunninghalloffame.com/2013/03/09/marshall-ulrich/