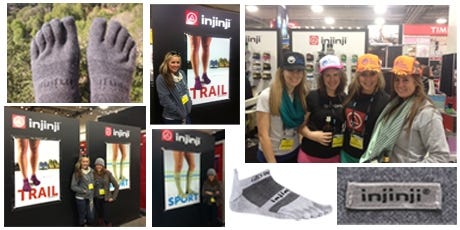 Airport crippling ice storms, record setting pollution levels, frozen over highways, Sundance Film Festival, a fashion bloggers conference, and the 20,000+ of us attending Outdoor Retailer Winter Market 2013 - all converged on the city of Salt Lake last week.
The show was great for Injinji®, we previewed some exciting new products that will be launching in the Fall of 2013 to overwhelmingly positive feedback and it felt rewarding to launch our new site and see all our new 2.0 product up on display. We always appreciate the quality face time with retailers, our industry friends in neighboring booths and members of the media. We work really hard preparing for the show and on the floor but make no mistake the Injinji family finds time for fun too. (Our rowdy team dinners at Benihana is becoming quite the tradition!)
OR is also a very inspiring time as it serves as a platform to showcase some of the best gear and products in the running and outdoor industries. As footwear fanatics, our attention is always drawn first to all the new innovative footwear products and eye popping design trends. The guys from Altra Footwear showcased some great new styles hitting shelves in 2013. As well as the crew from Hoka, who are going to be introducing more of their loved products this year. Some other personal favorites included the new color ways from Pearl Izumi and Inov8. Runner's World sneak peek is a great snapshot of what we saw:
Just as interesting as the products at the show, was the juxtaposition of temporary Salt Lake City residents. The fashion bloggers staying at our hotel, were provided with endless amounts of content and should have stock piled plenty of "what not to wear" posts, they can trickle out over the next year. However, this was not solely a one way exchange. On several occasions I was highly amused with the costumes these ladies were flaunting. From their southern-bell esque wardrobes, all the way to their Monopoly themed party attire, I was highly entertained. All of which provided some great entertainment when indulging in my post show beers back at the hotel lobby.
All said and done our trip to Salt Lake was a huge success for us, we truly appreciate everyone who stopped by our booth and helped us along the way. So, we say a temporary so long to Salt Lake City and all of the exciting craziness that comes with the show. We shall return in Summer to pick up where we left off and continue showing outdoor nation a path to better performance.