Some individuals cringe at the thought of climbing up a sheer sheet of ice, while others see it as a thrilling mental and physical challenge. If you associate more with the second description, then use this guide to get into this extreme winter sport.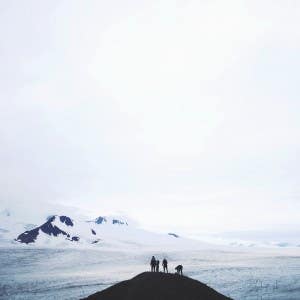 As an ice climber you are up against the coldest and most dangerous conditions, and when scaling up frozen, waterfall-like structures, it's important to have the right equipment and apparel. Whether you are a beginner ice climber or simply an admirer of the sport, the following tips will help you navigate this sports' crystal-sharp terrain.
Equipment
Considering that ice climbing is defined as "the sport or activity of climbing glaciers," you will need a plethora of tools and equipment to engage in this gripping activity. Depending on the ice structure, whether it's a glacier or winter-waterfall, a combination of tools such as ice axes, technical ice crampons, rope, and carabiners, will embody your ice climbing tool belt. If you are just getting into ice climbing, it is highly recommended that you either take a lesson/course, or climb with other experienced climbers.
Here is a list of the basic equipment you will need to get started:
Harness & Helmet: Similar to rock climbing, you will need a harness and helmet when scaling an ice mountain. Since you will be wearing more layers for colder conditions, many suggest that you get a harness tailored to fit over bulkier pants.
Crampons & Ice Tools:
Crampons are detachable spikes that you wear over your boots for more traction in the snow and on ice. They are designed to seamlessly (and safely) help a climber get up a technical or vertical ice climb. Similar to snow skis or a snowboard, crampons have various strapping styles for your boots. Depending on your climbing style and preference, you can choose a strap-on binding, a versatile system complete with toe strap and heel strap, or step-in binding, a stiff system best for vertical ice and mixed climbs.
Ice tools are designed for a climber to get through tough configurations. Choosing the best ice tool is dependent on your size and activity.
An ice tool has 5 major components:
Pick – the sharp end of the tool used for hooking snow or ice;

Shaft – the center of the tool supplying the weight of the entire device;

Adze – a shovel-like end used to cut;

Carabiner hole – a hole to clip on a carabiner;

Spike – a sharp metal tip for puncturing the snow.
Rope:
The main difference in rope for rock climbing and ice climbing is that you will need a rope that is dry treated. Dry treated rope may be more expensive at first glance, but in the long run it will outlast a standard climbing rope. Dry treated rope is designed with both core and sheath weaving techniques, which prevent the rope from absorbing water or freezing, and it prevents dirt from getting between the rope fibers.
Backpack:
Acquiring a climber's backpack is an essential component of your ice climb. Each backpack is equipped with special loops and straps to help you access your ice tools. You will need a backpack that is large enough to hold your tools and extra layers, but consider weight when deciding on the right fit. Remember, you will be scaling an ice structure with the backpack attached to your body.
Apparel
Staying warm is the ultimate challenge of ice climbing. Applying several layers is the best way to prepare for harsh conditions.
For your torso it is ideal to wear a combination of base-layers (long underwear made with mid-weight synthetic fabric), mid-layers (a fleece or down/synthetic down jacket), and outer layers (a lightweight waterproof jacket).
For your head, hands and feet you will want to utilize a beanie or fleece headband, waterproof gloves paired with glove liners, and synthetic or wool socks.
Lastly, top off your attire with waterproof ice climbing pants. They are similar to ski or snowboard pants, but they have lightweight, breathable fabrics that allow you to easily bend and move up a peak.
Mountaineering boots will keep your feet warm, dry, and stable throughout your climb. You will need a pair of boots that are insulted, waterproof and have rigid soles. Again, depending on the type of ice climbing you participate in, you may want to consider expedition mountaineering boots. Expedition mountaineering boots are made for higher altitude climbs. Another option is plastic double boots that have removable inner boot liners. These boots are perfect for climbers camping overnight who will need to dry their liners in between climbs.
From the freezing temperatures of New Hampshire, Vermont, and Colorado, to the peaks of Switzerland and Norway, ice climbing is a thrilling winter sport for the adventurous explorer.