 This past weekend was the San Diego 100, a 100 mile trail race through the Cleveland National Forest in East County San Diego. The SD100 is proving itself year after year, largely in part to the amazing RD Scotty Mills, dedicated/enthusiastic/awesome volunteers, and a field of runners that continually impress and inspire. Besides Injinji being a presenting sponsor of the race, we have vested interest in the event due to our personal relationships with all the people involved and the beautiful SoCal location. We have done everything from trail markings to photo-shoots in the Cleveland Forest, and truly find any excuse to get out there. Quite frankly if RD Scotty Mills decided he wanted to hold a tandem stationary bike race, we would jump at the opportunity to be involved. That being said, I headed out to the mountains early Friday afternoon, to immediately get smacked in the face with the 100 degree heat. This heat set the stage for the weekend and put everyone into overdrive. Whether it was the race crew doubling their ice supply, the runners upping their hydration, or myself struggling to keep my nightly beers cold. However, I'm not going to dwell on the temperature here, because in my opinion it was somewhat expected and handled by the race crew with professionalism. They drastically increased their ice and water supply, even to the tune of implementing a "surprise" aid station dolling out popsicles, ice, and water to alleviate the heat after a tough climb. Anyway, I went into race day with the intention of trying to capture some amateur video work of the event and our athletes tackling the course. (*When you see amateur, please read crappy/no-experience/and hack job.) The day started off beautifully with an amazing sunrise while runners and crew filled in and caught up with one another around the start line. After the start I headed out to the first aid station and set up 'shop'. Here Dave Mackey came thru in 3rd with Brett Rivers and Marc Laveson not far behind. At this point I was really happy with myself and the footage I was getting. After leaving aid station #1, Angela Shartel was awesome enough to tolerate me and lead me on to Pine Creek. Once I was at Pine Creek the wheels fell off, and I quickly forgot about the filming responsibility I had just a few hours ago put on myself. I helped with the aid station, met some really great people, and got way over zealous for the lead group to come thru, to even think about documenting the race. From this point on I was fully engulfed in the race, and could not be bothered with much else. With my now long forgotten video aspirations, I turned to helping crew Dave Mackey (even though he never really asked me to). After a small detour at mile 60, Dave ended his run and joined me in the crowd. Soon after I immediately forced my way into the crew team of our own Marc Laveson. Thankfully his wife Libby is one of the nicest people ever and could not find the heart to tell me to beat it. I would again do this to Larissa, Brett Rivers wife, who again could not shake me loose.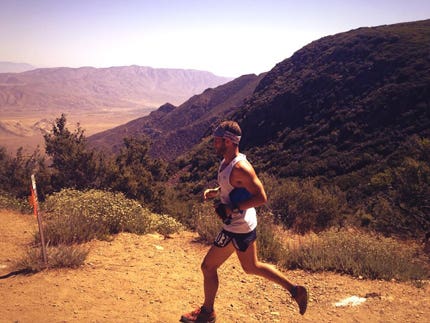 What all this really means is that I got into the office Monday morning still feeling somewhat exhausted trying to figure out how I could best share my amazing experience of the great weekend I just had. I looked at my footage wanting it to somehow help me conceptualize my weekend. Ultimately coming to no real conclusion I figured what do I have to loose and might as well attempt at throwing something together. If for no other reason to share my weekend with fellow employees and potentially earn some brownie points with my boss man and boss lady. So, watch my edit below, and see for yourself the demise of a pathetic attempt at capturing a spectacular event.
A big congrats to Jeff Browning and Jenny Capel for taking the wins in the men's and women's field.
*Special thanks to Dave, Marc, Brett, for letting be involved in their weekend. To Larissa for not telling me to beat it, and Libby for unknowingly letting me scour he twitter feed for images, and letting me tag along.